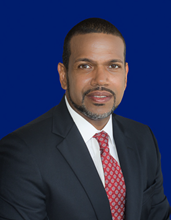 AARP has named Troy A. De Chabert-Schuster – a distinguished member of the community, entrepreneur and educator in the Virgin Islands for more than 17 years – to be the state director for AARP in the V.I., effective Aug. 15.
As state director, he will be responsible for leading and directing the advocacy and community outreach work of AARP and its members in the territory.
"With an exceptional communicator and community leader like Troy at the helm, AARP will continue its dynamic work with AARP volunteers and effective advocacy and community outreach efforts going forward," said AARP East Regional Vice President Kelly A. Clark. "Troy combines impressive listening and leadership skills with a deep passion for community and volunteer service. We are pleased and honored to have someone with his stature, grace and ability to lead AARP Virgin Islands into the future."
He spent nine years as the owner and managing member of two pharmacies on St. Croix. In addition, he spent 12 years of his career serving the Catholic Diocese of the Virgin Islands as a seminarian and later as a Catholic priest in the diocese.
For the last two years, he has served as the vice chairman and chairman of the Board of Governors of the Juan F. Luis Hospital and Medical Center and the Virgin Islands Cardiac Center.
De Chabert-Schuster is an AARP volunteer serving as the vice-president of the local St. Croix Chapter and lead community outreach volunteer.
"I am following my heart to this leadership position with AARP," De Chabert-Schuster said. "I am deeply passionate about and committed to this organization and its social mission to fight for and equip each individual in the Virgin Islands to live their best life."
Throughout his career, he has been actively involved with numerous community and governmental organizations, some of which include: Sts. Peter & Paul Catholic School Board of Trustees, Virgin Islands Government Hospitals and Health Facilities Corporation, American College of Healthcare Executives and AARP.
De Chabert-Schuster holds a Masters of Theological Studies and a Masters of Divinity with a concentration in moral theology and ethics. He also earned a Bachelor's of Liberal Arts from Xavier University in Ohio. In addition, he is currently working on his Ph.D. in leadership and change in healthcare.