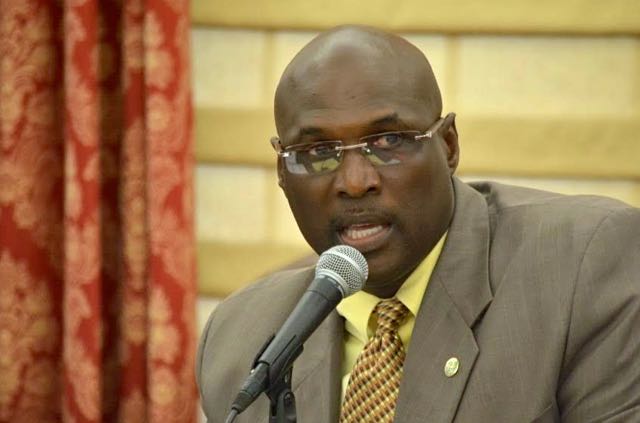 Police officers, Bureau of Corrections officers and firefighters will be able to work an additional three years, until age 63, if a bill approved in committee Tuesday is enacted into law. The measure may help reduce overtime, reduce staffing shortages and reduce costs to the government pension system, according to the testimony received at the Committee on Education and Workforce Development hearing.
"Some may say this bill is long overdue, but I believe timing is everything," Sen. Novelle Francis, sponsor of the bill, said when introducing it. [Bill 31-0372]
Francis said conversations with Police Commissioner Delroy Richards led to the legislation. It initially applied only to police but Francis offered a substitute bill Tuesday, expanding it also to apply to firefighters and corrections officers.
During recent budget hearings, Corrections' human services manager, Bernadette Clarke, suggested that raising the mandatory retirement age for correctional officers would help with staffing shortages and reduce overtime costs. (See Related Links below)
Under current law, every policeman, firefighter or prison guard retires automatically at age 55, but can apply to stay on until age 60, if they get an annual certification of health that they are physically and mentally able to continue in the position.
Francis's bill would increase that to age 63. It also has a sunset provision, ending in 2021.
Police, Fire Service and Corrections officials all testified in support of the change and Government Employee Retirement System Administrator Austin Nibbs supported the change, saying in a letter that it would help GERS's bottom line.
Personnel Director Milton Potter also testified in support.
"I do question the need for that sunset date," said Sen. Jean Forde.
Several senators also said they were not sure if it was necessary.
It remained in the version of the bill sent out of committee Tuesday.
Voting to send the bill out of committee were Forde, Sen. Kenneth Gittens, Justin Harrigan and Tregenza Roach. Sens. Myron Jackson, Positive Nelson and Kurt Vialet were absent. Noncommittee members Francis and Sen. Nereida Rivera-O'Reilly also attended.
The committee voted to hold in committee bills relating to guaranteeing jobs for unclassified government employees returning to regular, classified positions and letting public school students take swimming lessons as part of their community service requirement for graduation.