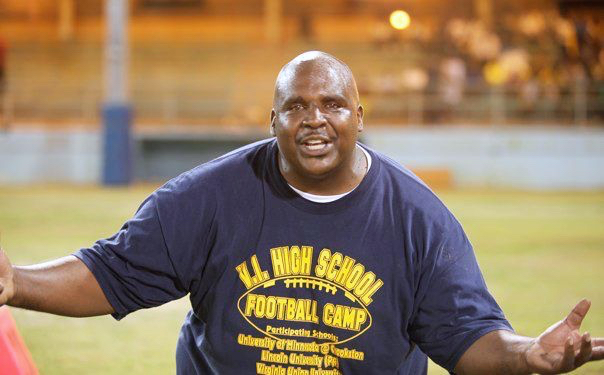 Francisco Jarvis could arguably be called one of the best head V.I. football coaches in recent memory, but while he says he loves the game and his students, his entry into the coaching world was actually "accidental."
Jarvis started coaching in 1989, after he played a full four years of college football. He hadn't thought about coaching at that point, but soon after got his first opportunity, he said.
"I was in the Army, stationed in Panama and our unit had a flag football team," he said. "Since I had been playing college football, I had just graduated at that point, the guys told me that I would be the coach and that is when I first picked it up. It continued when I came back home in 1992, I coached the All Saints Vikings for some years and when tackle football was re-instituted, I was offered a head coaching position. It was an accidental thing, but I fell in love with it, and I've been here ever since."
Now, after 25 years in the field, Jarvis boasts five territorial championships with the private school Arawak Warriors, whom he coached from 1999 to 2007, and six more with Charlotte Amalie High School, where he stayed until 2013. And while he runs a tight ship on the field, what Jarvis is most known for is the relationships he maintains with his athletes outside of school, which makes them even more dedicated during the school year.
"When I was starting out, I sought some advice from an old retired coach of mine and he said to me that no matter when you coach, or how you coach, you have to find a way to win because your kids will play hard for you and when they do, you have to find a way to reward them," Jarvis said. "And that's not only with a victory on the field, but with a victory in life, like teaching them how to establish team camaraderie, team sportsmanship, humility, those kinds of life lessons that will stick with them always."
And while Jarvis has taken a break from head coaching, he still has the opportunity to work with local high school players through the V.I. Sports Training Academy, a local non-profit that within the last week helped gain college exposure for two V.I. seniors. The organization's latest effort is a youth tackle football league for middle school students and Jarvis said that within the past year, he and the three other youth coaches, along with other members of the academy, have dedicated their time to correcting some misperceptions about the sport and to increasing parental involvement on the field.
"The purpose of the league was to give our local kids the opportunity to play tackle football at an earlier age," Jarvis said. "What I was seeing was that tackle football was being provided for high school kids and sometimes that high school kid can't play until 10th, 11th, or 12th grade, but they were still getting noticed by colleges. So my thinking was that if we gave a kid more time, more years to play tackle football, then they can have even better opportunities and more chance to play at a higher level."
Last year was the first for the youth league and Jarvis said that while the organization was able to rally more than 100 students, it was still difficult getting support from the community.
"First, we do not have a football-friendly culture," Jarvis said. "It's mostly baseball and basketball but you may be surprised to know that football is the one sport that's putting more athletes in college than any other support. Still, the government doesn't invest in it, the community doesn't really want to be a stakeholder in it, so there's only a few of us coaches out there that continue to do it."
Part of the issue, Jarvis added, is the concern over the safety of tackle football, especially when it comes to working with younger students. He said there are a lot more injuries in youth soccer, or simply playing on a playground, and Jarvis said that he is working to correct the misperception by training coaches in USA Football Heads Up Tackling, in which he is certified.
"There are a lot of dangerous things happening in St. Thomas that nobody seems to want to stop, but football isn't one of them," Jarvis said. "The research that USA Football has done to teach coaches how to keep the heads out of the tackle is important in making sure the kids know how to play safely and properly, and being able to get that certification and pass it on to other local coaches so they know how to do it has been part of this whole mission."
The second part, he added, has been getting more parents out to support the students.
"Usually I see mothers all the time, but for a youth league to work it also needs fathers, it needs men," he said. "It needs officers who in their off duty time can come and give a few hours to a team, firefighters, the whole community. It takes a village to raise one child and here we are dealing with over 100 and we hardly have any support, so it's difficult, exceedingly difficult every day."
Jarvis said he hopes there will be a turnaround in that area as the youth league kicks off its season this year, which could also generate more buy-in to get the program into the schools.
"I'm hoping that more schools get involved because this can actually lead into the varsity league where sophomores, juniors and seniors play and that way we can help more children," he said. "But in the meantime, even with the few men that we have, and the few coaches that are involved, we still have a lot of energy and we are going to make it work, so hopefully, more kids will be able to join and play and reap the benefits of youth football."
This year's league has four teams, all practicing during the week at either the Smith Bay field, Frydenhoj field, or CAHS. Jarvis said he is putting out the call for community members to come out and support the students as they continue to prep for the season.
"I think the best moments in coaching are when you win and seeing the joy in the kids' faces after you win," Jarvis said. "That lets you know it's a positive thing you're doing and you want to continue seeing that joy and accomplishment year and year out. But if we want any sport to survive in the Virgin Islands, there has to be more parental support, and I am asking for all the fathers and men to come out and support youth football.
Here, they will have the opportunity to guide and to mentor a child to stay on a positive path and hopefully that will take them away from all the negative distractions."