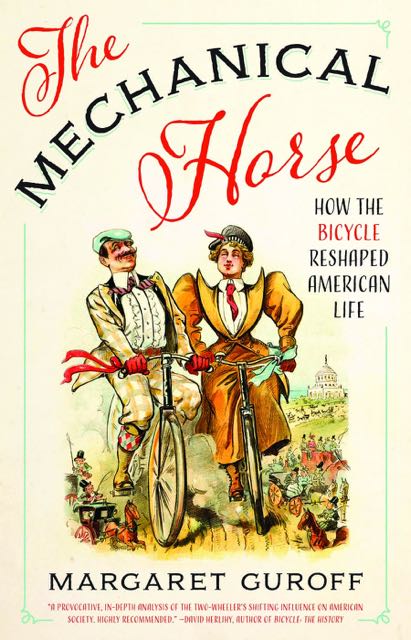 "The Mechanical Horse: How the Bicycle Reshaped American Life" by Margaret Guroff
c.2016, University of Texas Press $24.95 287 pages
Back when you were a child, the Bad Guys never won. No matter how many of them, no matter which imagined danger they came from, you were always able to get away.
All you had to do was pedal faster; they didn't stand a chance of catching you on your bike. And in the new book "The Mechanical Horse" by Margaret Guroff, you'll see how that mode of transportation changed more than just your world.
It was well after bedtime for most people on that evening in May 1819, when a small crowd stood in Washington Square in Philadelphia, waiting to see if rumors were true. When they saw "the beast," they couldn't believe their eyes: it was a man straddling a wheeled machine, moving nearly as fast as a horse could trot.
He was aboard a draisine, a precursor to the bicycle, and the Americans went wild. People lined up to take lessons and try the contraption themselves but the danger was that draisines were uncontrollable: they didn't have brakes.
"Within months," says Guroff, "draisine riding was against the law on most American city sidewalks."
As for riding on early American roads, well, that was often easier said than done. Even by 1865, when the velocipede came to Brooklyn via France, country lanes were all but impassable. It didn't take long for new riders – some 4 million of them – to embrace the pedaled vehicle, and riding clubs sprung up everywhere but rutted, muddy roads often kept them riding indoors.
By the end of the 1800s, much had changed: railroads arrived, roads improved, automobiles were imminent, the end of slavery altered the way goods entered homes and women eschewed confining corsets in order to partake of the new "safety bicycle," which closely resembled the basic bike we know.
It wasn't the bicycle itself that drew so much initial attention, however. It was more the sight of a woman (gasp!) in trousers that scandalized Americans so terribly.
Bikes, says Guroff, paved the way for automobiles and airplanes. Bicycles were transportation for kid and adult alike, on and off through history. And if their popularity wanes again, don't worry.
"If the bike goes away again, it will be back."
Tis the rare Baby Boomer who can't recollect afterschool or summertime bike rides and the imagination they demanded. Tis the rare reader who won't think of those things while enjoying "The Mechanical Horse."
Indeed, Guroff shows how the bicycle is buried spokes-deep in our childhoods and in the timeline of American culture – a story that's sometimes quaint, humorous and always lighthearted. We see, not just the bike's history, but that of fashion, equality between the sexes, the waging of war, the American economy and the burgeoning of print advertising.
That all makes this book as fun as a spin around the block on a warm summer evening. Reading it is as easy as, well, riding a bike. And if that was (or is!) one of your favorite things to do, then "The Mechanical Horse" is a winner.
__
The Bookworm is Terri Schlichenmeyer. Terri has been reading since she was 3 years old and never goes anywhere without a book. Her self-syndicated book reviews appear in more than 260 newspapers.