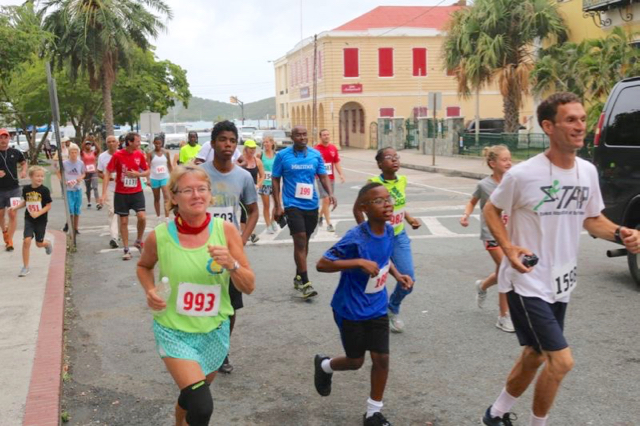 A longtime dream finally became a reality this weekend for St. Thomas resident Jason Budsan, whose goal to bring more awareness and attention to the island's historical step streets turned into a walk/run event that also raised funds for the streets' preservation.
The first St. Thomas Historical Steps Walk/Run kicked off late Saturday afternoon, giving participants a chance to run from Emancipation Garden, up the steps near Post Office Square, then up the famous 99 steps, past Blackbeard's Castle, then down Bunker Hill, up steps on Garden Street and near Catherineberg, through Savan and down Vester Gade back toward Main Street. It may sound complicated, but Budsan said it is less than two miles, and racers were able to follow balloons tied up along the way.
Budsan said he ran the step streets and back three or four times on his own before the course was finalized, and looked to create a balance between the steps and open areas of road, which are easier to run.
"Because you're going up and down steps all the time, the course is intense, Budsan said. "And the other thing is that we want people to walk the steps, so they stay safe, but also get a chance to take in the view and get a little bit of excitement going about the historical area."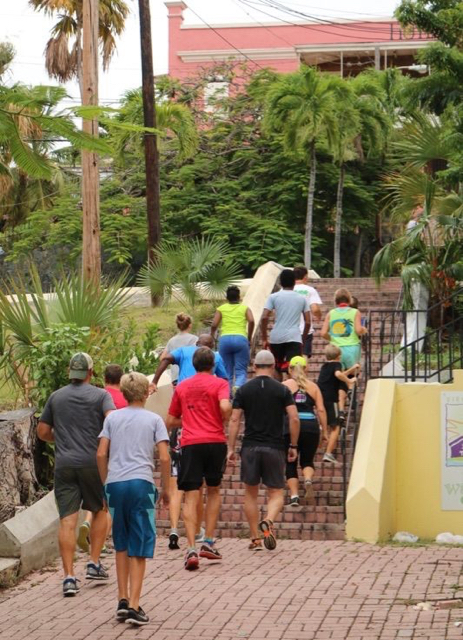 Budsan and Nadine Marchena-Kean, director of the Enterprise Zone Commission at the Economic Development Authority, spoke to racers before Saturday's kickoff about the history of each set of steps, and said that they were a main mode of transportation in St. Thomas' earlier days.
"Step streets were the way that most people got to their homes," Marchena-Kean said, as racers lined up to start. "This was a daily walk to the market or anywhere else, not just something they did for exercise, and it was also the way back home, unless you had a horse. So, as you go through them today, enjoy the history and one of these days, because of events like these, we will be able to restore some of the older features that the streets used to have."
Proceeds from the event will go to the St. Thomas Historical Trust, which Budsan said is already in the middle of raising funds for downtown renovations. Budsan said he hopes a partnership with the Trust and the St. Thomas Association of Roadrunners will help keep the event going annually, raising money for preservation efforts.
"This is something that I've wanted to do for so long, and it gives people more of a connection with the beautiful harbor, the historic downtown and just the sense of what used to be," Budsan said. "And being that it's almost our centennial year, we thought it would be of interest to do the race, especially with the course we've put together."