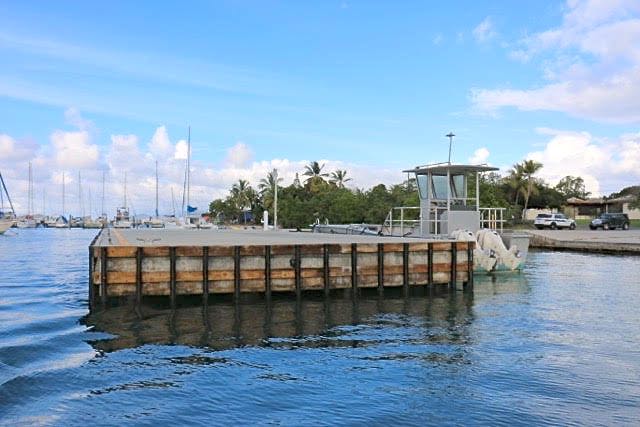 U.S. Magistrate Judge Ruth Miller partially sided with a local boat captain in a petty offense case Wednesday, saying the National Park Service has not properly notified the public about restrictions of use regarding its dock in Red Hook.
Miller's decision applies only to a lack of notice that complicates the NPS's ability to enforce restrictions at its dock, not the restrictions themselves, which some St. Thomas boaters say are becoming arbitrary and excessive.
The National Park dock in Red Hook is primarily used by the Caneel Bay ferry to St. John, although St. Thomas charter boat captain Pat Kosick said he and other Red Hook liveaboards sometimes tie their dinghies to the dock when coming ashore to walk their dogs around the Red Hook park.
Kosick said he has been using the dock for that purpose since 1984, but on March 10 of this year he was slapped with a $175 fine for tying his dinghy up to the dock without a permit. He said on that occasion, as always, his dinghy was within his sight as he walked his dog and was out of the way of the Caneel Bay ferry.
The NPS maintains that each use of the dock by a private individual requires a "special use permit" costing $150. That's $150 per use, not per year, a figure even those on the government's side of the case appeared to find extreme.
Park enforcement ranger Meredith Riester, who served Kosick his fine, said she had had previous conversations with Kosick in which he was warned about using the dock, but Kosick disputes this.
Kosick said he has received conflicting information from rangers over what rules govern the use of the dock and that there is no signage on the property mentioning anything about docking permits.
Kosick said there is little alternative for pet owners who live on their boats in Red Hook. A second nearby dinghy dock has only a single exit point through the Latitude 18 restaurant, which does not allow dogs to pass through.
Miller dismissed Kosick's fine Wednesday on the grounds that federal law states that the public must be notified of National Park policies by "signs posted at conspicuous locations, maps available in places convenient to the public, newspaper publications, or other appropriate methods including electronic media or handouts."
She advised Kosick to no longer use the dock, however, and speculated that signage regarding the park's permit policy would soon be up.
Federal law states that the NPS has the right to require special use permits within its parks "based upon the determination that public health and safety, environmental or scenic values, natural or cultural resources, scientific research, implementation of management responsibilities, proper allocation and use of facilities, or the avoidance of conflict among visitor use activities will not be adversely impacted."