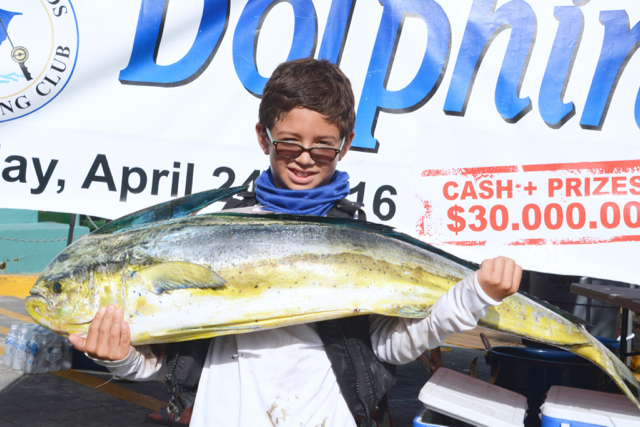 The catch of a 29.4-pound dolphin (mahi-mahi) earned St. Thomas junior angler Robbie Richards, 9, the title of Top Angler and a $1,000 cash prize Sunday at the Virgin Islands Game Fishing Club's 21st Annual Dolphin Derby.
According to the Game Fishing Club, Robbie was fishing aboard Mixed Bag, a V.I.-based 40-foot Luhrs Express charter boat, with his father, Capt. Rob Richards at the helm, when he caught the winning fish off the south coast of St. Thomas, using ballyhoo as bait.
"I was taking a nap when all of a sudden my dad yelled 'fish on'," said Richards, a third-grade student at the Antilles School. "I jumped into the chair and started to wind it in. We could tell it was a big fish. It took a lot of struggle and pain in my hands, but it felt so good to see it come to the boat and catch it. I knew right then it would be the biggest dolphin of the tournament. I just had this feeling."
Richards' first place fish was about 26-pounds shy of the 55-plus-pound criteria to win the tournament's ultimate prize – $25,000 in cash. The junior angler caught his first-place whopper in the morning, while in the afternoon he also reeled in the fourth largest dolphin, a 27.8-pounder, according to the organizers.
Richards was one of three anglers on Mixed Bag. Fellow angler, Clay Gaffney, caught the eighth largest dolphin, which weighed in at 21.8-pounds.
Cash prizes were awarded to anglers catching the 10 largest dolphin.
Mike Holt on Anger Management landed a 28.3-pound dolphin for second largest, while John Clark, fishing from Emanuel, took third with a 27.8-pounder, which was 0.8 centimeters longer than Richard's same weight fourth place fish. At 27.1-pounds, it was Bill Gerritsen aboard Marlin Etc, that caught the fifth largest dolphin. Also on Marlin Etc, David Cooper and Rob Barringer reeled in the sixth and seventh biggest dolphin weighing 26.0-and 22.2-pounds, respectively. Finally, Gilbert Laban on Emanuel landed the ninth and tenth largest dolphin, 19.3- and 19.0-pounders.
The Best Boat award went to Emanuel, a 34-foot Calypso, with the top collective catch weight of 83.1-pounds of dolphin. This is a repeat feat that the Emanuel team won most recently in the 2013 and 2014 Dolphin Derby. Capt. Alvin Turbe, Tamika Turbe, Gilbert Laban, Gerald Greaux, Jr. and John Clark were the anglers aboard Emanuel, which is a St. Thomas, U.S. Virgin Islands-based charter sports fishing boat.
The secret to Emanuel's team success is, "We fish hard and we cover a lot of ground," Capt. Turbe said.
Nineteen boats and 80 anglers collectively caught 22 dolphin weighing 396.3-pounds. This conservation-oriented tournament discouraged the catch of dolphin that weighed less than 10-pounds.
Several boats donated fish to the host Virgin Islands Game Fishing Club, where this was the featured entrée at the Awards Dinner held April 25.
The Virgin Islands Game Fishing Club appreciates the sponsorship of Budget Car and Truck Rental and Glazers Premier Distributors.