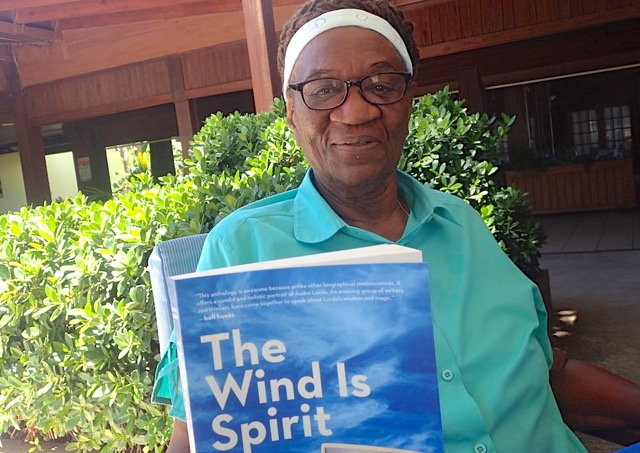 Renowned poet, feminist, and civil rights and gay activist Audre Lorde spent her last, and perhaps most creative, years on St. Croix and her partner, Gloria Joseph, an educator, author and activist in her own right, has compiled an anthology of poignant memories and stories to craft a biography fashioned by Lorde's friends, family and peers.
Joseph said that before Lorde's death in 1992, they discussed a possible biography. Lorde directed Joseph to "leave a story of who I am in all my complexities and to make the quality of my life so irresistible that other people will share my visions. Don't mythologize me."
"The Wind is Spirit: The Life, Love and Legacy of Audre Lorde" comprises remembrances, poetry and testimonies by those who witnessed the 1991 New York state poet laureate's life.
Lorde was born in Harlem, N.Y., in 1934. She left home after high school to attend Hunter College because her parents couldn't afford Sarah Lawrence College where she received a scholarship.
In the late 50s, she had her first lesbian relationship but then married Ed Rollins, a gay white male, and had two children. The marriage broke down and she began a 16-year relationship with a woman who helped her raise her son and daughter.
In 1968, Lorde received a grant from the National Endowment for the Arts and wrote 50 poems and a book, "New York Headshop and Museum," during the seven week poet-in-residence grant.
In the 70s and 80s, Lorde lived in Staten Island where she wrote, among other things, the poem, "Power," to memorialize Clifford Grover, a 10-year old shot by a NYC policeman.
Lorde spoke to a crowd of 200,000 at the 20th anniversary of the March on Washington for Jobs and Freedom in 1983. Defying open hostility from the audience, she announced that she represented the National Coalition of Black Lesbians and Gays.
Lorde's breast cancer was first diagnosed in 1978 and she and Joseph spent more time on St. Croix as her health declined. During that time, they founded the Women's Coalition of St. Croix and produced Hell Under God's Order after Hurricane Hugo. Lorde died in 1992.
In January 1993, more than 4,000 people attended a memorial service for Lorde at the Cathedral of St. John the Divine in New York City. To preserve her work, her papers have been digitally archived at Spelman College in Atlanta.
Contributors to "The Wind is Spirit" include Lorde's sister, her literary agent, her oncologist and activist Angela Davis, who said she "encountered her towering presence in unpredictable contexts."
Joseph said many people asked to contribute thoughts and feelings to the book and around 50 writers did so, including several from St. Croix.
"I learned a lot about Audre from what people wrote," she said.
In February and March, Joseph traveled to the East Coast to speak about Lorde and the book in celebration of African History month. Her New York stops included Hunter College, Westchester Community College, Community College of New York, Barnard College, Syracuse University, Hampshire College, the Bronx Academy of Art and Dance and Schomburg Center for Research in Black Culture. She also spoke at the University of Massachusetts and had tea at Gracie Mansion with Mayor Bill de Blasio's wife, Chirlane McCray.
Joseph has written several books including "Common Differences – Conflicts in Black and White Feminist Perspective" and "On Time and In Step: Reunion on the Glory Road" and many essays. She has a master's degree in psychological services and a Ph.D. from Cornell University in educational psychology. She worked as a professor and guidance counselor at several colleges and universities in the United States and Europe.
Now officially retired, Joseph plays golf and is actively involved in beekeeping. She is the great niece of Crucian philanthropist Casper Holstein and was raised in New York City.
Joseph will participate in the V.I. Literary Festival this Thursday, Friday and Saturday. "The Wind is Spirit" will be on sale at the University of the Virgin Islands and at the Book Bacchanal at the Caribbean Museum Center for the Arts. On Apr. 26, Joseph will hold a book launch at Beachside Café at Sandcastles on the Beach at 6 p.m.