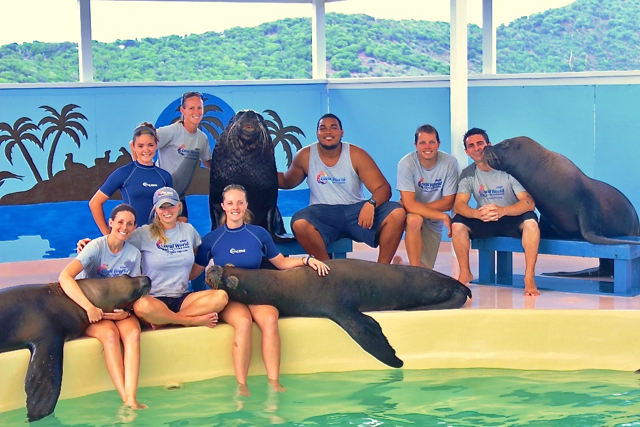 Earning accreditation for high-standard, ethical care of sea lions, was a longterm investment that was worth going through the more than yearlong, multi-step process, Coral World's Lee Kellar said Monday.
Earlier this month Kellar attended the Alliance of Marine Mammal Parks and Aquariums' (AMMPA) annual meeting in Rivera Maya, Mexico, to receive a plaque that recognizes the accreditation, which was awarded as of 2015.
"We wanted to go through the accreditation process for a very long time, but because it's such an involved and expensive process we had to wait until now – the dues alone are thousands of dollars a year. But it's a big investment that's worth it," Kellar said.
AAMPA is an international association that represents marine life parks, aquariums, zoos, research facilities and professional organizations that are dedicated to highly ethical care for marine mammals and to their conservation in the wild through public education and scientific study.
Kellar said that people are becoming increasingly concerned with animal welfare, so having this accreditation could help entice them to visit Coral World. Part of AAMPA's accreditation entailed ensuring that the psychological health and physical wellbeing of Coral World's sea lions are being met.
"It may not be an active marketing tool we promote, but we'll have it on our website and there will be people that look for it. Some folks care that Coral World is exceeding animal care standards," Kellar said.
The Coastal Zone Management Commission required Coral World to seek accreditation from AAMPA as a requisite for receiving a permit for its future dolphin habitat. The commission reviews all development projects, including houses, businesses, marinas and hotels, all of which could impact the territory's coastal zones.
Coral World will still need a permit from the Army Corps of Engineers to build the planned 10,000 square-foot, two-story interactive dolphin habitat.
The current AAMPA accreditation is only for the current sea lion habitat and lasts for five years. Coral World would have to go through an additional accreditation process for the future dolphin habitat.
"The accreditation process is quite rigorous, but in the end we're happy we went through it," Kellar said.
Kellar explained that Coral World had to submit a lengthy application, as well as two letters of recommendation from current members, who have visited the facility and can vouch that it meets the AAMPA's accreditation standards.
"We were doing all of these things already, but gaining accreditation really comes down to documentation and having detailed plans for processes and potential natural disasters. Planning like this is good for any organization," Kellar stated.
Last fall Coral World staff including Kellar had to give a detailed presentation in Washington, D.C., to describe the park's amenities, marine mammal programs, training, animal husbandry, veterinary care, research initiatives and history of each marine mammal at the facility.
A team of experts also visited the facility for an inspection to make sure the it was in full compliance with AAMPA standards.
"I had no doubt we would achieve accreditation. Our staff is totally dedicated to the welfare of the animals in their care and to educating the public about the importance of the oceans and the animals that inhabit them," Trudie Prior, Coral World's general manager, said.