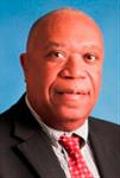 Bernard A. Wheatley, CEO of Schneider Regional Medical Center (SRMC), has been named to Becker's Hospital Review's 2016 list of "50 Rural Hospital CEOs to Know."
Published by the leading magazine for hospital business news, the article acknowledges that although massive healthcare systems like Mayo Clinic or Johns Hopkins may be household names, many Americans live in small, rural communities and rely on lesser-known hospitals for high-quality healthcare. The list features some of the most impressive leaders dedicated to advancing healthcare in small towns and communities.
"This is an honor for the Schneider Regional Medical Center," said Wheatley. "It takes all of us working together to receive this kind of recognition. This is a reflection of the quality of our people at SRMC and the quality of care they provide."
The list of "50 Rural Hospital CEOs to Know" includes leaders from across the United States. Individuals on the list include CEOs and administrators of hospitals located outside of major metropolitan areas or healthcare hubs. The Becker's Hospital Review editorial team selected leaders through a review process where a number of factors were considered, including awards received; local, regional and national leadership positions held; and their organization's recent performance.
Becker's Hospital Review is a monthly publication with content geared toward high-level hospital leaders (CEOs, CFOs, COOs, CMOs, CIOs, etc.). The magazine includes hospital and health system news, best practices and legal guidance specifically for decision-makers involved in making critical business decisions for a hospital or health system.
To see the full article, log on to Becker's Hospital Review.