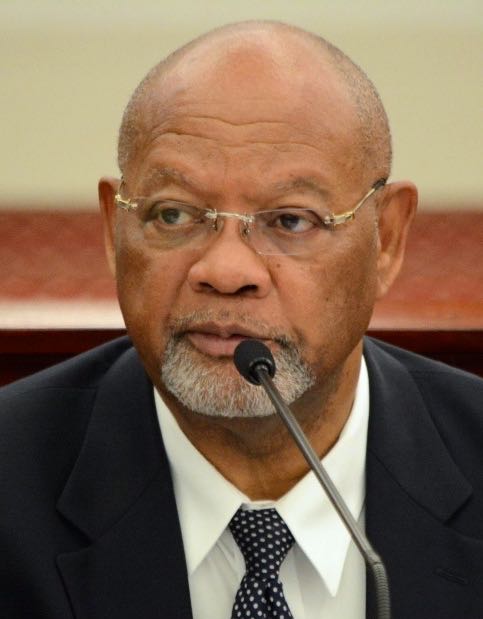 The $220 million one-time government revenue windfall from the sale of the Hovensa refinery to Limetree Bay is mostly spent or obligated, and tax revenues are way down, administration officials said during a budget update to the Senate Finance Committee on Tuesday.
Budget Director Nellon Bowry, Finance Commissioner Valdamier Collens and others in Gov. Kenneth Mapp's cabinet also shared some good news, including that the government is funded this year, tax refunds are going out and capital projects funded by federal grant anticipation bonds are starting.
The territory was facing a serious cash-flow and budget crisis before the sale of the refinery, relying on revenue anticipation loans and other debt instruments, along with strict agency allotment cuts, before the influx of cash from the sale, Collens told the committee.
After paying back loans and covering other costs, the Fiscal Year 2016 budget is covered, and about $35 million of the original $220 million remains for future years, Collens said.
About $95 million has already been spent, with $50 million going to pay off the government's revenue anticipation loan; $22 million on tax refunds; $4 million to the V.I. Water and Power Authority as partial payment for past-due streetlight costs; and $19 million for "consulting and bank fees" relating to the government's now-settled tax lawsuit against Hovensa.
Sen. Terrence "Positive" Nelson asked for a breakdown of the $19 million in consulting fees.
Collens said $15 million went to the law firm of Cohen and Milstein, while $4 million went to the law firm of Winston and Strawn, who are long-time consultants to the V.I. government.
When Mapp announced the lawsuit against Hovensa for millions in back taxes in September of 2015, he named Cohen and Milstein as the firm hired for litigation and also said the firm was taking the case on a contingency basis, to be paid out of whatever final settlement. That way, the territory did not have to pay legal costs upfront. (See Related Links below)
Another $90 million is not yet spent but committed, including $55 million to close the rest of the government's budget deficit; $25 million to restore agency and departmental budget allotment cuts; and $10 million to fully repay off the government's outstanding line of credit, Collens said.
Meanwhile, according to Bowry, tax collections for the current year are down by 14 percent as compared to the same period last year. Extended to the end of the year, that means about $54 million less in revenues than projected, which Bowry said "carries implications for FY 2017 and beyond."
The largest decrease is in the income tax category, which shows a decrease of 20 percent from the same period in 2015. Both corporate and personal income tax receipts are down. Real property and gross receipts tax revenues are also down. But air visitor arrivals and hotel stays are up, helping to bolster a 6 percent increase in hotel room tax revenue. And excise tax revenues are up 5 percent.
Sen. Kurt Vialet asked Simon Jones-Hendrickson, Mapp's chief fiscal policy advisor and head of the V.I. Bureau of Economic Research, if the BER had analyzed why the revenues were down.
Jones-Hendrickson said the BER is in the process of doing so.
There is room for some optimism though. Bowry said the V.I. economy is strongly tied to the U.S. economy, although U.S. growth can take awhile to affect the territory.
"Growth in the U.S. economy correlates positively with growth in the USVI economy. The chair of the Federal Reserve remains confident that the U.S. economy remains on track for continued growth," Bowry said.
Sen. Clifford Graham asked, "How long will it take for the USVI to feel the positive economic aftermath from the U.S. economy?"
Jones-Hendrickson said it could start having a positive impact within 12-18 months.
Meanwhile, Limetree is up and working at the former Hovensa refinery.
Sen. Marvin Blyden asked how many employees Limetree was hiring.
"Although Limetree's original plans contemplated having 200 workers on site for the first year, that number had increased to 279 employees," Collens said.
"How many of the employees are from the Virgin Islands?" Blyden asked.
"Of the 279 current workers, 267 are Virgin Islands residents and tax-payers," Collens said.
Separately, Public Works Commissioner Gustav James spoke about capital projects under way and in the planning stage across the territory.
Work on the first phase of expanding Veterans Drive has been allocated $40 million, he said. The Raphune Hill Intersection Project was awarded $1.5 million and it is in the contract and signature stage. And the $10 million Main Street Project to revitalize Downtown Charlotte Amalie has already begun, according to James.
"I do not see any significant changes in the revitalization of downtown Charlotte Amalie," said Sen. Janette Millin Young, asking what has been accomplished so far.
James said Tip Top Construction has ordered underground materials that had arrived on-island. The design phase is still in progress and administrative issues are being addressed, he said.
At the meeting were Graham, Blyden, Nelson, Vialet, Millin Young, Sens. Novelle Francis, Justin Harrigan, Tregenza Roach, Myron Jackson and Sammuel Sanes.