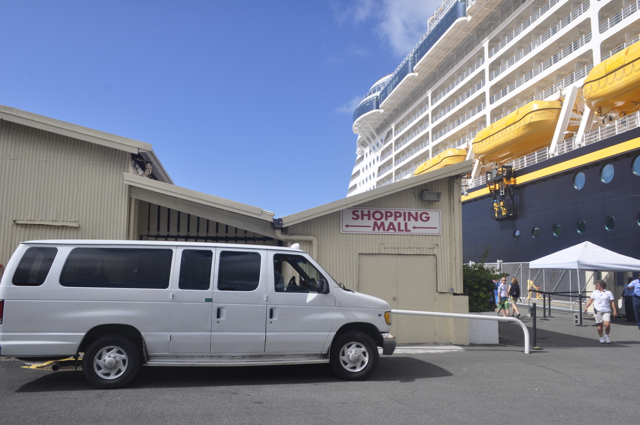 The board of the Government Employees Retirement System met in special session Monday to discuss Gov. Kenneth E. Mapp's call for a "complete re-branding, rebuilding and reinvigorating" of Havensight Shopping Mall, which GERS owns, although trustees said they were not yet clear on what specifically the governor envisions.
During his 2016 State of the Territory Address, Mapp said the mall appears to be an "out of date, stale shopping experience." He asked GERS and the West Indian Company Limited, the property's manager, to present a new plan for the mall within 90 days.
The GERS board agreed Monday to form a team to meet with WICO to discuss Mapp's statements in the hopes of hearing more specifics. Mapp's chief of staff Randy Knight sits on the WICO board.
In November, the GERS board heard a proposal from Anthony Ottley, director of Property Management for WICO, and architect John Woods, to introduce aesthetic improvements to Havensight Mall. The plans included landscaping, cobblestone paving, and new entryways, signage and paint colors.
The plans also attempted to streamline disembarking cruise ship passengers into the mall, addressing complaints from merchants that customers are being intercepted by taxi drivers before they reach Havensight's stores.
The plan required a $2 million capital budget approval from GERS, which the board did not commit to. Other options are currently being considered for Havensight, and selling the property, which GERS purchased from WICO in 1993, has not been taken off the table.
Mapp's vision for the mall expressed in his State of the Territory Address appears to exceed the scope of the improvements proposed by WICO in November. The governor said he'd like to see any new plan include "passive and active attractions, a greater variety of shopping, and graphics of our history and culture that promote other areas in the territory."
"I want both [WICO and GERS] to know that I have no interest in viewing only new plants, new pictures, and new paint," Mapp said in his address.
Mapp said he want any changes to Havensight Mall to have the effect of encouraging cruise visitors to return to the territory as overnight guests.
GERS Administrator Austin L. Nibbs expressed ambivalence about investing money in upgrades to Havensight Monday. He said he did not know whether investing a large amount of money into the property would be prudent given GERS's continuing slide into insolvency.
"Is this really going to increase the value that much? I don't know," he said.
The latest appraised value of Havensight Mall is $41 million according to Chief Operating Officer Evelyn Venner-Potter. Rents paid by merchants on the property declined in 2015.
"I guess my overall concern is that this board is focusing now on liquidating assets," said Nibbs.
Even if improvements were made to the property, rents would not rise immediately due to current lease agreements, he added.
Board Chairman Wilbur Callender said he is skeptical that improvements to Havensight Mall will do much to lure return guests for longer stays in the territory.
"If [Mapp] stated that we need people to stay in the territory longer, it doesn't matter what we do to that mall. That will not make the number of overnight visitors increase," he said.
Despite some lack of clarity over Mapp's statements on Havensight, GERS officials were pleased overall with the content of his State of the Territory Address. Mapp said that he and his financial team plan to work with GERS to fix the "vexing" problem of the system's approximately $2 billion unfunded liability "once and for all."
Reforms to GERS passed by the Legislature in 2015 were modest, and GERS officials have expressed disappointment that the V.I. Government, the system's plan sponsor, has not been bold enough in its actions.
"All in all it was positive," Austin Nibbs said of Mapp's stated commitment to fixing GERS.
Nibbs said that although Mapp stated in his address that he will not give GERS a large cash infusion, he was surprised to hear that the governor has agreed to a relatively small $15 million securities investment in GERS's name.
Although GERS's annual administrative expenses exceed that amount, Nibbs said the amount is a step in the right direction.
"At least it's a start. I don't want to knock it," he said.
Board member Carol Callwood agreed and stressed the importance of the board taking a positive approach to working with the governor. She reminded the board that Mapp also announced the hiring of 876 new government employees who will pay much-needed contributions into the pension system.
During his speech, Mapp also called for two additional members to be added to the board with the requirement that they have investment and hedge fund management experience.
On Monday the GERS board also voted to approve additional scope of work in the amount of $38,720 to their White House renovations project. The work will include installing screening, securing the building's mounted clock, and cleaning the property's cistern.
Also present at the GERS board meeting were trustees Leona Smith, Michael McDonald and Vincent Liger. Edgar Ross and Desmond Maynard were absent.