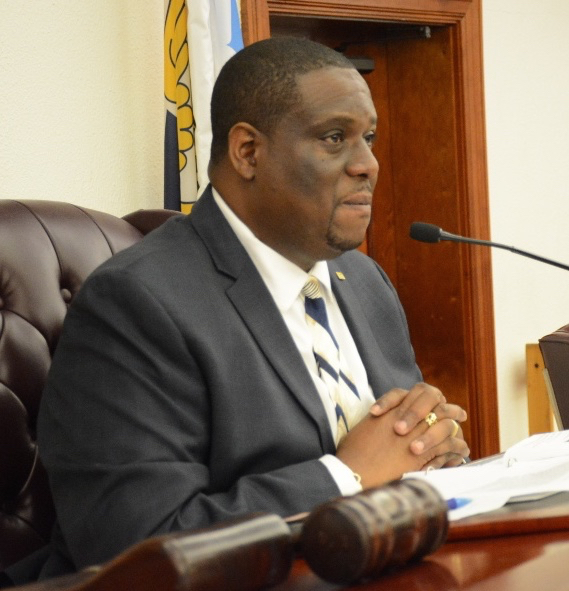 The Senate Rules Committee Wednesday sent to the full Senate a bills requiring the territory's hospitals to allow a patient to designate a caregiver upon admission to give that person information on what care is needed after they leave.
Bills appropriating funds for basketball court roofing, probate reforms and property tax exemptions were also sent on.
The caregiver bill, sponsored by Sen. Kurt Vialet, requires the caregiver's name and contact information be officially recorded in the patient's medical record. And it sets requirements on the hospital to notify and meet with the caregiver and to give the person instructions on after-care tasks.
The bill defines "caregiver" as any family member, friend, neighbor or other individual designated as a caregiver by a patient who provides after-care assistance to the patient living in his or her residence. When the bill was first heard in committee, officials from the Health Department and from the territory's two hospitals gave qualified support of the measure, saying it would help clarify responsibilities and ease concerns of patients.
Vialet said his bill will require hospitals to designate "at lease one " caregiver after discharge and require the hospital to communicate with them.
"This bill seeks to reduce the number of patients who are discharged from the hospital and immediately readmitted for lack of care," Vialet said.
In a similar vein, Sen. Jean Forde said "good intentions don't pay the bills. … this gives the potential caregiver an opportunity to know exactly what needs to be done."
Legislation aiming to fund steel roofs and lighting over the public basketball courts in Frederiksted's Estate Profit and in Estate Grove, in the center of St. Croix, was also sent on.
Sen. Sammuel Sanes sponsored the measure, [Bill No. 31-0114] which appropriates $467,660 from bond proceeds still remaining from $35 million in new bond debt for energy conservation projects in Education Department facilities and both hospitals, which are expected to ultimately save millions of dollars over time. (See Related Links below)
Sanes said the measure would create some jobs, allow games at night and in rainy weather, and "will not only further playing basketball in our parks, but it will bring people in our communities together."
With roofs and lighting, the courts can be community gathering places too, he said.
When the measure was first heard in committee, Public Works Commissioner Gustav James said each roof would cost about $350,000, including a concrete foundation and new lighting. The new funding, combined with some existing funding, should make it possible to cover the two courts, he said. The funding would not pay for resurfacing the courts.
Rules also sent on another Sanes-sponsored bill to forbid displaying license plates on dashboards or elsewhere inside the vehicle, and require all car owners to put one plate in front and one on the rear of their vehicle. [Bill No. 31-0108]
"Coming from a law enforcement background, license plates are one of the main tools for law enforcement to identify a vehicle," said Sen. Novelle Francis, a former career police officer.
Sen. Justin Harrigan, also a former police officer, said he agreed and strongly supported the bill. He said in an accident, a victim or witness of a hit and run may be able to see the license if it is on the front bumper, but "having the license on the dashboard, with a tinted window, it may be difficult."
The committee also approved a bill sponsored by Sen. Nereida "Nellie" Rivera-O'Reilly requiring the Department of Health's Office of Vital Statistics to compile a report of all death certificates on a biannual basis "to ensure that various exemptions applicable to deceased persons do not continue beyond their demise."
Introducing the measure, Rivera-O'Reilly said that veterans and homestead property tax exemptions and other government-subsidized benefits were being extended even though the rightful recipient had died. Sometimes tax breaks for veterans and others are improperly extended to new owners, she said.
"I think it is another way of capturing revenue for our treasury and a way to remind our residents and taxpayers it is important to follow the law," she said.
It will be easier to transfer a bank account to designated heirs after the owner dies, to set up trust funds for heirs, and be simpler and more predictable to set up bank accounts with multiple owners, if another bill [Bill 31-0226] approved Wednesday becomes law.
The bill, called the V.I. Uniform Multiple Person Accounts Act, sponsored by Sens. Janette Millin Young and Myron Jackson, would re-enact a part of the Uniform Probate Code in the territory.
Voting in favor of the probate bill were Rivera-O'Reilly, Harrigan, Francis and Sen. Jean Forde. Sen. Kenneth Gittens voted no. Young and Sen. Neville James were absent.
The other bills were approved without opposition.