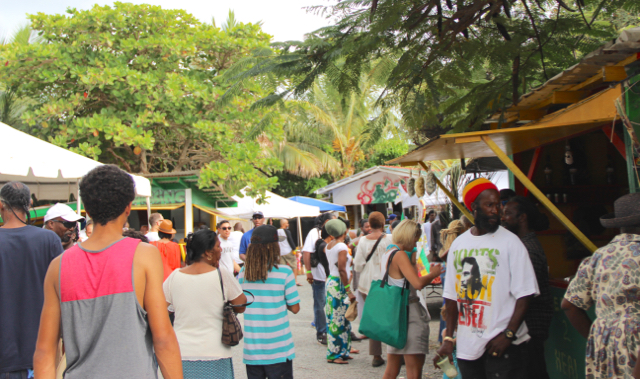 The smell of fresh herbs and spices filled the air Saturday as hundreds of people strolled through the colorful booths of the 19th Annual Bordeaux Farmer's Rastafari Agricultural & Cultural Vegan Food Fair.
Despite the muggy afternoon, fairgoers ventured to the west end of St. Thomas to support local farmers and sample some of their homemade vegan dishes.
Organized by the local farm collective We Grow Food Inc., the fair offered something for everyone. Booths sold produce, prepared food, jewelry, and arts and crafts. The day was full of musical performances and activities for children.
Among the afternoon's performers were the Echo People, a group of drummers who played African beats while bambula dancers twirled and swayed to the music in their long white skirts.
As the music played, wide-eyed kids giggled as they petted turtles, rabbits, ducks and Chihuahua puppies that, to the amusement of all, were playing together in one pen. Connors Farms, a new local business, provided pony rides and the petting zoo.
For the Bordeaux farmers, the fair helps raise public awareness about the importance of local farming and exposes people to the benefits of healthy eating.
"It generally takes about two weeks for fresh food to get here once its been picked from the fields in the states. It's less nutritious, since it's not picked when it's fully ripened," explained Alphonso Wade III, a farmer who handles the marketing of We Grow Food Inc. He said local food is healthier, because it can be picked and sold when fully ripe.
Since the fair focused on local goods, all produce was sourced from St. Thomas and neighboring islands. Farmers sold an array of produce, including pumpkins, peppers, collard greens, bok choy, pineapples, sugar apples, squash, bananas, avocados and fresh herbs, to name a handful.
"We aim to make sure everything is as local as possible, so we only allow crops to be sold that come from the U.S. and British Virgin Islands and Puerto Rico," said Benita Martin, event organizer and We Grow Food Inc. member.
Martin added that the fair enforces this rule by having inspectors verify that everything is comes from within that geographic area.
Fairgoers dined on all-vegan dishes such as pumpkin soup, mango tofu and fried lentil balls. A local artisan who goes by the name of "Jolly Roots and Culture" said Rastafarians eat vegetarian food because it's a healthy way to live.
The fair also proved to be a space for sharing knowledge, as many patrons asked the farmers questions about the plants they purchased. The advice for having healthy basil plants? Keep them out of the sun and make sure they get a lot of water.
Another fairgoer, Russell Roots, said he learned how to pick a ripe pineapple –when you can easily pull one of its top leaves out – and said he thinks he now knows the proper way to pronounce "sorrel" after a little instruction from one of the farmers.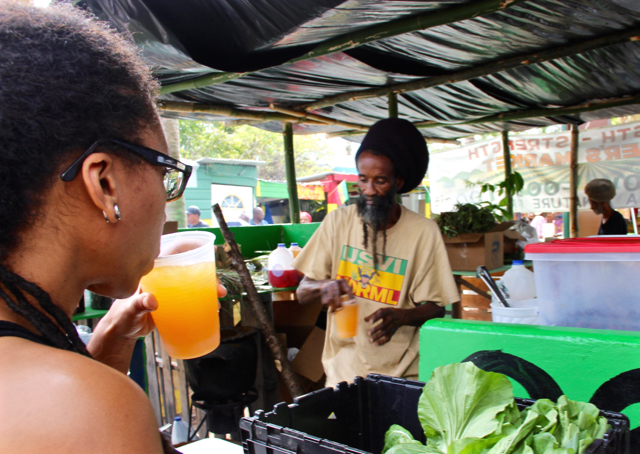 Nevon "Ras Imani" DeCastro, vice president of We Grow Food Inc. and recent recipient of the organization's Farmer of the Year award, offered advice about growing sugar apple trees. He told an aspiring farmer to sprout the seed in a pot and keep it wet till it's big enough to plant.
Apart from being an ace pineapple grower, DeCastro is also a tradesman and talented cook, a skill that was verified by the continuous line at his stall. DeCastro's most popular item was his seasoned, fried cauliflower, an item that sold out early in the day and one his patrons insist tastes better than chicken.
"I can't leave home without the cauliflower. People just love it," DeCastro said.
DeCastro said the fair helps bring people back to their roots and underscores the need for farmers to have more equipment so they can produce more food.
Roniel Allembert brought his wild honey to sell and even some of his bees all the way from St. Croix for visitors to see. He said the drought really hurt his colonies last year, but the bees are resilient creatures and are rising again.
With last year's drought still fresh in many of the farmers' minds, Sen. Tregenza Roach addressed the crowd about the threat climate change poses to agriculture in the Virgin Islands. He noted that precipitation patterns are expected to change in the region, so farmers need the right equipment and setup to be prepared for more droughts and longer time periods between rains.
"Enjoy the fair but be mindful of the kind of support farmers need to ensure our food security," Roach said.
Morgan Dixon, a nursing student at the University of the Virgin Islands who's originally from Tennessee, was inspired by the cultural unity of the fair.
"It's awakening for someone like me from the states to see how this community embraces its culture and celebrates it. It makes me want to know what I can do to inspire this type of pride in my own community," Dixon said.
From behind a lovely bunch of bok choy, Martin said day one of the fair went smoothly and the farmers as a whole are really pleased with the support from the community. The fair runs all day Sunday, culminating with a live reggae performance in the evening.
Sunday Program Line Up
– 10 a.m.-11, DJ Dilli Fingas.
– 11-noon, Pan Roun de Neck.
– Noon-12:05, WGFI Vice President Ras Imani.
– 12:08 p.m.-12:23, SBDA.
– 12:26-12:41, Energy.
– 12:43-1:13, Hydroponics 101.
– 1:16-1:46, Dept. of Agriculture Carlos Robles.
– 1:46-1:56, DJ Dilli Fingas.
– 1:56-2:16, VI Norml Barbara.
– 2:16-2:46, Ras Bobby (Herbalist).
– 2:47-3:07, Konyah's Poetry Korner.
– 3:10-4:10, AfriCultural Fashion Show.
– 4:15-5, Echo People.
– 5-6, DJ Dilli Fingas.
Sunday Artist Line Up
– Ras Miko, 5:30 -5:50.
– Exodus, 5:50-6:25.
– Jah Sekemnah, 6:25-7.
– Unity Band, 7-8.
– DJ Dilli Fingas, 8-8:15,
– Pablo P, 8:15-8:45.
– Icarus/Unity Band, 8:45