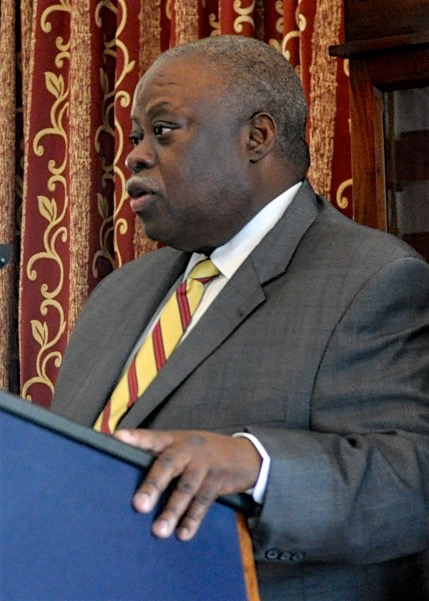 Gov. Kenneth Mapp said Tuesday that claims made by Sen. Janette Millin Young that he attempted to influence her vote on the V.I. Government's recent agreement with ArcLight Capital Partners using pension money owed by the government to her father, former Lt. Gov. Henry Millin, are completely false.
Mapp addressed the issue at a press conference held at Government House on St. Thomas.
Last week Millin Young relayed to a public website that Mapp and Finance Commissioner Valdamier Collens repeatedly made calls to her mother, and Collens called her, about the senator's father's pension while the ArcLight agreement was before the Legislature.
According to Millin Young, it was also stated in these conversations that the payment would be released before Dec. 31, 2015, the same deadline imposed by the ArcLight negotiators. She said the issue of her father's pension and the ArcLight deal were discussed with her in tandem.
The governor disputes this.
"For the senator to sit down and completely fabricate a story that me, a sitting governor, and the commissioner of finance, a sitting commissioner, got ourselves involved in a scheme and, ladies and gentlemen, a felony, a federal offense, to bribe her for her vote using monies owed to her mother is a complete, 100 percent, utter fabrication," said Mapp.
Mapp claimed he received a phone call from Millin Young's mother, Graciela Millin, on Nov. 9, 2015. During their conversation, Millin stated that no progress was being made on paying out her late husband's pension monies. The first request by the Millin family for the pension's disbursement, according to Mapp, occurred during the Turnbull administration.
After determining that Millin was owed her husband's pension payments from the period between 1983 and 2004, Mapp said he returned her call on Nov. 18. At this point, he said, he gave Millin no indication of the amount that the government owed her husband's estate or how the disbursement would be made.
Collens later called Millin to let her know that the amount owed totaled $635,000.
Millin was also told that because the money is an outstanding obligation from previous years, the disbursement cannot come from the government's Fiscal Year 2016 operating budget, but instead requires a legislative appropriation.
Millin Young later made the allegation that the governor was holding her father's pension hostage for political reasons, to which Mapp responded with an angry post to his personal Facebook page.
In the post, Mapp called Millin Young "a confounded liar and a jackass" and asked "why you such a setty fowl?" The post was accompanied by a photo of a hen.
Many found the governor's response, and the way he chose to deliver it, to be in poor taste.
Former Delegate Donna Christensen, who ran against Mapp in the 2014 election, said in a written statement this week that his words "smacked of sexism."
The Democratic Party of the Virgin Islands said in a press release issued Monday that the post was "cruel, reprehensible, disgraceful and unacceptable."
"Together, we condemn the behavior of the 'leader' of our territory and demand nothing short of a public apology," the party organization said.
During his Tuesday press conference, Mapp issued an apology to the community for his online language but refused to apologize to Millin Young, who he maintains made an error with her accusation.
"I know that a number of persons in the Virgin Islands community are annoyed at my choice of language. And to them I apologize for getting very close to using profane language," said Mapp.
"My last advice to [Millin Young] is to sponsor a piece of legislation authorizing a payment of $635,000 as outstanding obligation to the governors and lieutenant governors pension program, and identifying a real source of money, and I can assure you and your family that I would sign it if it arrives at my desk, and ensure that once it is enacted into law that the commissioner of finance disperse those sums in the name of Henry Millin," Mapp said.
The governor also vehemently denied the charges of sexism that have been leveled against him for calling the senator a "setty fowl" or an egg-laying hen.
"That has nothing to do with sexism or disrespect. It just has to do with how we, in our colloquial way, in our heritage as Caribbean people, that's how we communicate," Mapp said. "It is what it is. I was proud to be exposed to it in this region of the world, having come from a Crucian family; that's a part of the makeup of who I am."
Millin Young did not comment on the governor's press conference on Tuesday, but a representative of her office said she would be releasing a statement with her response to the governor in the coming days.