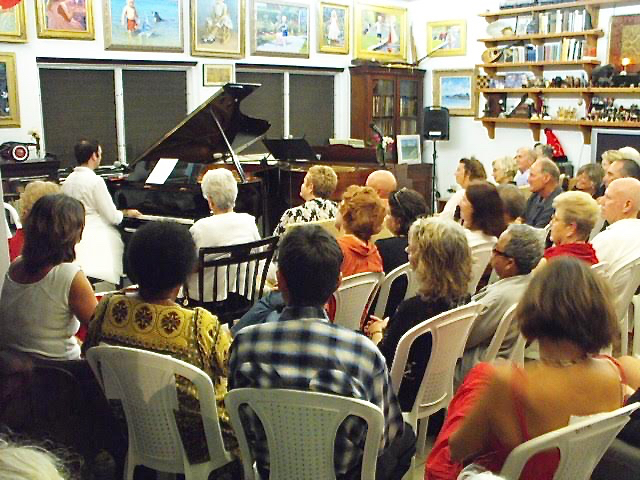 Even the man behind the Water Island Music Festival can't believe how it all started – or how it's grown into an annual must-go event for 100 or so residents of the tiny island and nearby St. Thomas.
Alex Randall, media personality and journalism teacher best known locally as "The Good News Guy" on WSTA Radio, says the whole thing started as friendly banter.
Acclaimed New York classical pianist Julian Gargiulo was at the radio station in 2005 to promote a concert on St. John. Randall said he facetiously told Gargiulo he should give a concert on Water Island, where Randall lives with his family.
"He said 'Get a piano,' "Randall recalled.
Then Gargiulo followed up, sending Randall emails asking about plans for the piano. Finally, Randall stopped joking and started looking for a piano. He found one on eBay and when Gargiulo returned to the territory in January 2006, the instrument had just arrived on St. Thomas. Randall said he had a day to get it delivered and tuned and to let people know there would be a free concert.
"I put a sign up by the ferry (from St. Thomas to Water Island) and 75 people showed up," he said. Gargiulo played for them the same concert he had given the week before at Carnegie Hall, and the event was an overwhelming success.
"So the next year he shows up with his girlfriend (also a pianist) and his parents," Randall said.
Over the years the festival has grown from a single concert to a three-night event with multiple musicians performing. Gargiulo lines up the musicians, most of whom are friends, and Randall and friends manage the local arrangements.
The 11th annual festival will take place from 7 to 10 p.m. Friday, Saturday and Sunday Jan. 22,23 and 24. There will be ferry service to and from the Crown Bay dock on St. Thomas.
Admission is free, but "at the end of the concert we pass the hat, literally," Randall said. No checks, please, there's no entity to which you can write them. The donations are divided up among the musicians and go to cover their travel costs. In return, the musicians have a free stay on Water Island, which makes for a nice respite in the dead of winter.
The festival "doesn't have a bank account. It doesn't have any paperwork. It doesn't exist. It's kind of like Brigadoon," Randall said, rising out of the mists each winter and then disappearing. "There are no paper contracts. Nothing's written down. It's all volunteer."
It has a loyal following and support from the community. Randall said various residents provide meals for the performers, some have also donated boat rides or other activities for them. One of his neighbors regularly sends money to pay for light refreshments at the concerts. The Randall family opens their guest cottage to the performers for a week.
It also provides the venue for the performances, Randall's living room. He can fit up to 100 chairs inside; any overflow is welcome outside. Typically, about 75 Water Island residents pack the house and another 30 to 40 come from St. Thomas. People are requested to call ahead so there's at least an indication of the numbers on a given night.
"It's all so zany," Randall said. "At the very beginning it was just pure chaos."
It's gotten a little more organized in the following 10 years, but it's still profoundly informal – and intimate.
One of its more charming aspects is the almost family atmosphere. Many of the same musicians are regulars on the Water Island circuit.
Take pianist Maria Yefimova, who has come almost every year. Audiences got a glimpse of the courtship between her and musician/songwriter/singer/producer Wells Hanley. Then they married. Then a pregnant Yefimova played the festival. And now they bring their young son. Last year the boy debuted; he banged on the piano keys and his dad improvised jazz around the "melodies."
Garguilo, who Randall describes as "an absolute master" is a composer as well as a pianist. He premiered an original concerto on Water Island and the piece is featured on his most recent CD. He also has organized contests in New York for violinists who compete for the chance to perform with him.
"The prize for being the best at Carnegie Hall is to get to go to Water Island," Randall said.
This year, the musicians joining Garguilo, Yefimova and Hanley are: Julie Desbordes, trumpeter and conductor; Joe Burgstaller, trumpeter and professor of chamber music; Hilary Gardner, vocalist who has sung with the likes of Frank Sinatra; Roza Bulat, soprano who has performed in operas; and Hye-jin Kim, violinist.
Further information can be obtained and reservations made by contacting Randall at 340-514-9995. During the day Randall prefers texts but calls are OK in the evening.