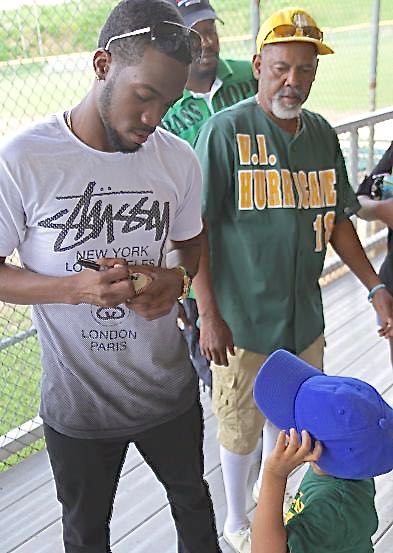 While schools around St. Thomas gear up to host alumni coming home for winter break, the Future Stars Baseball organization also welcomed back a few of their own: major leaguers Akeel Morris and Jabari Blash.
Both Morris and Blash were on hand over the weekend to work with Future Stars prospects at an exhibition game held at Lionel Roberts Stadium, while Morris spoke beforehand to youngsters just coming off the field at the Elite Baseball League's last winter game at Alvin McBean ballpark.
Morris, who was called up briefly to pitch for the New York Mets during a regular season game, said his main message to the students was about the importance of staying in school and believing in themselves as players from the Virgin Islands.
"Coming from the Virgin Islands, most people don't see or think that our players are worth it," Morris said. "And you may not see the opportunity, but I'm telling you it's out there and you have to want it and work hard."
Morris said listening and trusting in his coaches is what helped him through but he also found motivation in trying to get a scholarship to college.
"School, that's the main thing," he said. "School came easy for me, and along with that came baseball. But at that time I wasn't thinking that I have to be a baseball player; I was thinking that I have a brother and sister that are graduating at the same time as me and I knew my mother couldn't put three people through school so I was focused on a scholarship."
Starting out as a shortstop, Morris said he then tried his hand at pitching and his skills eventually caught the interest of the New York Mets organization, which drafted him for the minor league system. Morris said that one of the advantages of his contract is that it also covers four years at "any college I want to go to."
"This is really important because it means that I have the opportunity to finish school as well," he said to one parent who asked what the pros of being a professional baseball player were.
Morris said being a pro means having the discipline to keep up with the schedule. Having fun with your team is important as a young athlete, but being able to transition from twice a week practices on-island to workouts every morning on the mainland – and playing baseball every day for seven to eight months out of the year – takes determination and hard work, he said.
"You have to want to it because everybody else on the field wants the same thing," Morris said.
Morris saw his determination rewarded in June with a major league debut for the Mets against the Toronto Blue Jays and, while he has since returned to the minors, he said the game was "definitely part of his dream."
"It was worth it," he said. "It was great to make it into the stadium. Everything was beautiful, everything was clear and it was the best feeling in the world."
Morris said the goal this year is make the Mets' big league club out of spring training, or at least to return to AAA and then be called up.
Morris went on to join former teammate Blash at the Future Stars game on St. Thomas on Saturday and the two spent hours working with up-and-coming local prospects.
Blash is now part of the San Diego Padres organization – after being taken Oakland Athletics in a Rule 5 Draft and then traded back to the Padres. He said he has been looking forward to coming home for the holidays and spending time with his family before heading back to spring training.