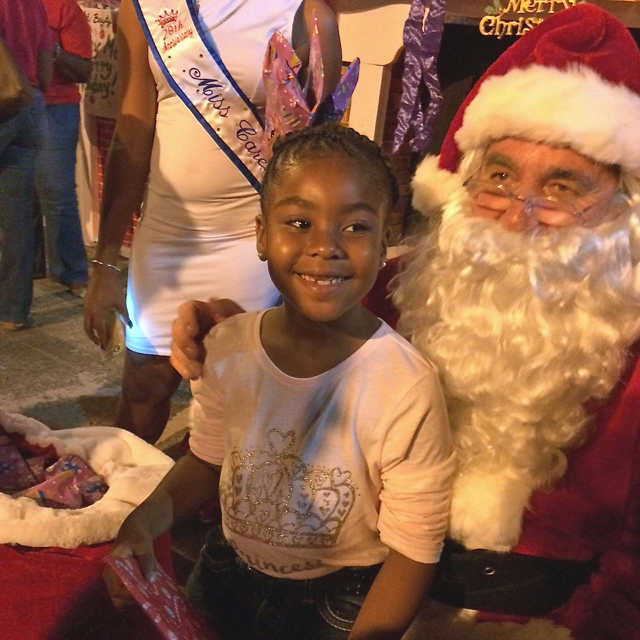 The crowds poured into the Joseph Aubain ballpark in Frenchtown Saturday night for at the 2015 Christmas Festival of Lights Competition, "A Very Merry Guavaberry Holiday."
The event has been hosted by the Frenchtown Civic Organization for the last 40 or so years – nobody is exactly sure, and it really doesn't matter. It's the spirit of the celebration that's carried the annual tree lighting ceremony over the years.
Sunday's celebration featured a tree competition, a new twist started last year, with 12 trees from representing the 12 days of Christmas, from community enterprise standing as brilliant sentinels lining the side of the Frenchtown Heritage Museum.
Holding pride of place at the center of the trees stood a miniature Eiffel Tower lighted in the red, white and blue of France. Master of ceremonies Roy Magras called for a moment of silence to honor those lost in the Paris attacks and to "show our solidarity with our French brethren."
Folks seemed almost stagestruck by the glamour of the trees, each decorated seemingly within an inch of its life.
The trees are works of art and ambition and labor, and it shows. They ranged from bouffant, tall trees dripping with guavaberry themed dressings, to one from Betsy's Bar celebrating recycling in a unique way – 300 wine bottles inserted in a four-sided pyramid shining with white lights. The Betsy's bar team was still arranging the wine bottles Saturday when the trees went up.
The evening's speaker was 17-year-old Charlotte Amalie High School student Jonisha Aubain, who won the 2015 Junior Tourism Commissioner earlier this year. Listening to her speak, that honor should have come as no surprise. She spoke very candidly and happily, honoring her Frenchtown family, speaking warmly of fishing with her dad, and her love of her community, her family.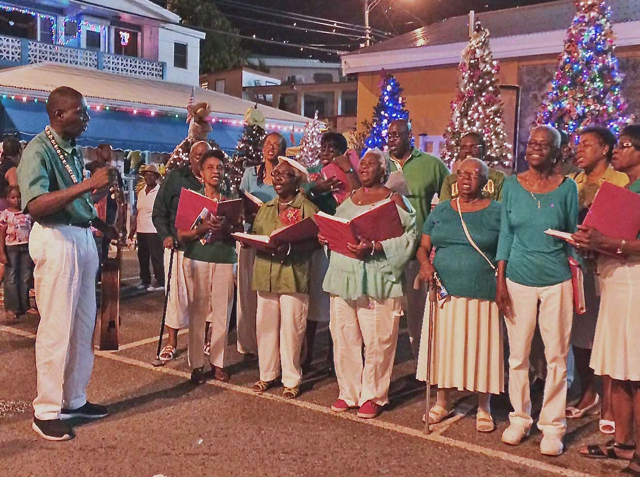 "Let's all be happy together, and love one another, and make this holiday great," she said.
The crowd responded. There was hardly a dry eye as the young woman spoke.
The Voices of Love choir made its traditional appearance marching in under the direction of Glen "Kwabena" Davis on his guitar. The evening would not be complete without the choir, who always bring so much joy in their music.
After remarks by Henry Richardson, the big moment arrived; the announcement of the winners by a four-member panel: Louisette Caps-Ligins, Francisque Roberts, Sen. Myron Jackson and Michael Lotterman.
And the winner was – "La Petite Fenetre presents 'A Frenchtown Guavaberry Christmas.'" The tree was laden with local culture, starting with a replica of St. Anne's Chapel as its star, harking back to 1921 when the chapel held its first Christmas mass.
La Petite Fenetre, the bar across from the museum and an integral part of the community, is owned by Henry Richardson, Sunday night, his daughter, Cindy Richardson, spoke later about the love and labor that went into the tree.
"It took more than two months," she said. "Six of us worked on it, my dad – Lisa Hunt, Kiturah Doward, and my two daughters, C'Anne and Tyra. We made all the decorations by hand. They're tiny tarts, created with sponges, little demijohns, coal pots with johnny cakes, named fisherman boats and plates of sweetbread and ham."
And sweetbread and ham, the real thing, was served to all while awaiting the other big moment of the evening – for those less than two feet tall. And the big red guy with the big white beard arrived in a fire truck as the youngsters who had patiently, or not, awaited his arrival all night.
Second place in the tree competition was taken the V. I. Housing Authority with a tree decorated as an "Avant Garde Market Lady," carrying a crate trimmed with guavaberry leaves and laden with guavaberry treats.
Third place went to Juliana's Bake Shop by Melinda Greaux, for a tree decorated with edible cookies and fresh guavaberries, topped by a wedding cake created by Denise Humphrey.
The other contestants were: MLB Creative, whose tree was decorated with quadrille plaids and hibiscus; Frenchtown Brewing, celebrating its first year in the community with bright mugs of beer in lights; Hook, Line and Sinker, CYOA and Erica's Total Beauty's tree sported gold and red guavaberries topped with a French waiter; Pie Whole whose tree was berry themed; Bella Blue, whose small tree bore no guavaberries; and Betsy's Bar, whose team said since the most abundant product in Frenchtown is recycled bottles, they designed the tree with that tradition in mind. Everything, including the wood used as the frame for the tree, was made of recycled material.
The evening proceeded under the sounds of Two Ah We, singing, "Good Mornin, Good Mornin, I Come for Me Guavaberry."