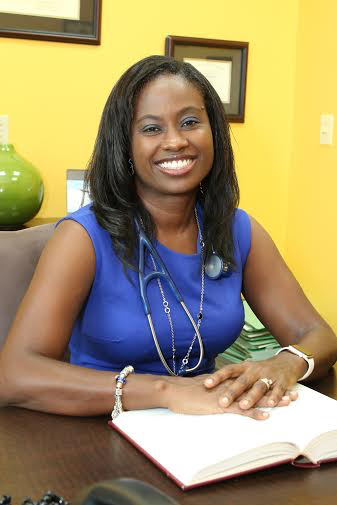 Some people avoid doctors like the plague. But even when she was a little girl growing up in Anguilla, Dr. Reva Richardson realized health care should be proactive, not just reactive.
Getting into the medical profession "was something from a young age I decided to do," she said. And focusing on preventive care came just as naturally.
As a young woman, Richardson moved to the Virgin Islands, where she obtained her degree in biology at the University of the Virgin Islands. She earned her medical degree at Baylor College of Medicine in Houston, Texas, and completed a dual internship and residency in internal medicine and pediatrics at the University of Miami Jackson Memorial Medical Center in Miami. She now practices both internal medicine and pediatrics on St. Thomas at Caricare Family Health Services, LLC, which she founded in 2007.
"We'd rather prevent you from having a disease than be treating you for a disease," Richardson said. "You don't just come to the doctor when you're sick."
With regular checkups, a doctor can catch things before they become major problems, she said. Hypertension and diabetes are two of the most common medical conditions affecting residents in the Virgin Islands, and both of them tend to be "hidden" in their early stages. Hypertension – or high blood pressure – is the "silent disease," while an untold number of people have diabetes and don't know it.
Richardson said it is not uncommon for her patients to learn from a checkup that they have problems or potential problems that they never suspected they had.
Symptoms may be non-existent or so vague that they are easily overlooked by the patient or attributed to some other cause. High blood pressure may result in some neck stiffness or headaches, for instance, but those are easily tolerated and so ignored. Only a thorough examination and tests can determine a diagnosis.
Likewise, Richardson said there can be indications of diabetes. Obesity can be a sign that a person is headed toward the disease as the body is continually releasing insulin to deal with an overload of sugars. Overweight children are at risk but normally the disease won't develop until they are at least in their teens. Older adults can also develop it. In some people who are pre-diabetic, the skin on the neck turns dark and leathery.
"That's a warning to us," she said. It motivates her and her staff to educate the patient about the dangers of high levels of sugar intake even as they begin tests to confirm a diagnosis.
It's not easy to tell anyone they have a chronic illness, but it's especially hard dealing with pediatric patients.
"The biggest problem is trying not to make the child feel bad," Richardson said. She tries to establish a good relationship with the child and build up trust before she discusses weight because a young person's self image can be fragile.
Life style changes don't always have to be drastic to be effective. She coaches her patients to adhere to the "10 grams" rule: Avoid eating or drinking anything that contains more than 10 grams of sugar per serving size. That of course involves reading the label on commercial food products, and the doctor teaches patients how to decipher the language that can sometimes be confusing.
It's unrealistic to think most people will completely give up starches like potatoes and bread, she noted, but not so hard to cut back on the amount they generally consume. Likewise, fruits and vegetables can be substituted for some of the red meat in a typical meal.
Of course, diet and exercise comprise the two-pronged attack on obesity and the complications it can engender. The conventional wisdom is that everyone should exercise strenuously at least three times a week.
Our busy lifestyles often interfere, Richardson said. For those too busy to exercise – or those who think they are – she has a few tips on easy ways to increase activity. Park the car in a space that is far away from the store's entrance, not the closest to it. Take the stairs even if there's an elevator. Walk fast, don't stroll. In short, look for ways to incorporate physical activity into everyday living.
Richardson said in about 80 percent of cases, if a child or adolescent is overweight, his or her parents are also.
"Everybody has to get on board" in making lifestyle adjustments, " she said. "It's a whole family change." If there are no cookies for Junie, there are no cookies for anyone.
Richardson's practice covers everyone from babies to older adults, with children an estimated 40 percent. Typically, she sees about 21 patients a day, although that can be a higher number if there is an emergency.
When she opened Caricare Family Health Services, she envisioned having offices on other islands, possibly Tortola or Antigua.
"I'm just too busy right now" to expand, she said.
Besides maintaining a private practice, she works at the Schneider Regional Medical Center. She's a two-term past president of the hospital's medical staff and of the Virgin Islands Medical Society. She is also co-pastor with her husband, Carl Richardson, of a non-denominational church, Living Hope Cathedral, and the mother of two sons, one a senior at Miami University in Ohio and the other a high school senior at Antilles School on St. Thomas.