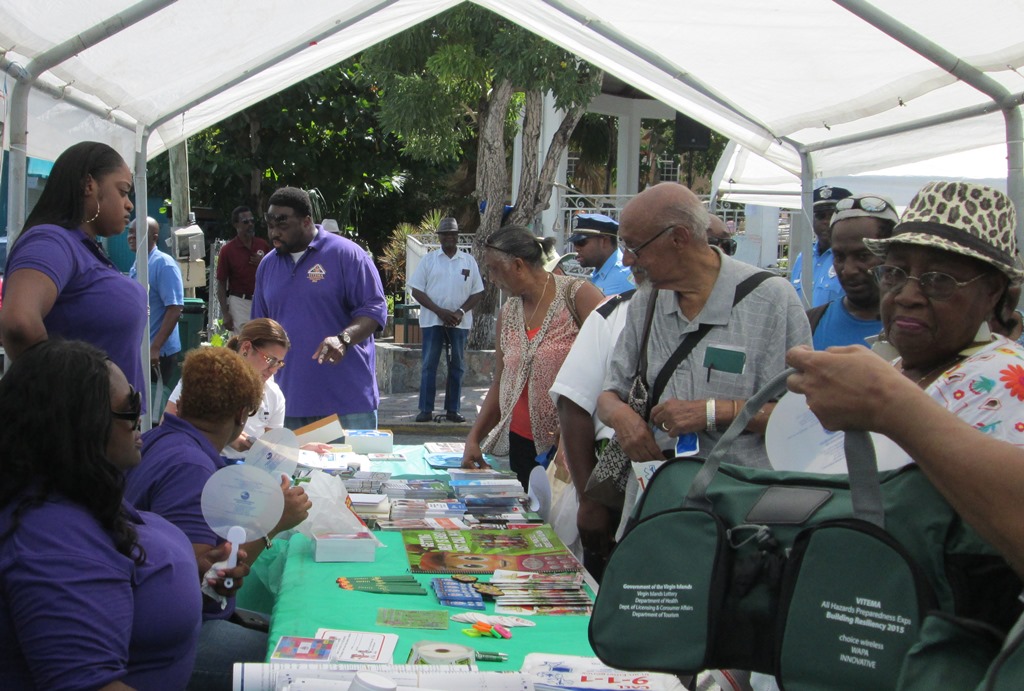 A whistle is one of the most overlooked items when people pack up their emergency kits, V.I. Territorial Emergency Management Agency Director Mona Barnes said Friday at the agency's All Hazards Preparedness Expo on St. John.
"A lot of people don't realize whistles are important to call for help," she said as VITEMA, non-profit agencies and businesses set up their tables along the Cruz Bay waterfront.
Barnes said VITEMA had 1,000 whistles on hand to give out to people attending Friday's Expo as well as the ones to be held Saturday on St. Thomas and St. Croix. The St. Thomas event runs from 5 to 10 p.m. at VITEMA headquarter in Nisky. On St. Croix, the event is from 10 a.m. to 3 p.m. at Christiansted National Historical Site.
VITEMA had a raft of handouts including a map indicating how high uphill a tsunami could flow should one hit.
The last tsunami to hit the territory was the subject of a quiz Barnes conducted. A lot of people correctly guessed 1867, but most were stumped when she asked the name of the last major hurricane to hit the territory.
While she didn't define major, in emergency response terms it means any hurricane with winds of 111 mph or greater. The answers included two devastating storms: 1989's Hugo and 1995's Marilyn, as well as 1999's Lenny and Frederic way back in 1979. The correct answer was Omar, which hit in 2008.
The territory has had a quiet hurricane season so far this year, but Myrna George, who offered opening prayers, pointed out that the west coast of Mexico is getting hammered by Category 5 Hurricane Patricia packing sustained 200 mph winds. The storm went from a weak tropical storm to a Category 5 in 25 hours, leaving people with little time to prepare.
"Pray for Mexico," George said.
St. John resident Mahlon "Koko" Pickering provided remarks as the Expo kicked off. He told those gathered nearby to listen carefully to what those providing information had to say.
"Take this very, very seriously," he said, pointing out that St. John is on its own when disasters occur.
St. John resident Lorelei Hedrington was taking the knowledge to heart as she gathered information from various organizations. She said she has five children ages two to 17 and she wanted to make sure they knew what to do when a disaster strikes.
Another St. John resident, Paul Jordan, stopped by. He said he wanted to keep up on what's new with the various agencies and companies that set up shop.
Innovative and Choice were both on hand. Innovative Sales Vice President Melia Cook and Choice Regional Sales Manager Dan Spottsville both said they were there to be part of the community. However, Spottsville also pointed out that Choice provides wireless telephones and service to people who meet the Lifeline program guidelines. In general, they are people who are on public assistance programs such as Medicaid, Supplemental Nutrition Assistance, Supplemental Security Income, HUD Public Housing Section 8, low-income energy assistance, National School Lunch and Temporary Assistance for Needy Families.
Innovative has a similar Lifeline program.
The V.I. National Guard's Family Assistance Center representative Stedwart Lee said it helps families when members are deployed.
The American Red Cross had a table filled with handouts to help residents prepare for disasters and stock their emergency kits. However, the agency needs volunteers on St. John, disaster specialist Robert Sofaly said. He said it needs people to staff shelters that open when a disaster like a hurricane hits and to store materials.
"And we need people able to respond on the disaster activation team," he said, adding, for example, when a family needs help after a fire.
For more information, contact the Red Cross at 774-0375.