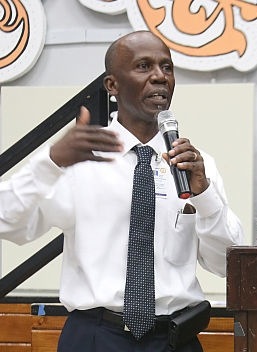 Despite a few challenges, including power outages and teacher shortages, most officials spoke about the "smooth opening" of public school Tuesday, where many back-to-school events and orientations were geared toward boosting parental involvement, especially for high school seniors, during the new year.
At Bertha C. Boschulte Middle School, a large group of fathers gathered in the gym for an early morning rally where they took the V.I. Fathers March pledge and promised to be an active part of their students' lives in the months ahead.
Organization representatives, including former judge and V.I. Fathers March founder James S. Carroll, were on hand to give out T-shirts while the fathers walked their children to class.
"It was a good turnout, There was definitely a big crowd," said Bryce Todman, whose son was entering the seventh grade at BCB. "A lot of fathers showed up and signed the pledge, and it was wonderful to be a part of that bigger commitment to helping the kids and helping them find their way through the school year. It means a whole lot to me to see that kind of participation."
Todman spoke about minor "glitches" with scheduling during the morning as school officials worked to figure out classes for several students, but overall, he said, "Everyone was really helpful, assisting us as a new family on campus."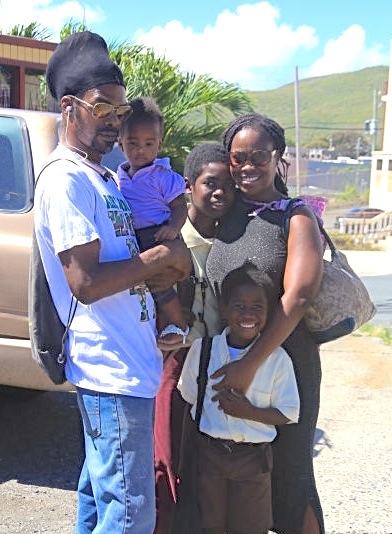 Over at Joseph Gomez Elementary School, Principal Avery Evans said her staff spent the morning helping new students with schedules and getting through orientations for new kindergarteners, first- and sixth-grade students.
One of the challenges Tuesday morning was covering a few classrooms without teachers, but Evans said she had paraprofessionals and other staff "chip in" during the day.
She said, "We were able to assign students to classes and look at any changes the parents wanted and make them. We had a few glitches where some of the teachers were not here because as parents, they also had to take their children to classes, but we had people to step in, along with our two assistant principals, who were out there helping."
Evans said the focus of the morning was working with parents during the orientation sessions. Some parents "seemed anxious" and wanted to be with their children throughout the morning, she said.
One of those parents, John Soliman, said he was nervous because his son's first-grade teacher was not in the classroom when he walked in.
"I'm really not feeling good about that. She should have been there," Soliman said. "This is the second year he is in first grade and, after working with him this summer, he is looking better than before and I want him to get a good start."
Evans said the Education Department, which announced more than 70 resignations and retirements over the past few months, is aware of the school's staffing needs and is working on it.
Other parents, such as Sherrie Lewis, said the teachers that were at Gomez on Tuesday were "aware of what they were doing and were excited, just like the kids, for the new year."
"It was great interacting with them," Lewis said.
Charlotte Amalie High School started out the morning with an orientation for seniors that also gave Principal Alcede Edwards a chance to speak to parents about the importance of "being responsible" for everything from standardized testing registration to college prep.
"We want the parents to really take ownership of their children and do what they need to do at home, like preparing them for the SATs," Edwards said after the orientation. "A lot of times, people feel it is solely the school's responsibility to bring out the potential of their kid, but we need everyone involved."
"That's what we're lacking," he continued. "We've lost the zest, the fighting power, and now we have to redirect our brains and our habits and do what we need to do for our children."
During the orientation, Edwards also encouraged students "not to sweat the small stuff" and get involved in arguments that would ruin their chances of graduating.
"This morning a student got into a confrontation with a monitor over earrings, said the monitor was 'pressing him,'" Edwards told the crowd. "I'm telling you all, do not take these things on. Do not let this year be a problem because of hoops and earrings and simple stuff."
Over at Ivanna Eudora Kean High School, new principal Stephan Jurgen described the first day back for students as "partly cloudy with much sunshine on the horizon."
"The challenge at the moment is to get a full schedule in the hands of every child," he said.
"Some students came late but we're patient and worked with the process. This school year we have big plans to accomplish. We have constructed a ninth grade academy office to house the ninth grade counselor, principal, monitor and secretary to be able to provide support to our ninth graders. We also have identified an in school suspension room and personnel because students should not be spending time out of school for every infraction. A major goal for us this year will be to build and strengthen our career academies and career pathways. 21st century high schools provide opportunities for students to engage in their careers of their choice, thereby making them college and career ready."
Jurgen said a top priority is seeing an increase in the school's Smarter Balanced assessment scores. "At present only 3 percent of our seniors are proficient in Math and 19 percent proficient in English Language Arts. We will need the help of all stakeholders to make the improvements that must occur. With the assistance of parents, students, teachers, and business we can all move Ivanna Eudora Kean in one direction: forward."