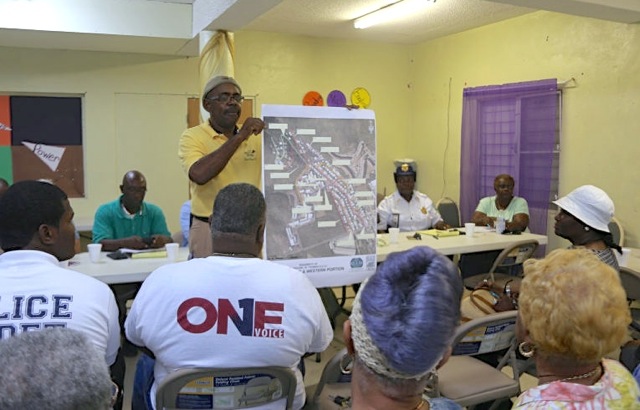 A follow-up meeting this week with members of the Community and Police Association gave law enforcement and government officials a chance to offer solutions to problems ranging from illegal gunshots to drag racing along the main strip in the Bovoni area.
Police officers attending Monday night's meeting at the Bovoni Baptist Church said that several residents attending an earlier CAPA meeting in August spoke about the frequent discharging of gunshots in the neighborhood, but when police looked at logs for the past month, they only saw three reports phoned in. The most immediate solution, so that law enforcement can "best utilize the resources" they have, is for residents to call 911 as soon as they hear a gunshot, so that officers can respond, they said.
A task force within the V.I. Police Department is being formed to deal with crime in the area, but officers said during the meeting that they couldn't go into details for security reasons.
Any reports of drag racing should also be phoned in to 911, officers said.
St. Thomas-Water Island Administrator Larry Boschulte said manpower is tight in many areas, so resident participation is key in getting the area cleaned up.
Residents at the first meeting in August spoke about the building up of tires and abandoned vehicles throughout the neighborhoods, but Boschulte said he wasn't able to start addressing the issue until people started calling in. Boschulte said residents should call him at (340) 771-1735 to report anything from abandoned vehicles to trash along the roads, and crews will be sent out to help.
But residents still have to work together to maintain the neighborhoods, Boschulte added.
At CAPA meetings held in other St. Thomas neighborhoods, such as Savan, residents have spoken about the buildup of trash along the streets, and Mario Leonard, the V.I. Waste Management Authority's solid waste director, said his agency's main responsibility is to provide containers for residents and access to bin sites for disposal.
Because of the high cost of hiring trash haulers, the number of trash pick up days in Bovoni have been reduced from three to one, with trash being picked up only on Mondays between 6 a.m. and 2 p.m.
An open bin system does exist in the neighborhood and VIWMA is committed to expanding trash services by building collection areas in Mandahl and other locations that will be available down the line, Leonard said, adding the the Bovoni landfill is scheduled to close in April 2019 and VIWMA is in the process of looking at what will replace the dump after it closes.
A waste-to-energy plan is one option, but Leonard said a request for proposals will be issued within a year to determine what would work best.
Leonard said anyone with additional concerns can call (340) 690-4205 or (340) 715-9100; VIWMA is also working with the district administrator's office to help address the trash issues.
Officials also said that residents can use technology, such as sending texts, to file reports.
"If everyone gets together and makes the calls, then we know you're in need of a service," Boschulte said. "If you call in, then we're able to respond.
The CAPA organization formed earlier this year to help identify and improve policing-related issues in neighborhoods across St. Thomas; CAPA also mediates between local community organizations and the V.I. Police Department.
In addition to Bovoni, the group has held meetings in Savan, Smith Bay and Red Hook.