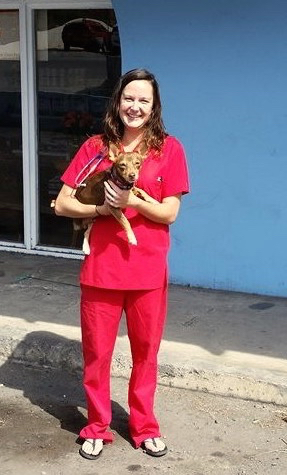 Back in Colorado, veterinarian Michelle Halverson spent a lot of time on a problem she says she doesn't ever expect to see at her new practice on St. Thomas – pulling porcupine quills out of pets.
That's just one difference she's encountered since she took over a month ago as the head vet for the St. Thomas office of Canines, Cats and Critters. Owned and managed by Dr. Laura Palminteri, the business has offices on St. John and St. Thomas.
Originally from Florida, Halverson said she went to college at Florida State University, then obtained her degree in veterinary medicine from Ross University on St. Kitts. She worked for a couple of years in Florida and another three years in Colorado before deciding to move with her husband to the Virgin Islands.
While island dogs and cats don't have to worry about porcupines, there are some tough enemies in Paradise. Chief among them are fleas and ticks, as well as heartworm, which is transmitted by mosquitoes – all parasites that commonly attack both feral and domesticated animals.
"They're super, super prevalent here, for obvious reasons," Halverson said. In colder climes, parasites die off in the winter, but in the tropics they thrive year-round.
So do the plants, which means an increased chance that Fluffy or King will develop allergies.
"There's a lot of skin disease" too, Halverson said, which is often related to allergies and/or parasites. Typically, an allergy in an animal will manifest itself in severe itchiness.
Halverson can test for allergies. Treatment ranges from pills and injections to short-term steroids, depending on the severity of the case and whether it's a chronic condition.
Another common mishap – one shared by pets the world over, especially dogs – involves ingesting non-food items, including such "toys" as socks and rubber bands.
"It happens more frequently than you can imagine," Halverson said.
Sometimes objects are small enough that they pass through the animal's digestive system without doing any harm and the owner may not even be aware of the event. But sometimes they get lodged in the intestine or the stomach and become an obstruction that causes vomiting or diarrhea.
That's when Halverson comes to the rescue with surgery.
"Pulling some of those objects our can be pretty fun," she said. "It's an interesting thing to do."
Besides working with dogs and cats, Halverson has treated a fair share of hamsters, rabbits, snakes and other reptiles.
"I usually stick with small animals," she said.
Palminteri travels regularly from St. John to St. Thomas to treat larger animals, including horses. "She does a lot of work for the racetrack."
Although Coral World generally handles care for its marine life, Halverson said Canines, Cats and Critters staff sometimes help with taking X-rays or by using office equipment needed for preparing some blood samples for shipment to stateside labs.
Recently, the office called on Coral World for assistance when staff found an egret on its doorstep. From its behavior, it was obvious the animal was either sick or injured.
"He literally walked to the front door," Halverson said with laugh. "Pretty smart of him to do."
She shared some commonsense advice for pet lovers.
"First and foremost" is to maintain preventative treatment for fleas, ticks and heartworms. Also important: Keep your pet inside or in your yard; roaming pets can be hit by cars, get lost, are more exposed to parasites and tend to breed. Finally, make sure your pet is spayed or neutered.