In this first article of a Source series on tree care, St. Thomas-based certified arboriculturist Clay Jones speaks with Source reporter David Knight Jr. about identifying storm hazards.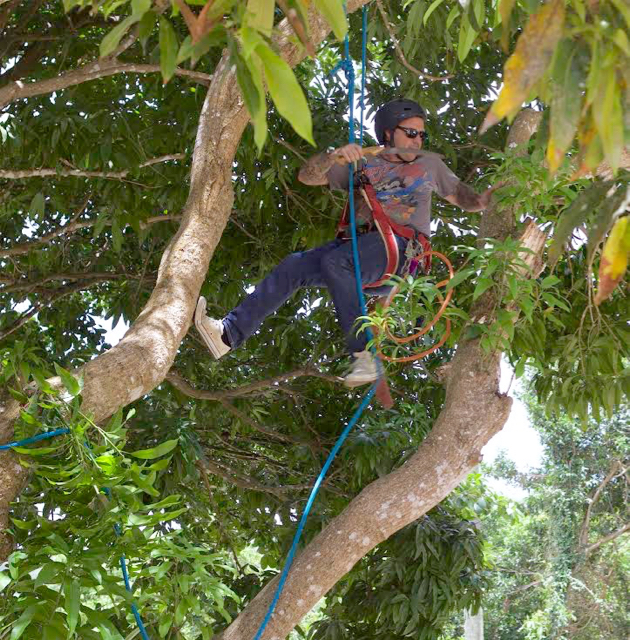 One of the things that makes the natural landscape of the Virgin Islands unusual is that the majority of it, due to the territory's small size and population density, falls under the category of urban forest.
"Within urban forests, nearly all trees suffer negative consequences as the result of humans," said St. Thomas-based certified arboriculturist Clay Jones, who may be better known on island as the co-director of Seven Minus Seven art alliance. "And humans, in turn, can suffer negative consequences as the result of trees, especially during storms,"
Within urban forest landscapes, it's the job of arboriculturists such as Jones to ensure that humans and trees cause as little damage to each other as possible. They work to limit damage to trees via chemicals and other pollutants, monitor and maintain heritage trees in inhabited areas, and remove dead limbs that can cause human injury or damage to buildings.
Now, with hurricane season upon us, Jones said storm preparedness is the tree topic of most immediate relevance to the territory. Part of his job, he explained, is assessing properties for hazards that might arise in storm conditions.
"I see a lot of problems around the island," he said.
There are three major things to look for when assessing if a tree will be dangerous to life or property during a storm, Jones explained, dead limbs, co-dominant trunks, and what arboriculturists refer to as included bark.
The first of these is the most obvious to the untrained eye. Most residents are already aware of the hazard that dead limbs can pose in the event of high winds.
"Just look up and check for leafless or discolored limbs. During a storm these are likely to become projectile missiles," Jones said.
Problems with co-dominant trunks or included bark, however, may be more likely to go unnoticed during storm preparation.
Co-dominant trunks are a common phenomenon in trees in which two or more weaker trunks of equal size begin to grow out of a sturdier base trunk. Co-dominant trunks have implications for a tree's ability to withstand high winds, said Jones.
"Anything with a diameter of half or more of the tree's base can create serious imbalances and reduce strength dramatically," he said.
Included bark, Jones explained, is a related problem in which tree bark forms within steep v-shaped creases between co-dominant trunks, forming a structural weakness.
So how does one prevent these storm hazards?
Ongoing maintenance of trees is essential, said Jones. Proper pruning practices are key to keeping trees healthy and strong and reducing storm-related hazards in areas where they can lead to property damage, injury, or death.
"Effective pruning should create well-spaced heavy branches with open canopies that allow wind to pass through," Jones said. "All trees in a hurricane zone should ideally meet these requirements."
Jones said that pruning correctly means removing no more than 15 percent of a tree at a time and doing so in gradual stages over the course of 18 to 24 months. One should almost never completely "top" a tree, he said, a practice that generally means removing large parts of a tree's canopy for the sake of improving views or for other aesthetic reasons. A tree topped more than once, said Jones, most likely means it is the wrong tree in the wrong place and should be transplanted.
Jones acknowledges that this advice is a bit short notice for those wishing to prepare their properties adequately for this hurricane season, but he said he wants to raise awareness about tree maintenance in general.
"It's the same as regular teeth cleanings, or physical checkups, or taking your animal to the vet. Trees need that kind of regular care," Jones said. "There are people who go to tree specialists only at the last minute to prepare for storms. But the process really involves months of maintenance that should be done with the assistance and consultation of a professional."
Jones explained certified arboriculturists are trained in everything from safety procedures to species identification, from disease treatment to proper transplanting methods. He wants to get the word out that more responsible aboricultural practices should be followed yearround.
"In the V.I. there are a lot of qualified arboriculturists who know a lot about our trees. They are here to help the community. They can help with things like storm preparation," Jones said.
"Many people think that people who do work like tree pruning and cutting down limbs don't care about the environment. In fact, the opposite is true. Those are the people that care the most about making sure our trees and plants are as healthy as possible," he added.
Jones said he himself works with local horticulturist Eleanor Gibney, who has spent a lifetime studying the territory's plant species. Gibney is a consultant to Jones's business.
"Eleanor consults with me on almost everything I do," said Jones. "I tell her what I think and she either agrees with me or gives me a different perspective. She is someone I learn from. If her conclusions differ from mine, I will go with what she concludes."
Jones said that he and Gibney are compiling a list of common mistakes people make when caring for trees and landscaped properties in the V.I. That list will be the subject of a forthcoming article in this Source series.