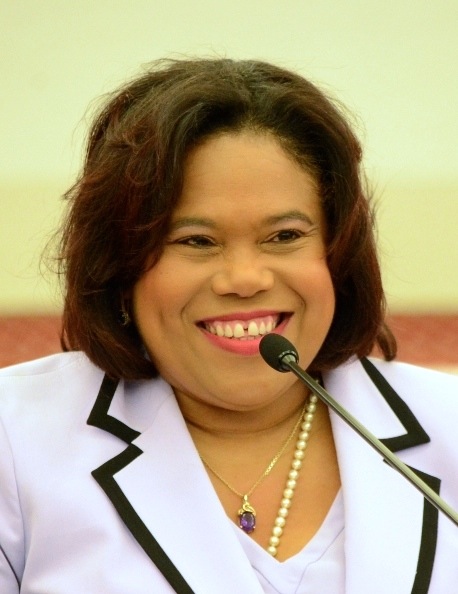 The Department of Tourism is seeking an extra $1.5 million from hotel occupancy tax revenues for promotions and to subsidize airlift to bring in more visitors, acting Tourism Commissioner Beverly Nicholson-Doty told the Senate Finance Committee during budget hearings Thursday.
Last year the department was budgeted $17.5 million from hotel occupancy revenues – nearly all of those funds – to funnel towards marketing and promotional activities. The governor's proposed budget also has $17.5 million in hotel revenue directed to the Tourism Advertising Revolving Fund. This year the governor's budget anticipates increasing the tax from 8 percent to 10 percent, and Tourism is slated to get $19 million towards marketing and promotion.
Nicholson-Doty said other destinations are spending money too and the territory has to keep up or lose market share and tourism dollars.
"Most recently we noticed a destination using a similar type logo – even including the stars. While we may be tempted to believe that imitation may be the highest form of flattery, we cannot forget the intent is to gain market share, our market share. It is for this reason that the Department of Tourism will be asking that our marketing and promotion budget be increased to$19 million in FY 2016," she said.
Much of the increase is to help subsidize airlift to St. Croix.
"We must maintain our momentum to secure additional flights for St. Croix," Nicholson-Doty said. They enticed Delta to add a weekly flight by guaranteeing the seats, so the airline cannot lose. Getting the flights brought in far more money than was spent, she said.
"The weekly Delta flight, which commenced in December of 2014 with a total risk of $1.5 million backed by a $650,000 letter of credit, ended up costing less than $175,000," she said. "This new flight brought an additional 5,215 individuals to St. Croix with approximately 75 percent staying in paid accommodations, resulting in more than $3 million in visitor expenditures," she said.
According to Nicholson-Doty, based on V.I. Bureau of Economic Research data, tourism accounts for 2.8 million visitors a year; $1.2 billion in spending; 8,000 direct jobs; 30 percent of gross territorial product; and 20 percent of employment in the territory.
Tourism's proposed Fiscal Year 2016 General Fund operating budget is $2.4 million. This is a $200,000 decrease from last year. The budget also includes $2.4 million from hotel taxes in the Tourism Revolving Fund, with $650,000 for carnival, festival and celebration activities; $850,000 to the Police Department; $300,000 to Public Works; $300,000 to the V.I. Waste Management Authority; and $150,000 to the Bureau of Economic Research.
Also presented Thursday was V.I. Public Television's FY16 budget of $3.9 million. That sum is nearly unchanged from the year before.
Chief Executive Officer Tanya-Marie Singh said the station is asking for an additional $243,000 for urgent equipment upgrades needed to keep the station on air.
No votes were taken during the information gathering budget hearing.