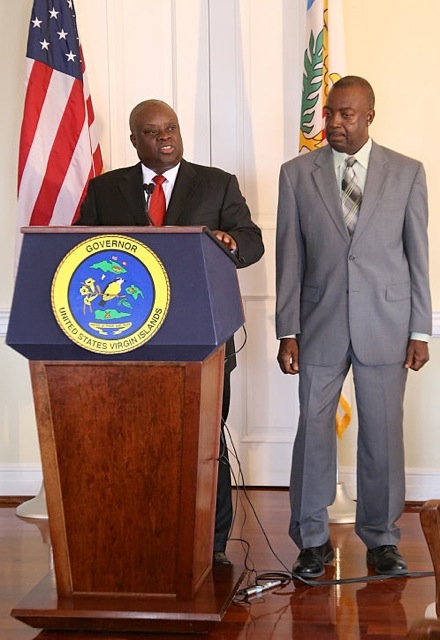 The Supreme Court's ruling in favor of same sex marriage equality is clear and makes "null and void" local law that defines marriage as only a union between a man and woman, according to Gov. Kenneth Mapp.
"The government of the Virgin Islands can no longer discriminate on marriages," Mapp said during a press conference Tuesday on St. Thomas. "They should arrive at full marriage equality. Persons of the same sex can be married in the U.S. Virgin Islands."
Soon after Friday's ruling was announced, Puerto Rico Gov. Alejandro García Padilla signed an executive order requiring government agencies to become compliant within 15 days, with the Health Department and other agencies issuing marriage licenses by early July.
Mapp said Monday that, after consulting his legal counsel and acting Attorney General James Carroll III, he will soon be issuing a similar order, which is already in the process of being drafted.
On Friday the Source reported that while the V.I. Superior Court is making the necessary changes on marriage applications, officials said it was up to the Legislature to fix provisions in the law to make it compliant with the ruling and, until then, no same sex marriage licenses would be issued.
But Mapp said Tuesday that the Supreme Court ruling also makes it clear that anyone wishing to marry should not have to wait for "legislative action to be able to exercise their true choices."
"We will set forth to come in full compliance with the Supreme Court ruling that has, for all intents and purposes, nullified V.I. law that requires a marriage in the Virgin Islands can only be recognized if it is between a man and woman," Mapp said.
The historic Supreme Court ruling handed down Friday says states cannot prevent same sex couples from marrying and must recognize the unions. The ruling focuses on legal rights for same-sex couples who were denied certain benefits afforded married male and female couples.
Speaking Tuesday, Mapp made it clear that the ruling does not prevent religious groups or churches from practicing their beliefs.
"This ruling does not require any minister or person of faith to marry anyone they do not wish to marry or to change any religious documents in any way," the governor said. "But the ruling does affect the behavior of civil society and, as governor of the Virgin Islands, I am responsible for the conduct and behavior of the public sector. Accordingly I will be issuing an executive order which will set forth the parameters that will allow any and all legitimate marriage licenses in the nation to be recognized in the Virgin Islands."
Persons that are lawfully married have the right to put their spouses on their health insurance, designate beneficiaries, designate individuals to make decisions on their behalf in their time of illness, and can file join tax returns at Bureau of Internal Revenue."