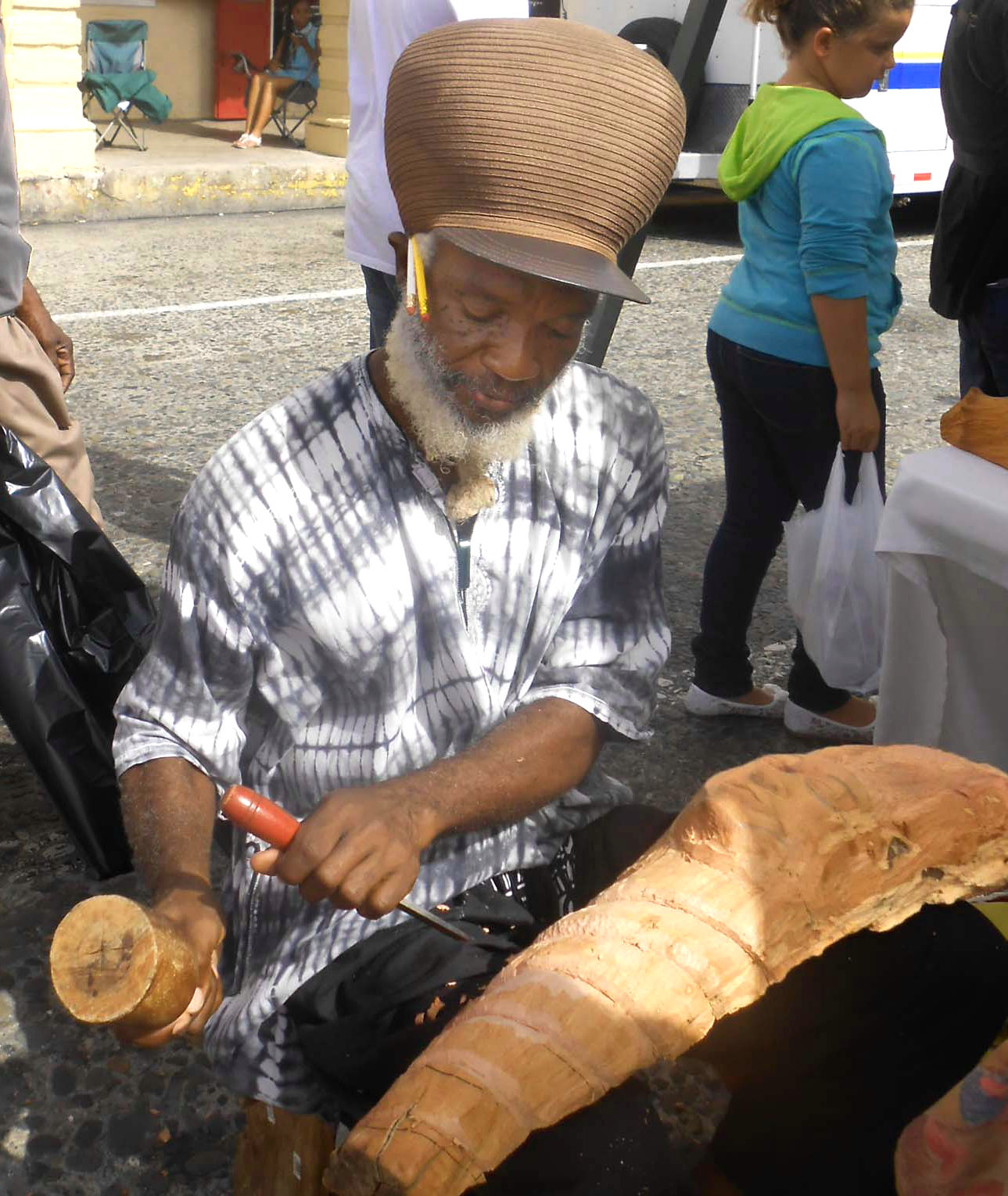 The Sahara dust lifted Wednesday enough to allow a bright sun in a cloudless sky to shine on "Alvin's Cultural Workshop," this year's Carnival Cultural Fair honoring Alvin Turnbull.
All the elements combined to make this year's fair truly special – the camaraderie, the dynamics of so many people simply enjoying themselves and one another in an atmosphere of affection and fun.
"Oh Jill, look at you, girl, gobbling up that pate. What is it?" "Lobster, want a bite?" "Naw, I got some pumpkin johnnycake I need to finish. You take care, hear!?"
Conversations like this abound at the food fair. They have for years, as old friends wind their way around one another, looking for the prime pate, or plant or piece of jewelry, or a new bonnet. The variety of things offered is virtually boundless. How about herbal toothpaste, a new straw broom, a homemade wedding dress in white chiffon, elaborate and intricate woodwork?
For more than 25 years, this year's honoree Alvin Turnbull, has been designing, creating and selling handicrafts to an ever-widening fan base of residents and tourists.
He has been a fixture at the Cultural Fair (formerly the Food Fair) since it started at the other end of Main Street at Market Square, many years ago.
"By the library was my spot," he told the Source earlier this year (See related link, below.) "I didn't have no umbrella, no chair, and the sun was hot that day." The vendor next to him – a woman selling items made from seashells – saved him. "She borrowed me an umbrella, a table cloth and a chair." Turnbull said he did well because he sold all 15 plaques that he brought to sell.
Turnbull was a busy man Wednesday, showing off his creations.
But the other star of the show was the food – stands lining the parking lot overflowed with all manner of produce. Booth after booth was laden with fat bunches of kale, spinach, peppers, tomatoes, lemon grass, lime trees, flowering plants, soursop, hibiscus, bougainvillea, cucumbers, fat purple eggplants, tomatoes, green peppers, red peppers, plantains, bananas, papayas, squashes, avocados and mangoes.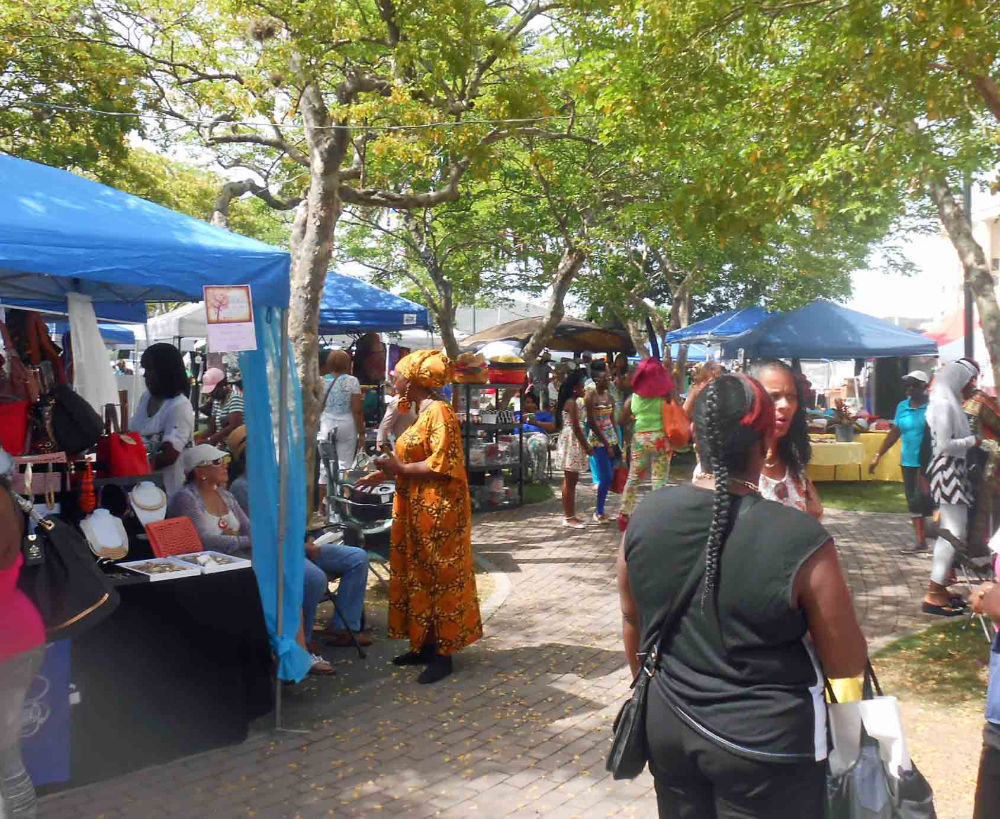 It was a heady display, rapidly dwindling as happy folks wandered off with bags of produce, comparing their finds with each other.
The secret is to get there early, really early. The fair officially opens at 8 a.m., but that's not a guarantee to get the best produce. Just ask Vincent Henely, director of the Gladys Abraham Elementary School Garden Club, which grows in popularity each year.
"No celery, none?" asked a disappointed customer. Henley shook his head. "Sorry. You know, I had folks here at 6 a.m., when we were unloading." Henley said. "How about some basil?" he offered with a smile. The customer left, bearing a bouffant and fragrant basil plant, and a smile of her own.
Henley instructed his students on the art of selling their bounty. The group has taken first prize in produce for five of the last six years. The students are dressed in the traditional madras of quadrille dancers. Henley also instructs his students in quadrille, and swimming, for that matter. A man for at least a couple of seasons.
Moving from the Abraham booth, right around the corner were master wood turners Avelino Samuel of St. John, Afreekan Southwell of St. Thomas. Both had original pieces on display. Southwell is an art teacher at Gladys Abraham Elementary School and a master drummer as well as wood artist. He was busy carving a new creation Wednesday, while Samuel held the interest of a crowd explaining the woods that he uses, including including local mahogany and ash in a display of his pens. The two are some of the most recognized artists in the territory.
And just up the road a bit was farmer Charles Leonard, who was honored last year last year along with his brother Joseph in "Charles and Joe's Flamboyant Garden." Leonard, proprietor of Best Fresh Farm, has earned more awards than he can remember for the bounty he produces each year on his two acres.
He has farmed for more than 31 years, always learning something new. His curiosity keeps him on his toes; he is always learning, he said. Several years ago he took up beekeeping and now markets his own honey. He was Farmer of the Year at the annual Agricultural Fair in both 2009 and 2012.
Wednesday was business as usual for Leonard, who manned his booth along with daughter Britany and partner Jeanne "Fatie" Desion. Britany may follow in her dad's footsteps.
Former Agriculture Commissioner Louis Peterson called her "One of our youth farmers," at the Bordeaux Fair a couple years ago. "We encourage Britany and other young farmers. I believe she can see the business of agriculture; she sees the return, the results. She sees the science and the business."
Wednesday she was up to her ears in produce, selling everything from honey to bok choy, papayas, fresh eggs and plants from lemon trees to hibiscus.
If anyone left the celebration with an empty tummy, it was their own fault. Folks munched on pates of all sorts, from lobster to veggie to saltfish, pumpkin johnnycakes, plates laden with everything from stew goat to flying fish, while grabbing a bit of shade under the lignum vitae trees, looking contented.
And that's what the day was all about.