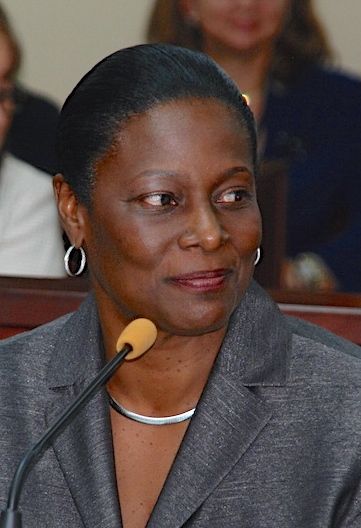 A Senate committee on Monday sent three of Gov. Kenneth Mapp's cabinet nominations for votes in the next legislative session, resuming the confirmation process after the Legislature voted in March to temporarily hold a dozen cabinet nominees over the issue of pay increases during a budget crisis.
The committee sent forward the nominations of Vivian Ebbesen-Fludd for Human Services Commissioner; Mona Barnes as V.I. Territorial Emergency Management Agency director; and Catherine Hendry for Labor Commissioner.
When several of Mapp's cabinet nominees appeared before the Rules and Judiciary Committee for their initial hearing in February and March, senators asked them about their pay relative to their predecessors. Four of the 12 who have appeared before the committee so far said they negotiated substantial increases over their predecessors' salaries. Many of the senators, including Senate President Neville James, said at the time they found it problematic when the governor was also saying the territory faced a massive budget shortfall.
Numerous senators, including James, said at the time that all the nominees were very likely to be approved, but they wanted the governor to address the pay increases.
Senators met with Mapp after the March hearing, after which the governor said he and James had agreed to communicate better moving forward. The salaries, which were negotiated with the nominees prior to offering them their positions and job contracts, were not revisited.
Ebbesen-Fludd, a former Health commissioner, health clinic administrator and nurse, described her philosophy as one of service, saying of Human Service's programs,, "It isn't welfare. It is service to our clients."
"Any of us at a moment's notice can need the services of that department and that needs to be at the forefront of the thought of everyone who works there," she said.
Ebbesen-Fludd grew up on St Croix, first attending St. Mary's Catholic School and later graduating from St. Joseph High School. She received a bachelor's degree in nursing from Creighton University, a Jesuit college in Omaha, Neb., and later a master's degree from the University of Maryland, qualifying her as a perinatal-neonatal clinical nurse specialist
From 1990 to 1995, while in school in Maryland, Ebbesen-Fludd worked in the maternity unit at Johns Hopkins Hospital. During this time, she was an instructor on the faculties of both Johns Hopkins University and the University of Maryland.
Back on St. Croix, Ebbesen-Fludd has directed the Ingeborg Nesbittt Clinic in Frederiksted since 1995, leaving that position when tapped by then-Gov. John deJongh Jr. for Commissioner of Health in 2007. DeJongh asked her to resign that post after it became public that HIV drugs supplied by the department had run out due to paperwork failures for a second time in less than a year. (See Related Links below)
Sen. Jean Forde asked about that resignation.
Ebbesen-Fludd said, "The mandates given to me by this body, I am sworn to uphold them and I was not given the resources or allowed to do that efficiently. So I made a decision that was not the place for me."
Barnes is a former V.I. National Guard State Command Sergeant and was the highest ranking noncommissioned officer and highest-ranking female guard member when she resigned in 2013. She ran for governor in 2014, before being nominated to her current post by her opponent in that race.
Barnes told the committee when she was assigned to VITEMA, she found critical gaps including a lack of leadership in key positions such as a deputy director for operations to manage daily operations, which include the 911 Emergency Communication Centers.
Barnes said she will develop and update VITEMA's plans, in six months, including the Tsunami Incident Annex, the Voluntary Organizations Active in Disasters Plan and V.I. Territorial Emergency Operations Plan, which serves as the official playbook for how the territorial government coordinates an effective disaster response and recovery. She said she wants to see a facility built to house all of VITEMA's offices and divisions, along with a modernized Emergency Operations Center and 911 Emergency Communications Center, and a fully outfitted a hub for law enforcement intelligence-sharing. Born and raised on St. Croix, Barnes has a bachelor's degree in psychology from Fisk University in Tennessee and a master's degree in management and leadership from Webster University in El Paso, Texas.
In 1986, she enlisted in the U.S. Army Reserve. A year later, she returned to the territory and also enlisted in the V.I. Army National Guard. She taught at Pearl B. Larsen Elementary School on St. Croix for 12 years and simultaneously worked at the Girls Group Home for V.I. Behavioral Services.
Hendry, a Christiansted native, received a bachelor's degree in political science from Barnard College of Columbia University in New York City. She earned a law degree from St. Thomas University School of Law in Miami, and is a member of both the Florida and Virgin Islands Bar, according to her testimony to the committee.
She returned to St. Croix in 2007 and was hired as a judicial law clerk for Superior Court Judge Julio Brady. In 2009 she began working as district counsel for the Department of Licensing and Consumer Affairs. In 2012, she was assistant commissioner of labor affairs and legal counsel for the Labor Department, where she is acting commissioner.
All three nominations were sent on for final votes without opposition. Present were James, Forde, Sens. Novelle Francis, Nereida "Nellie" Rivera-O'Reilly, Kenneth Gittens Justin Harrigan and Janette Millin Young.