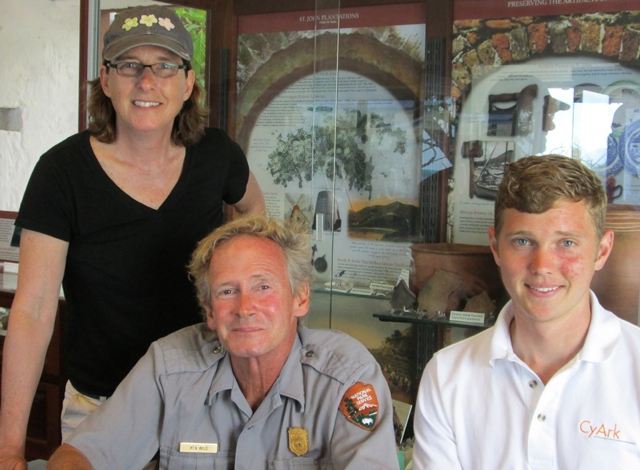 With plantation era ruins crumbling into the bush, a 3D imaging program now under way at V.I. National Park on St. John hopes to preserve images of buildings that helped shape the island's history.
"It helps tell the story of what happened here," park archeologist Ken Wild said.
The crew is imaging the Annaberg Plantation great house and guard house. They're located a hike up the path that runs past Leinster Bay toward Brown Bay and northeast of the Annaberg ruins on many visitors' sightseeing route.
As luck would have it, a team of graduate students from the University of Copenhagen is currently on the island to flesh out stories of enslaved people who fled St. John for Tortola. Slavery ended in the British Virgin Islands in 1834 but it didn't end in the former Danish West Indies until 1848.
Nearby Tortola provided a short route to freedom for those who successfully made their way across the water from St. John. Annaberg and the environs provided the closest departure point.
"That's why there's a guardhouse at Whistling Cay," Wild said, referring to a small island located off St. John.
He said the Danish history and the 3D imaging projects complement each other.
In 2004, a team from the University of Maine did a 3D imaging project at other ruins located to the south of Leinster Bay Beach. They're also associated with Annaberg Plantation.
Annaberg was owned by James Murphy, who Wild said consolidated smaller holdings in the area to make a larger plantation. Constructed between 1797 and 1805, Annaberg covers 518 acres.
The St. John 3D imaging effort is part of a larger project that includes 10 to 15 sites across Africa and the Americas associated with the Transatlantic Slave Trade.
Work is already done at two sites, Natchez National Historical Park in Mississippi and a location on Cabo Verde, an island off the coast of West Africa in the Cape Verde Islands. Those made from Annaberg will be the third.
Allyson McDuffie of Trimble Navigation said the company focuses on location applications – including surveying and mapping – and it is funding the project because the vice-president of the company's building division, Bryn Fosburgh, has a strong interest in the slave trade topic.
Fosburgh said, "Delivering new, 21st century, interactive digital content to showcase the sites and structures associated with this part of our history, in partnership with the CyArk team, has been a very gratifying experience for us."
Trimble hired the nonprofit CyArk of Oakland, Calif., to assist with the work. CyArk focuses on digital preservation of world history.
McDuffie, a Trimble manager, estimated the St. John project will cost about $65,000.
The team of nine people from Trimble, which is based in Boulder, Colo., and CyArk began work Monday. They will stay through the week.
The imaging will be completed with highly technical equipment including a Trimble UX5 Unmanned Aircraft System, which McDuffie said was similar to a drone. Imaging is also done at ground level using Lidar technology – Light Detection and Ranging.
"It's like radar," CyArk production leader Ross Davison said.
Learn more about CyArk's projects at www.cyark.org.