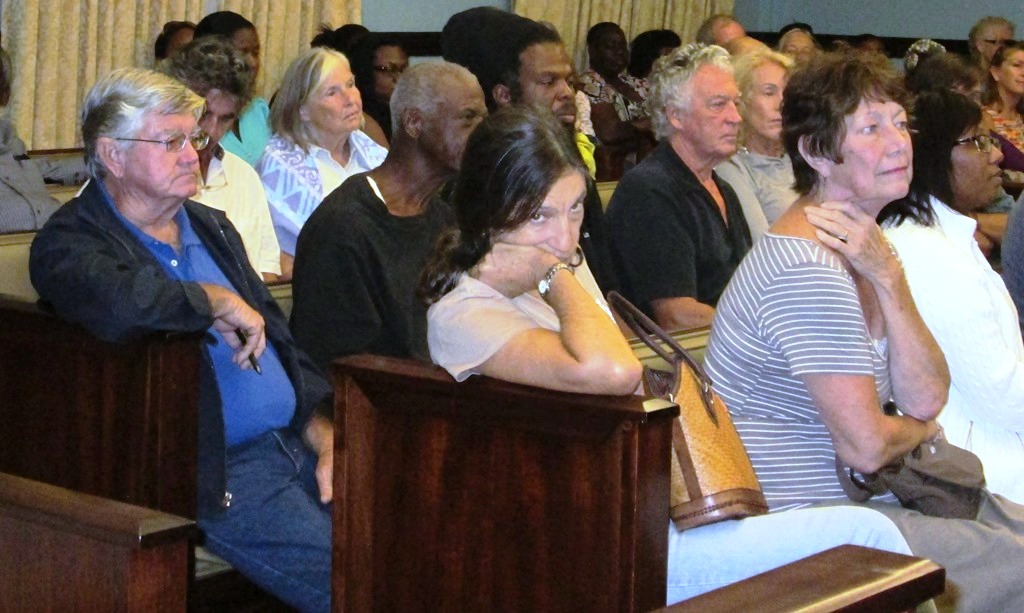 In a spillover from Wednesday's meeting on St. John's high property tax issue held by Lt. Gov. Osbert Potter, the same subject came up numerous times at Sen. Almando "Rocky" Liburd's town meeting held Thursday.
Liburd told the nearly 75 people gathered at the Legislature building for the meeting that the solution would not come "overnight."
However, Liburd said, he'd like resolution to the problem before the next property tax bills come out.
St. John residents have long complained that they are being taxed out of their homes.
Sen. Tregenza Roach offered a creative solution to the problem. He said that since V.I. National Park occupies a big chunk of St. John land, the island's residents should get an exemption on their property taxes along the lines of the existing homestead exemption.
"It's an idea that needs fleshing out," he said.
He put the park's St. John land at 14,000 acres and said that the federal government pays about $2 an acre in lieu of property taxes for the property. As an aside, he said, this is a higher figure than the federal government pays for its land in California, where it pays $1 an acre.
Roach said that while the federal government owns properties on St. Thomas and St. Croix, they are not comparable to the amount it holds on St. John.
Liburd also said he's pushing to get another road through the park open. He said the road through L'Esperance seemed the best option because there are a few people with property who don't have access because there is no way to get there.
Liburd said the Legislature's legal counsel is researching the documents between the federal and local governments concerning that issue.
"We may have to have a real candid discussion with the park," Liburd said, also indicating a court suit might lead to a solution.
Numerous other issues also came to light.
St. John Rescue training officer Bob Malacarne spoke about a situation in which a family had to transport a deceased relative because St. John Rescue didn't have the authority to do so. However, Malacarne and Liburd said that situation will finally be resolved Friday when an agreement between the local government and St. John Rescue is signed.
Malacarne later complained that while St. Thomas and St. Croix each get $100,000 a year to help run their operation, St. John only gets $35,000.
"We do as much as other agencies do," he said.
St. John Rescue is raising money for a new Jaws of Life. Malacarne said its old one was damaged during an accident in which a truck carrying a crane went off King Hill Road. He said that so far, the nonprofit group raised $10,000 to $12,000 of the $25,000 it needs for a new Jaws of Life.
Citing a situation in which a tourist's husband died of cardiac arrest at Honeymoon Beach, he asked that there be an advocate appointed for St. John to help guide visitors when such a tragedy strikes. Sen. Justin Harrigan advised that the Tourism Department has such a person on staff to help in those circumstances.
Malacarne also spoke of issues with the dispatchers who send emergency crews to the scene. As an example, he said, when four members of a Delaware family suffered apparent chemical poisoning at Sirenusa condominiums on March 20, the dispatcher wanted to send someone from the Coral Bay fire station to assist. He said the emergency medical technician at the scene had to insist that the dispatcher call St. John Rescue because it was much closer to Sirenusa than the crew in Coral Bay.
Liburd said he's pushing to get Guy Benjamin School, which closed in 2014, open as a community center.
St. John resident Cid Hamling took issue with the V.I. Port Authority's plan to turn its Enighed Pond parking lot into paid parking. She said that it will cost people who have to go to St. Thomas to work or for medical care a lot of money to park for the day.
Resident Larry Best described a dangerous situation on the South Shore Road that happens when the Racetrack gas station gets a fuel delivery. He said that the truck has to first make it up the very steep Jacob's Ladder, but when it gets to the gas station, it has no place to park to off load the fuel. It has to park in the public road.
"Sooner or later, the road will be a sea of fire," Best said, inferring that the truck will get hit by a passing car.
In addition to Liburd, Roach, and Harrigan, Sen. Jean Forde attended the meeting.