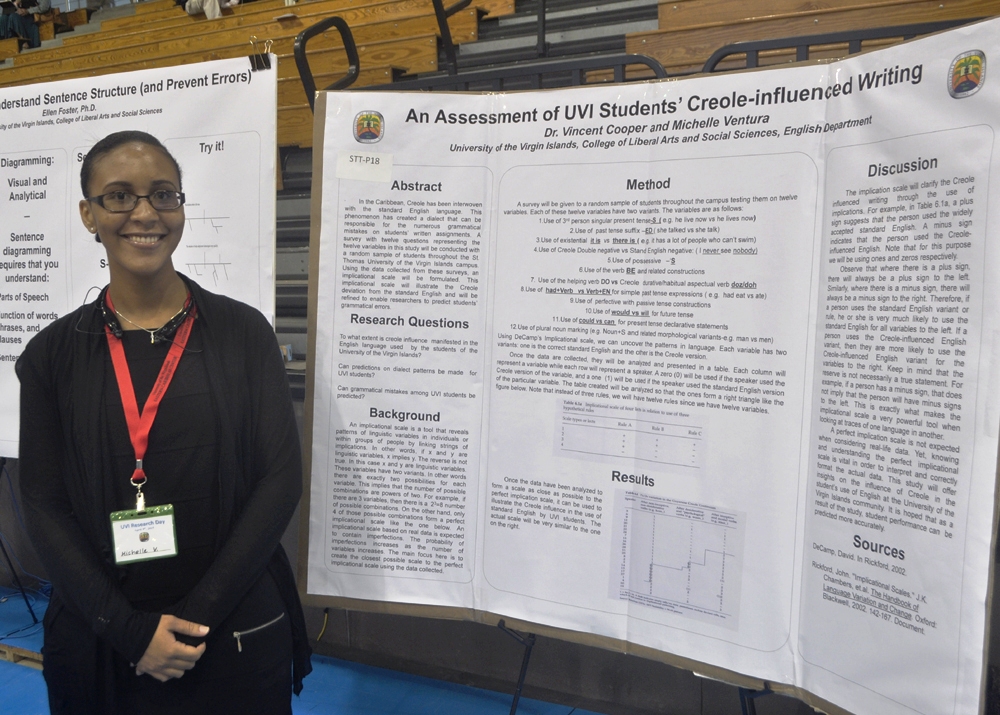 Research being conducted in fields ranging from marine biology to criminal justice was showcased by students and faculty at the fourth annual Research Day held at the St. Thomas campus of the University of the Virgin Islands on Thursday. Research Day was held simultaneously on the university's Albert A. Sheen campus on St. Croix.
Inside the UVI Sports and Fitness Center on St. Thomas, participants gathered to share their current projects with each other as well as with visitors, which included groups of local high school students. Information was displayed on rows of poster boards that stretched around the university's sizable gymnasium.
"Research Day has become one of the cornerstones of our university's community outreach," said UVI President David Hall in a written statement. "It is an opportunity to showcase the important and cutting edge research of our students and faculty."
Michelle Ventura, a junior in the mathematics department, shared a research project titled "An Assessment of UVI Student's Creole-Influenced Writing" done in partnership with professor Vincent Cooper. Ventura said the goal of the project was to identify dialect patterns in writing by UVI students.
Ventura said the methodology of her study was purely mathematical, but that she was interested in the ways that incorporating the more fluid field of linguistics might affect the results.
"Math is such a rigid discipline, you don't really have much flexibility – something either is or it's not. In language, you have all kinds of things going on," said Ventura.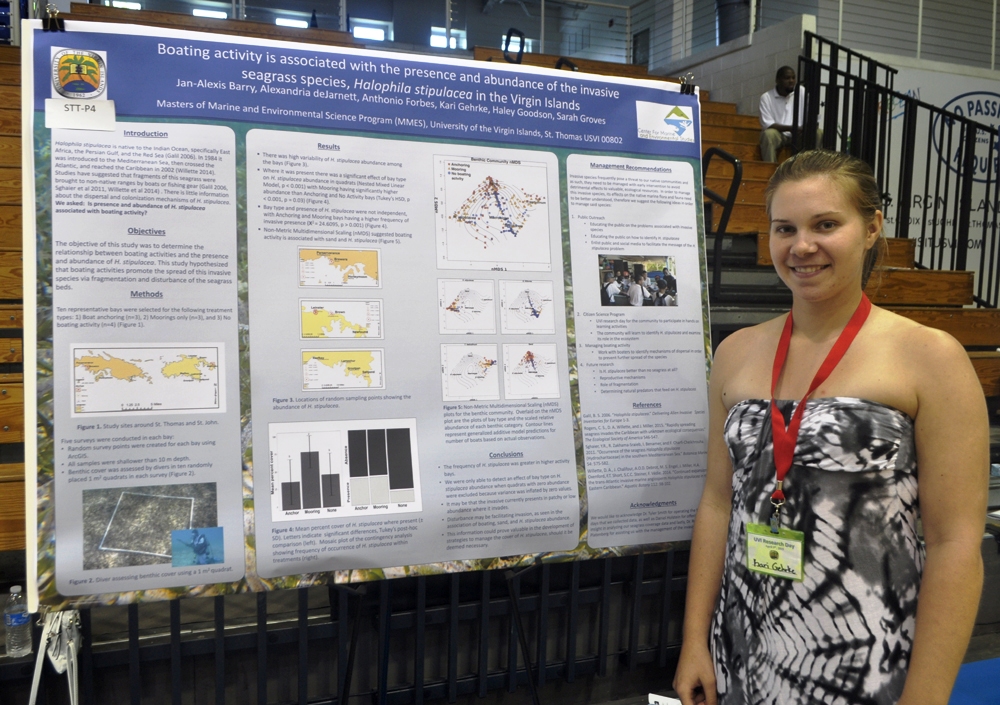 A written excerpt from the study said that it was inspired by the work of Dennis Craig, an education professor at the University of the West Indies who argued for the introduction of Creole languages into Caribbean schools in the 1980s and 90s. The excerpt states that the UVI study "examines the relationship between students' performance in the home dialect and the language of the classroom."
Sarah H. Groves and Kari Gehrke, both first-year graduate students in UVI's marine biology program, were on hand to discuss research being conducted in the waters around the Virgin Islands.
Gehrke is part of team studying the presence of an invasive species of seagrass called Halophilia stipulacea that appears to be threatening the territory's native turtle grass. Comparing bays around St. John and St. Thomas where there is little boating activity with bays where there is frequent boating activity, Gehrke and her fellow researchers found that in areas where boats are destroying turtle grass, the invasive species is moving in aggressively.
"We don't really know what the negative aspect of Halophilia is to the ecosystem itself, but we do see it more in areas of increased boating activity. We can see that the Halophilia is coming in and taking over the areas where the slower-growing turtle grass and other species are trying to grow," said Gehrke.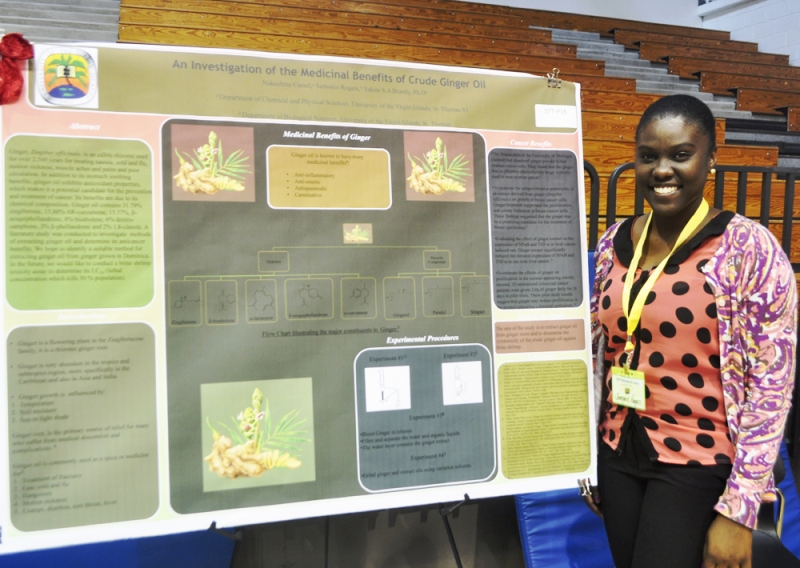 Groves' research, done in partnership with Daniel M. Holstein and Tyler B. Smith, aims to gather more data about deep water corals that grow in depths of 100 to 200 feet in a little studied area that lies to the north of St. Thomas. She says that compared to coral ecosystems in areas to the south of St. Thomas, little is known about these similar coral populations to the north.
"Much like a tree, a coral has rings when it grows, and much like a tree, or any animal or plant, when it's happy it grows fast, and when its needs aren't met it grows slow," Groves explained. "So we'll be able to compare growth rates between areas in the north of St. Thomas with areas to the south," she continued.
A junior majoring in biology, Semonie Rogers, said that she is studying the medicinal benefits of extracts from the ginger root, which her abstract noted has been used to treat illnesses for over 2,500 years.
Rogers said she hopes to have a career in the biomedical field investigating alternative cancer treatments.
"From childhood, you drink ginger tea if you have any abdominal pain or any kind of nausea and it soothes that. And from research, I found there's a lot of preliminary research that shows promising results in the use of crude ginger oil in cancer treatments," said Rogers, who is working in partnership with Nakeshma Cassell and Yakini Brandy.
Other research projects presented at Research Day included studies on UVI students' attitudes towards intimate partner violence, the distribution and density of fiddler crabs, the environmental impact of sunken derelict vessels in Coral Harbor, St. John, and environmental health in industrial areas of St. Croix.
In addition to poster presentations, the university also hosted round table discussions on topics including gangs, medical marijuana, the impacts of social media on Virgin Islands culture and alternatives to large-scale development.