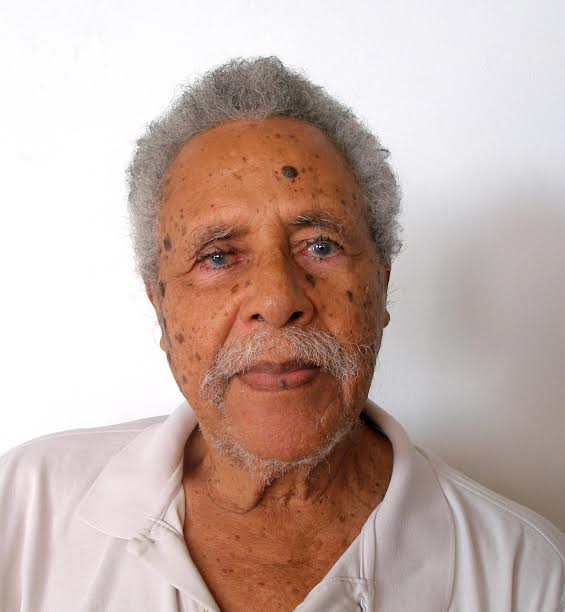 Rudolph Basil Galiber Sr. was born on St. Thomas on March 29, 1923, to Adele Lanclos Galiber and Henry Galiber. He attended public schools, graduating from Charlotte Amalie High School in Commandant Gade in 1942. During his high school years, he worked as a soda fountain clerk, as the projectionist in the movie theater, as an electrician's apprentice, and as a water boy and timekeeper during one of the extensions of the airport runway.
In September of 1944, Rudy, with many other Virgin Islanders, joined the 873rd Port Company Transportation Corps, training at Fort Buchanan, P.R. and Fort Plauche near New Orleans, La. He served in Hawaii for the rest of the war, earning several citations including a Good Conduct Medal and two Overseas Service Bars. He received an honorable discharge with the rank of sergeant in 1946.
Rudy attended Howard University on the G.I. Bill, majoring in civil engineering; then he remained in the states to continue his studies at the University of Michigan, where he received a Master's Degree in Sanitary Engineering. He married his first wife, Rosemary Edwards in 1951 and returned to St. Thomas to serve as commissioner of Public Works.
In 1958, he went to work for the World Health Organization (WHO), serving three years in Panama and two in Pakistan helping to eradicate malaria. Though he treasured his experience with WHO, he was ready to return to his beloved St. Thomas, where he went to work for Public Works — this time as an assistant commissioner.
Some of his contributions while in Public Works were: constructing the waterfront road (Veterans Drive), rebuilding the Legislature Building by replacing the old wooden construction of the floor and roof structures with modern steel and concrete materials, ending the disposal of sewage into the harbor by redirecting the flow to a then modern treatment plant, upgrading potable water technology and distribution, and instituting mosquito control and the reduction of their habitat through training programs for the people.
After leaving Public Works, Rudy worked in the private sector as a civil engineer and surveyor for many years, including projects for Marriott's Frenchman's Reef Beach Resort, All Saints Cathedral School, land subdivision for estates, and many other designing, surveying and construction jobs. He also designed and supervised the building of his own home, including installing one of the first grey-water systems in the Virgin Islands.
Rudy married his second wife, Martha, in 1984 in California, bringing her and her daughter back to St. Thomas to live. He continued to practice his civil engineering into his eighties, enjoying the outdoor work and the challenge of solving problems. Despite declining hearing and sight, he remained in good health nearly to the end and passed away peacefully at home on Feb. 15, only a month away from his 92nd birthday.
He is survived by his beloved second wife, Martha Wilcox Galiber; his sons; Rudolph B. Galiber Jr. (Zenovia) and Russell Leslie Galiber Sr. of Trenton, N.J.; his daughters: Dale Galiber Hill (Eddie) of Virginia, Mauvene Galiber Borton of Indiana, Rochelle B. Galiber Esq. of Findlay, Ohio; and stepdaughter, Lahren Pandolfi Bryan (Wayne) of St. Thomas, V.I.
He is also survived by brothers: Leayle Galiber of Baltimore MD., Kenneth L. Herman Sr. (Alma) and Henry (Chinca) Richardson (Shirley) of St Thomas; nine grandchildren, namely, Dr. Tamara Hill Bennett (Kevin) of Philadelphia, Penn., PO1,Tareem Hill (Joy) of Va., Derryle Marie Galiber of Tampa, Fla., Jacqui Reading of Fla., Rudolph B. Galiber III (Rachel) of Levittown, Penn., Courtney Rose Galiber of Newtown, Penn., Ryan D. Galiber, Russell L. Galiber Jr. and Lily C. Galiber, all of Trenton N.J.; two step-grandchildren: Sean G. and Cody A. Bryan of St Thomas; and six great-grandchildren: Tayana Bennett, Morgan Bennett, Tyler Hill, Jordin Hill, Jacob Hill and Reese Galiber.
Other survivors include the following nieces and nephews: Flavius Galiber Jr. (Maureen), Dr. Armstead Galiber (Ichico), Edward Galiber (Debbie), Dr. Yetta Galiber McCullom (Cornell), Lorraine Gundel, Dr. Andre Galiber Jr. (Elizabeth), Dr. Angelo Galiber, Sr. (Henna), Cecile Galiber deJongh (John), Dr. Dante Galiber (Yvonne), Marcel Galiber (Wilma), Kim Roberts Hedgepeth Esq. (Wayne), Brian Roberts (Karen), Robert Bingham Esq. (Johna), Leayle Galiber Jr., John Galiber, Michelle Richardson (Joe), Michael Richardson, Carolyn Herman Percell Esq. (Karl), Beverly Herman Beck, and Kenneth L.Herman Jr. (Lissette); and many great nieces, great nephews and cousins, too numerous to mention.
The viewing will be held from 8:15-9:15 a.m. on March 9 at Hurley Funeral Home. Meditation Hymns and Eulogy will begin at 9:30 a.m. at Sts. Peter and Paul Cathedral, and the funeral service will begin at 10 a.m. Interment will be at Western Cemetery No. 1.
Condolences to the family can be mailed to: Martha Galiber, PO Box 10207, St. Thomas VI 00801. Any flowers should be sent to Hurley Funeral Home, 3192 Altona and Welgunst on St Thomas.
Arrangements are under the direction of Hurley Funeral Home.