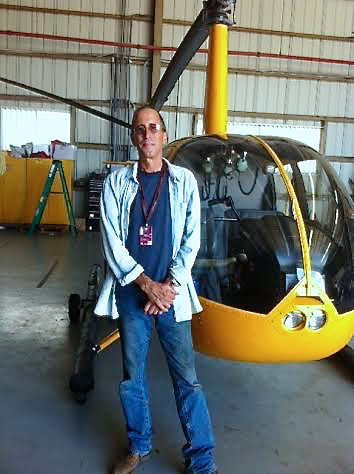 Aircraft have always fascinated Jay Lammering. But it's not the romance of soaring high above the clouds that makes his heart take flight. It's the knowledge, skill, grease and grunt labor that keep those babies up there.
Lammering has been an airplane mechanic practically all his life. For the past 21 years, he's been one of the few people working regularly on aircraft that come into and fly out of St. Thomas.
He's the director of maintenance for Island Birds, Capital Air and Caribbean Buzz helicopters and is one of the mechanics on call to service private jets handled through St. Thomas Jet Center. He's also part of the on-call team prepared to service most of the major airlines flying into St. Thomas. Those include Delta, United, Continental, USAir, Spirit and Jet Blue – in fact, everyone except American Airlines, which has its own in-house mechanics.
Besides an associate science degree in aviation maintenance from Vincennes University in Vincennes, Indiana, Lammering holds both an airframe and/or power plant (A & P) certification and an inspection authorization (I.A.) certification.
"That makes me certified to work on all those aircraft and sign off on inspections," he explained.
"I love airplanes, like helicopters," he said. "Once you're involved with it, it kind of gets to be an addiction."
Lammering's involvement started when he was still a kid, making model airplanes. In his teens, his father took him flying one time and he was hooked.
"I said, 'This is cool' " he recalled.
He was already getting a reputation as a good amateur car mechanic, so the switch to planes was easy. He also learned to fly.
"I got my pilot's license before I got my mechanic's license," he said, though he hasn't kept the pilot's license current.
Lammering worked in several places on the mainland. He was in Nebraska when he met his wife, Jane Higgins. He was in Ohio, restoring antique aircraft, when he saw an advertisement in the trade periodical Trade-A-Plane. That was 1993.
He said he and his wife used to vacation in the Caribbean, so it wasn't difficult to imagine moving to St. Thomas. The big lure, however, was the job itself, working for Four Star Aviation.
"They had DC-3s, and I love old airplanes," he said. The DC-3 is a classic.
Lammering worked 14 years for Four Star until it closed about 2004. There's still plenty of business to keep him and other trained mechanics busy.
"I could work seven days a week if I wanted to," he said, and on occasion he has. Besides spot maintenance, all aircraft must be inspected regularly. Exact schedules depending on the type of airplane of helicopter. Some aircraft need one type of inspection every 50 hours of flying time, another at each 100 hours of flight, and also an annual inspection. Others go by the 50-hour rule. Typically that translates to about once per month.
"So we're always looking at the aircraft," he said.
Lammering would like to see someone start an aviation mechanics training center in the Virgin Islands. With all air traffic it just makes sense to encourage local talent.
Standing in a hangar on the north side of the Cyril E. King Airport runway last week, he reflected on his career.
"I can pretty much work on everything that's on the field," he said. "It's never boring. You learn something every day."
Does he see himself retiring or making other major changes in the near future?
"Not if I can help it," he said.