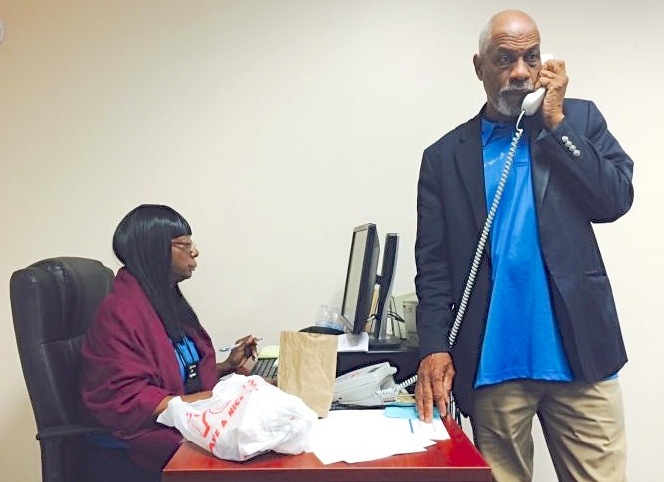 Independents Kenneth Mapp and Osbert Potter were ahead of the Democratic Party team of Donna Christensen and Basil Ottley in the governor's race as of 2 a.m. Wednesday morning, but with neither candidate gaining a clear majority, the race appears to be headed for a runoff.
"We feel great; we feel excellent," Mapp said Tuesday night as results came in. "Our campaign supporters have worked very, very hard and they really came through a bruising campaign. But we left the name-calling and the mudslinging and the degradation alone and we talked about our economic plan and wanting to build a better Virgin Islands and we're committed to doing that," he said.
Mapp said he was concerned that "the jubilance of what we've been able to achieve thus far is marred by the debacle, this bedlam, that is occurring in the elections system of the Virgin Islands."
Ballots arrived very late at elections offices Tuesday night because they were scanned into the tabulators at polling precincts before the ballots and data cards were brought to the Election System offices, which caused frustration with many of those awaiting results, including Mapp.
"It's 2014 and, at 2 o'clock in the morning, we can't say definitively who won the election. It is mediocrity and simply the practice of taking something not confusing at all, something that's being done all across America, and turning it into a distressing process," Mapp said.
Asked about the possibility of a runoff, Mapp said, "What it would take for us to get over the top is what it took for us to get to where we're at, to go to the people of the Virgin Islands and describe how we're going to use the resources available to the territory to improve the quality of life, provide them with opportunities, to reduce the high cost of living and to help families in distress. And we are prepared to do just that."
A ballot question on medical marijuana passed handily, while one on extending senators' terms was trounced.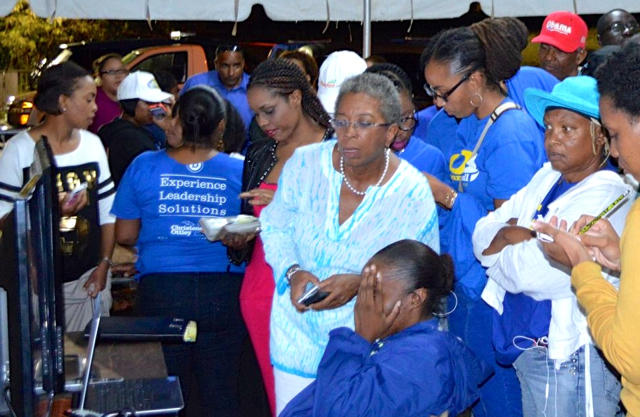 There are still many votes to be counted, including ballots that included a party-symbol vote; write-in votes for Sen. Alicia "Chucky" Hansen on St. Croix, mail-in military and overseas ballots, and more than 1,100 early voting ballots. So the final results may vary from the preliminary results Tuesday night and early Wednesday morning.
As of 1:52 a.m., Mapp/Potter were ahead of Christensen/Ottley with 49.35 percent of the vote, to Christensen/Ottley's 35.73 percent. If neither team wins an outright majority, they will face off in a runoff election.
Independent gubernatorial candidates made up the rest of the gubernatorial count, with Soraya Diase Coffelt getting 7.73 percent and Mona Barnes 6.8 percent. Sheila Scullion had a fraction of a percent.
Democrat Stacey Plaskett won the race to be delegate to Congress, with 90.45 percent of the vote, to Republican Vince Danet's 9 percent.
Plaskett addressed her supporters at campaign headquarters Friday night and thanked them for their hard work. She said she looks forward to going to Washington, D.C., as delegate to Congress.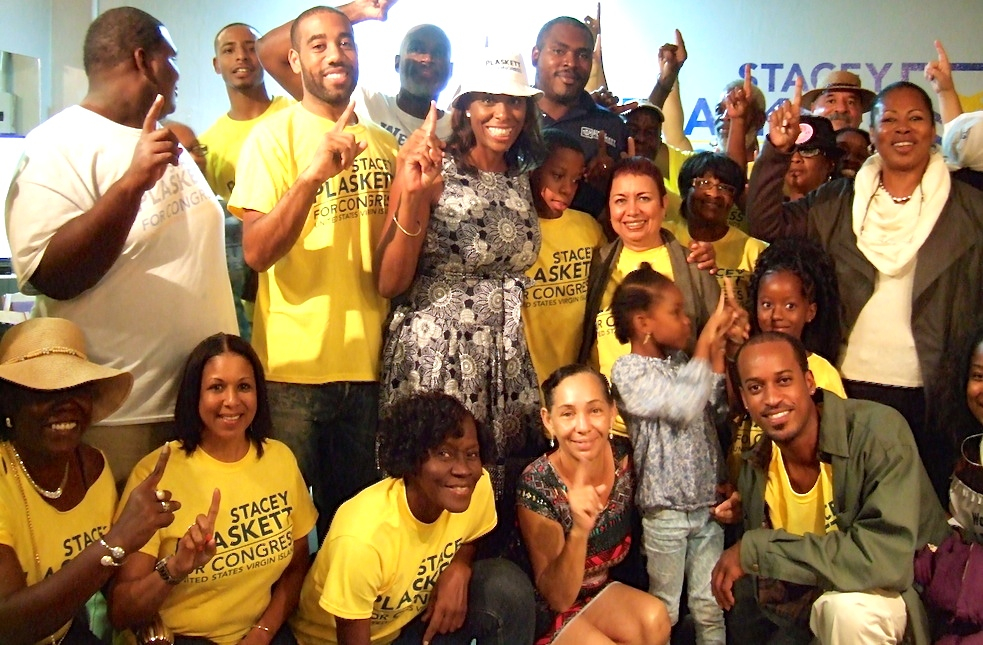 "I'm really going to enjoy the work. I'm looking forward to Washington," Plaskett said Tuesday evening.
Plaskett said she plans to meet with the new governor on Jan. 1 and will meet quarterly with legislators to keep in touch with local issues.
In the legislative races, for the territorywide "at-large" seat, independent Almando "Rocky" Liburd trounced Democrat Ronnie Jones, 61 percent to 38 percent.
The first set of St. Thomas-St. John ballots, from Ulla Muller School, came in at 10:19 p.m. and, by 11:15 pm, the district's board of elections were still waiting for ballots from several sites to come in.
Ballots from St. John were expected to arrive after midnight, which St. Thomas-St. John District Board Chairman Arturo Watlington said would be transported over by special boat.
St. Croix's ballots arrived on roughly the same time schedule.
Board member Harry Daniel said that ballots were counted by workers at the polls this year, which caused delays. Due to issues with the system's new voting machines, ballots were hand-divided into piles, with workers taking out party ballots – where voters filled in a party symbol and voting along those lines – and non-party ballots, which Daniel said would be counted as soon as they were brought into the office.
Party ballots, along with early voting, absentee and others, will be counted beginning 2 p.m. Wednesday, board members said. Another 400-plus votes from Joseph Sibilly School – which suffered from a broken machine at one of its two sites – will also be counted Wednesday. According to Watlington, the number of outstanding votes still to be tallied is around 6,000.
A quorum of four members started counting around 11:17 p.m., using results brought in on jump drives from the first four polls. The early numbers, from more than 5,000 registered voters, showed in the St. Thomas/St. John Senate race, leads for sitting Sens. Tregenza Roach, Myron Jackson, Clifford Graham and Donald Ducks Cole along with newcomers Jean Forde, Justin Harrigan Sr. and Marvin Blyden. While board members continue to wait for some of the bigger polling sites, including Tutu Park Mall and Gladys Abraham Elementary School, another set of jump drives came in around midnight. While most of the top vote getters remained the same, what came in was enough to knock Cole out of the race and put sitting Sen. Janette Millin Young back in.
Those results switched once more at the end, with the final votes tallied close to 2 a.m. Leading the group was Blyden, the newcomer, with 4,361 votes, followed by Jackson at 3,966; Graham at 3,963; Roach at 3,899; Forde at 3,784; Millin Young at 3,372; and Cole at 3,305. Harrigan, however, is close behind in eighth with 3,286.
"If successful – I want to go to work for the people," Harrigan said as the results kept trickling in. "This journey is not about me, it's about the people here in the territory, and I honestly believe that with my training and my background, along with those of my future colleagues we can make a difference in this territory." Speaking at his headquarters, Jackson said he would like to continue on the same track he has laid for the past two years. "I'd like to continue my work in community revitalization," Jackson explained.
"I would also say that much of my legislation this term speaks to the issues faced by seniors and their lack of services, and especially for the youth in the area of preventative programs, along with the promotion of art and culture. I am also very much engaged with the Department of Education in cultural programs for children and would like to look into areas of revitalization for economic development, energy and street-lighting alternatives, especially when it comes to finding a source for addressing the funding issue."
Results on St. Croix are more tentative than usual for election night. Hansen, who was the top St. Croix vote getter in the last election and the second most popular candidate in 2010, was removed from the ballot this year but has a large, active write-in campaign and some portion of more than 600 early voting ballots. Because those write-in votes will be counted later this week, her place in the lineup is not yet known. Since the top seven vote getters in each district are seated, if Hansen succeeded in holding her seat, the seventh-place candidate tonight would be knocked out of the running.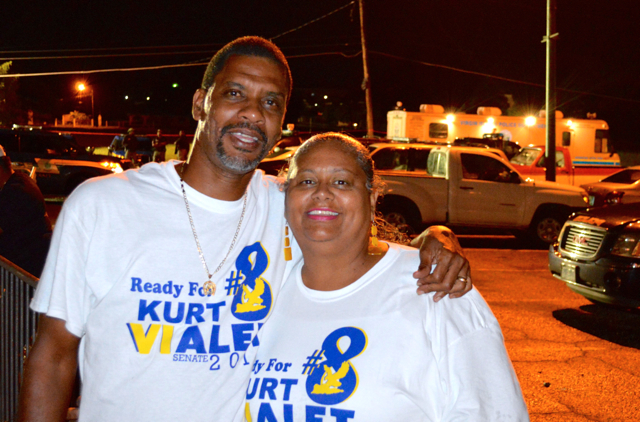 First time candidate, school principal Kurt Vialet topped the charts Tuesday night, well ahead of his nearest competitor, with 5,194 votes.
"It has just been a great experience," said Vialet, a democrat, after results showed he was likely the top vote getter. "I just want to thank St. Croix for believing in my ability," he said. He also said he was disappointed in the board of elections.
"I'm a bit disappointed in all that has taken place in the last month. Not with the challenges, but in the boards' ability to address them and make decisions, the breaking of quorums and dragging feet. I think they need to understand their role is to make these decisions and to inform the public. And I don't think they did a very good job this year," Vialet said.
Another first-time candidate, former Police Commissioner Novelle Francis, also a Democrat, got the second highest tally election night, with 4,569 votes. Senate Vice President Sammuel Sanes, an incumbent Democrat, came in third with 3,382 votes.
Incumbent Democrat Sen. Kenneth Gittens is back for another term, coming in fourth with 3,382 votes. Former Sen. Neville James came in fifth, with 3,129 votes.
Incumbent Sens. Terrence "Positive" Nelson (ICM) and Nereida "Nellie" Rivera-O'Reilly came in sixth and seventh, Tuesday night, with 3,052 and 3,011 votes respectively.
Those are the top seven vote winners as of Tuesday night, and barring any change, they will be the seven St. Croix senators.
Malcolm McGregor, a former special assistant to Gov. John deJongh Jr., came in eighth place, with 2,441 votes – 570 fewer votes than Rivera-O'Reilly. It is mathematically possible for Rivera-O'Reilly and McGregor to change places as votes are counted. And Hansen's votes could push one or both of the two out of the winner's seat, if her tally places her in the top seven.
For three St. Croix Board of Elections, current Chairman Adelbert Bryan is back in with 2,938 votes. Newcomer Barbara Jackson-McIntosh came in second place with 2,509. Incumbent Rupert Ross came in third with 2,444. Incumbent Raymond Williams came in fourth place with 2,375 votes and will not return for another term unless his ranking changes. With only 69 votes between the two and hundreds of votes yet to be counted, this race is still in play.
A ballot question on support for medical marijuana was approved with 56 percent in favor to 44 percent opposed. The nonbinding referendum has no direct effect on the law but informs the Legislature that Virgin Islanders support the change. Another ballot question, asking about extending senators' terms to four years, was crushed 84 percent to 16 percent.
Turnout was massive at 53.79 percent. Of 24,570 registered voters, 13,217 cast votes, according to the election system.
That is a dramatic increase from the last gubernatorial election in 2010, which saw a 39.9 percent turnout on St. Croix. And it is more than three times the turnout in the 2012 off-year election.
Both districts resume counting absentee ballots, party emblem ballots and write-in ballots Wednesday. The St. Croix Board of Elections is meeting at 9:30 a.m.