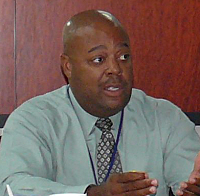 The five-megawatt cap set for St. Croix's net-metering program could be nearing its maximum, if it's not there already, limiting or eliminating further participation in the program.
That's the news WAPA Executive Director Hugo Hodge gave the Source Friday following his testimony to the V.I. Senate's Energy and Environmental Protection Committee, at which he told lawmakers the cap on St. Croix was "about four or 4.1 megawatts of the five."
The news came in response to concerns the Source was hearing from people involved in the solar industry that the cap may already have been reached. If that's true, people who sell and install alternative energy systems will lose a valuable incentive for marketing their services.
"I do believe we are close to the cap on St. Croix," Hodge said following his testimony.
He said his team met Friday with the Department of Planning and Natural Resources to determine just how much mega wattage DPNR had provided permits for in the increasingly-popular net-metering program. Hodge said he was unaware of the meeting until after he'd delivered his testimony.
He said the two groups were still reconciling numbers, because what WAPA has already connected to the grid and what's been permitted by DPNR aren't supposed to match, and that he'd have a better idea where St. Croix was exactly in the coming week or two.
"WAPA doesn't have the number that counts because we only have 2.55 MW connected" to the grid, Hodge said. "What counts is the number that's been permitted."
Net metering is the program in which homes and businesses with solar arrays or wind turbines enter into a relationship with the V.I. Water and Power Authority. On days where there is lots of wind and sunshine, these customers dump their excess power onto WAPA's broader energy grid so other customers can use it.
For example, when the solar panels on someone's roof put one kilowatt hour of electricity onto the grid, that person receives a credit allowing them to take the same amount of energy back from WAPA's power plants at night.
At times when their solar or wind systems aren't working, at night or when there is little wind, they draw energy from WAPA's power plants like everyone else. But because of the special meters they've installed that tracks both consumption and credits, any month in which their credits exceed their consumption they owe WAPA nothing, and any excess credits are rolled over to the next month.
In approving the program in 2009, the Legislature set a cap, or limit, on how much power WAPA would buy – 15 megawatts territorywide, 10 on St. Thomas and a five on on St. Croix.
At a Chamber of Commerce event in 2013, Hodge was reported as saying it would take at least five years for the five-megawatt cap to be reached on St. Croix. On Friday the WAPA director likened what's happened to something he learned in business school.
The analogy, he said, is like a major city in which the media warns of a pending toilet paper shortage. The reports cause people to run out and buy more to stockpile it against the shortage, leading to a run on the remaining toilet paper and creating a worse shortage.
"I started the meeting off with that example and continued to say that we have something like that going on with the net-metering customers," Hodge said. "The developers, not all of them but some of them, were going out when there was only one megawatt connected to the system and telling the customers they better get it right now because it's about to be peaked out and we're about to be out of room on a five-megawatt cap, particularly on St. Croix."
"I had customers call me and ask me then if it's true because they were concerned that they should get in on it before it ran out," Hodge continued. "My answer to them then was, 'It's not there now, but if they (developers) keep scaring people like that it will get there."
Now, one year later, "I think we're here as a result," Hodge said. "I'm sure we're close to the cap on St. Croix. We're not close on St. Thomas."
He added, "I do believe that all the talk by the developer saying 'it's about to be over, it's about to be over,' created an atmosphere that people went ahead and pushed this to the end very quickly."
Once the cap is met on each island, nobody else can participate, he said, because there are technical constraints to how much power that is intermittent, fluctuating with cloud cover or other factors, can be added to the grid.
He said the worst part of the whole net-metering system and how it was set up was that nothing was carved out specifically for the small business or residential customer.
"There's no megawatt carved out just for them and that's what really should have happened," Hodge said. "Now you're just being eaten up by the commercial customers."