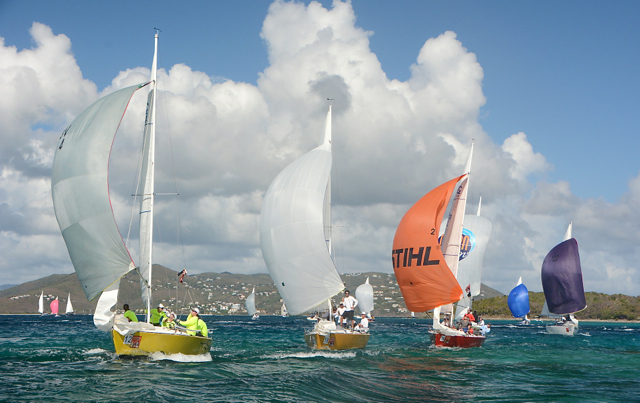 The 41st St. Thomas International Regatta wound up Sunday with last day of top-quality competition and razor-close, nail-biting finishes. No one walked away with a win, race organizers said, and the winners' podium saw teams representing the Caribbean, the United States and Europe.
First-time STIR entrant Near Miss, the TP 52 of Franck Noel of Switzerland, finished by winning every race but one in the CSA – Racing O Class. That defeat came at the hands of the Netherlands' Peter Vroon aboard his Ker 46, Tonnerre de Breskens 3, which finished second.
"The racing was very good, good competition and the courses were very nice around the islands," said Benoit Briand, Near Miss team manager. "It would have been easy to make a big mistake and finish last in this class, but we sailed the boat properly and grew more confident as a team every day."
The final 300 yards of the regatta's last race is where the winner was decided in the CSA – Racing 1 Class.
"It was really hard for us to race the Melges 24," explains Puerto Rico's Jaime Torres, winner aboard his Melges 32, Smile and Wave. "We never saw the 24; it was an unknown target. We just knew we had to race as fast as we could and it worked. Next year, we expect to have at least five Melges 32s here in the Caribbean and have our own one-design class."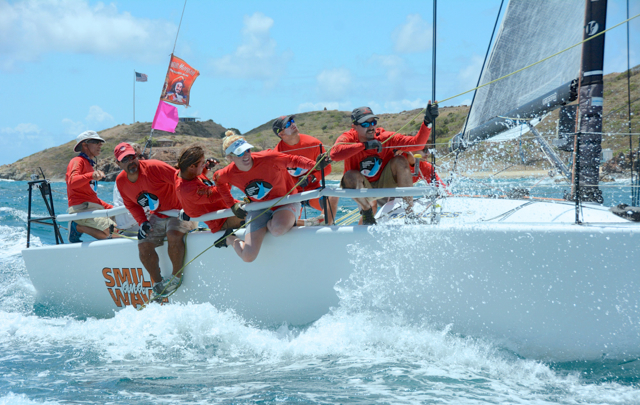 The USA's Rick Wesslund defended his last year's class win by once again capturing the CSA – Racing 2 Class. What changed is that Wesslund and his long-time, highly-polished crew were sailing their new J/122, El Ocaso, rather than their former J/120 of the same name.
"We didn't know how big a shift in gears it would be to sail the new boat, but we did it and we won," Wesslund said.
Bad Girl, the USVI's Robert Armstrong's J/100, had a good day sailing against Puerto Rico's Jonathan Lipuscek's J/105 Dark Star.
"We knocked heads with them all weekend, fought them tooth and nail and ultimately beat them," said Bad Girl's trimmer, Carlos Skov of the USVI. "I have to say the Dark Star team is a class act. Great sailing, that's what it's all about."
Team Line Honors lived up to its name by taking the prize in the one-design IC-24 Class. Only three points separated the USVI's Taylor Canfield's Team Line Honors from second place finisher, Puerto Rico's Marco Teixidor aboard Cachondo.
"Our only goal in the last race was to get him (Teixidor) in back of the fleet," said Canfield. "To do that, we match raced him at the start, then met him tack for tack once off the line. We were about a mile off from the rest of the fleet. When we came back in, we were able to get into the middle of the fleet and move up to second by the end to win overall by a three-point spread."
The BVI Jon Charlton's C&C 41, Reba – Team Red Stripe, took first place in the CSA Non-Spinnaker Class.
"I've never seen a Hunter 54 go so fast," said Charlton, of his chief competition, the USVI's Warren Stryker's Botox Barbie. "Our team has been actively racing for the last four years and its make a huge difference in our performance."
In the Beach Cat Class, it was the USVI's John Holmberg and crew Terri McKenna that finished first aboard their Nacra 17, Flight Risk.
"There were challenging conditions with the big breeze and swell, and the difficulty of sailing by handicap, but we sailed our best and it turned out well. During the regatta, we were able to try different things like rig settings and measure ourselves against the other boats. That certainly helped us in our bid to represent the territory in the 2016 Summer Olympics."
Finally, in the new 'Fun' or unmeasured class, it was the USA-based team aboard the chartered Moorings 4300 catamaran, Kastor Polux, which scored the prize.
"Each year we try a different Caribbean regatta," said Randy Alcorn, tactician. "I have to say, the people were great and the weather wonderful. We couldn't ask for anything else."
Regatta winners were presented with engraved crystal, compliments of Little Switzerland.
In other events, the first annual Captain Morgan Golf Scramble held in advance of the regatta was won by the father-son team of Mel and Ross Miller. The team of Henry Menin and Bill Newbold placed second. More teams are expected to join this new STIR tradition next year.
More information about the STIR and full results are available online at www.stthomasinternationalregatta.com or www.yachtscoring.com. Those interested can also follow on Facebook, www.facebook.com/rolexregatta; Instagram, #IRRSTYC; and Twitter @IRRSTYC
The St. Thomas International Regatta is sponsored by Captain Morgan and Heineken, distributed by Bellows International, Little Switzerland, and the U.S. Virgin Islands Department of Tourism.