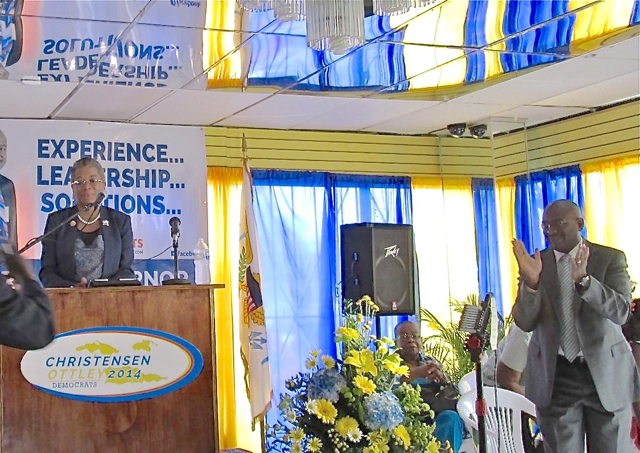 Pouring rain outside did nothing to dampen spirits when Delegate Donna Christensen announced she is running for governor and introduced her running mate, former Sen. Basil Ottley Jr., to a hundred or more enthusiastic supporters at her St. Croix campaign headquarters Saturday morning.
The two are running for the Democratic Party nomination and will first compete against other Democrats in the September primary.
The delegate later repeated the announcement to a crowd on St. Thomas, before returning to St. Croix for a campaign kickoff event.
Christensen and Ottley emphasized their extensive experience and Washington D.C. connections, saying they were the most prepared and best qualified candidates in the field. Christensen is serving her ninth term in Congress. Ottley was a V.I. senator from 2006 to 2008 and since then has worked as the principal V.I. official in the U.S. Interior Department's Office of Insular Affairs.
Before Christensen and Ottley took the microphone, several prominent St. Croix Christensen supporters, from interior designer and entrepreneur Twila Wilson to retired Frederiksted civic activist George Flores, spoke about how they met Christensen, why they supported her, and pledged to do what they can to help her and Ottley win in November.
Introducing Ottley, Christensen said he "brings a wealth of wisdom and experience" to the ticket. "The measure of a running mate is his ability to step in as governor," and Ottley is ready, Christensen said.
Ottley praised Christensen's wisdom and judgment in turn, recalling that he ran against her for delegate in 2004. "It says something about Donna that she can push beyond that and seek out the best person to serve the Virgin Islands," he said to applause from the crowd. "She personifies the perspective that the times we are in now require us to put personal feelings aside and work together," he said.
Ottley also revealed that he and Christensen began discussing the possibility of running together two years ago.
"We shared notes on where we thought the Virgin Islands was, and I perhaps came to the conclusion first. I said 'Donna you have to run. You have all the experience and expertise you need to move us forward,'" Ottley said.
Christensen spoke about growing up on St. Croix, how it formed her and how it has changed.
"On St. Croix I had the kind of idyllic childhood I would wish for all of our children today. There are many threats out there that did not exist when I was growing up and I share the hope that we all have that we can return to the nurturing environment that helped me and those in my generation become who and what we are today," she said.
That background of discipline and a sound educational foundation in the Virgin Islands carried her through college and on to get a medical degree, then work as a physician on St. Croix for 21 years before moving on to Congress, she said.
Getting to the nitty-gritty of why to vote for her instead of the other candidates, Christensen said she is "uniquely qualified to be your governor because I am the only candidate who has worked on the issues and faced the challenges that affect us today in real time, with the real players, and I am the only candidate that can bring the right mix of knowledge, expertise, enthusiasm and a track record of unprecedented accomplishments to the job."
If elected, "growing our economy and creating jobs that pay a living wage or better" will be her top priority, she said. But she said she plans to push hard on the many other issues facing the territory too, from the government retirement system to energy costs.
"My time on the powerful Energy and Commerce Committee in Congress has afforded me the opportunity to envision the possible right here in the Virgin Islands, to create a future where we maximize use of all of our resources to be as energy self sufficient as possible. With my experience and the know-how of many of you we can make energy costs affordable for all Virgin Islanders," she said.
Federal funding and connections are critical to the territory and whoever is governor has to make sure funding is not held back because of "chronic systemic accountability deficiencies," she said. "But on the other hand we will not let the federal government make unreasonable demands, but have them work with us to meet expectations in ways that our resources allow," she said.
And she feels she has the background and track record to work with, but stand up to Washington officials.
"In 2010 I remember becoming, shall we say, impatient with President Obama and uncharacteristically I let him know it when he was not inclined to give us a meaningful increase in Medicaid or include us in the insurance exchanges," she said. "At other times I battled with President Bill Clinton when we didn't want to declare a state of emergency for AIDS in the African American community, and I also recall my dogged persistence in insisting on the inclusion of ALL children in the Children's Health Insurance Program when colleagues on the committee were settling for less and quick to remind me I had no official standing," she said.
She pointed to work she has done to bring in federal dollars, saying she was proud she was "able to save our government tens of millions of dollars through debt forgiveness … and to bring hundreds of millions of dollars for health care, our police and fire departments." She took some credit for millions in federal dollars to repair the territory's wastewater systems, Homeland Security funding and some $70 million in Fannie Mae funding to increase home ownership.
In closing, Christensen again emphasized her and Ottley's D.C. experience.
"No one can bring the key relationships with congressional leaders, with the White House, with federal agencies, national organizations, corporate leaders and regional partners that we can bring at this time of our great need," she said. "And let me say here that in a Christensen-Ottley administration, regardless of who you support in this campaign, or where you were born or whatever your race, nationality, religion, gender or sexual identity or your immigration or social or economic status, we are inviting everyone to be a part of this effort."
Christensen earned a medical degree in 1970 from George Washington University School of Medicine in D.C. and became a board certified family physician in 1977. She is the mother of two daughters and grandmother of four. She is granddaughter of the late, well known St. Croix educator Elena Christian and daughter of the late Judge Almeric Christian and Virginia Sterling Christian.
The first woman to represent an offshore territory, she is assistant minority whip in the House of Representatives, serves on the Committee on Energy and Commerce and several subcommittees.
She chairs the Congressional Black Caucus' Health Braintrust, which advocates for minority health issues.
Ottley earned a master's in public policy from Duke University. He worked for several years for a Fortune 500 company then returned to the territory in 2003, becoming Sen. Louis P. Hill's chief of staff. In 2004 Ottley first tried his hand at elective politics, challenging Christensen in the Democratic Party primary for delegate to Congress.
He then successfully ran for a seat in the 27th Legislature in 2006. He joined the U.S. Interior Department's Office of Insular Affairs in 2008 as the V.I. Desk Officer, the first Virgin Islander to hold the post.
He was the primary policy analyst for the territory, preparing analyses to advise the secretary of Interior, president and government agencies on V.I. issues.
Christensen joins a Democratic Party field that includes Lt. Gov. Greg Francis, who has not selected a running mate or formally announced but has publicly acknowledged he plans to run and has held several campaign events. Former Lt. Gov. Gerard "Luz" James and St. Thomas consultant and former deputy commissioner of Human Services Moleto Smith Jr. have also tossed their hats in the Democratic Party ring.
And former Sen. Adlah "Foncie" Donastorg is competing in the primary, with former St. Croix Fire Chief Angel Torres as his running mate.
Two independent candidates have also announced: State Command Sgt. Maj. Mona Barnes and former Territorial Court Judge Soraya Diase Coffelt. (See related links below)
Further information about Christensen's campaign is available by calling 1-340-773-8683, or sending an email to [email protected]