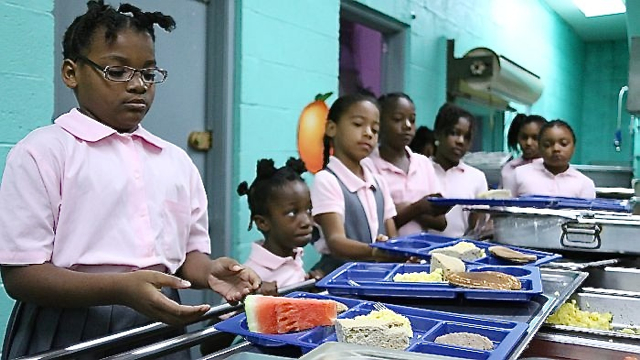 March is National Nutrition Month and the staff and students at Gladys Abraham Elementary joined Education Department officials Friday in celebrating International Breakfast Day with a buffet of good food and fresh fruits.
National Nutrition Month is an educational information campaign sponsored each year by the Academy of Nutrition and Dietetics. The campaign focuses on the importance of eating and buying healthy food, along with getting regular exercise. Friday, St. Thomas-St. John School Lunch officials promoted these ideas by talking to students about starting each day with a good meal, and displayed posters and banners breaking down each of the various food groups.
Students were able to sit down to a meal of scrambled eggs, pancakes and milk, which are served regularly at the school during the weekly breakfast hour, along with coconut dumb bread, banana fritters, turkey bacon and scrambled tofu.
"We want to make sure our students are getting nutritious meals daily, and we want them to know that starting school with a good breakfast is so important," said Esther Lynch-Isaak, the district's school lunch director. "This is something that's done every year to expose our children to the plethora of foods they can choose from, and to give them the information they need to make more healthy food choices."
Several parents joined their children during the breakfast and could be seen going over the nutritional information on display.
"We really have a strong community here, which works well with us," Gladys Abraham Principal Lisa Hassell-Forde said. "They really surround and support the school and its children, and their support allows us to conduct the many programs that we do, including things like this."
District Superintendent Jeanette Smith-Barry also encouraged parents to continue supporting the school lunch program, which has recently generated some concerns over specific food items being served.
"We excited that our parents are here to see some of the things we're serving in the cafeterias and we want to continue to encourage them to support our schools, and our lunch program, because we've been doing a lot to make sure that we can provide nutritious and tasty meals to the children," she said.