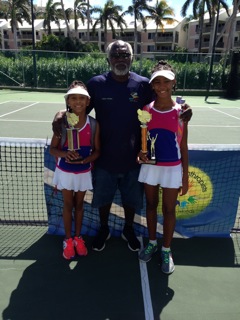 Members of Ground Strokes Tennis Club Inc. were victorious over the weekend Feb. 21-23 at the third annual Junior Philanthropists Youth 4 Youth Tennis Tournament on St. Thomas.
Kishaundah Romain, 12, and D'avian Lewis-Flynn, 9, competed in the tournament and finished first and second in their respective age brackets.
Romain, a seventh grader at Arthur A. Richards Junior High School, took home first place in the 14-and-under age bracket after defeating Taylor Robinson (6-3, 7-5) gaining her the most points in the round-robin tournament.
Lewis-Flynn, a fourth grader at the Good Hope Country Day School, finished with a record of 2-2 in the 12-and-under age bracket, gaining enough points for second place.
The tennis club is a non-profit organization that caters to low-to-moderate income families and provides quality, affordable tennis instructions to individuals from as young as seven years old. The club's head instructor is Coach Devon Peters. The associate instructors are Coach Merlice Charles, Coach Lionel Farrington and Coach Louis Flynn.
Tennis instructor Coach Peters is an International Tennis Federation (ITF) and Professional Tennis Registry (PTR) certified instructor.
For more information, contact Coach Devon Peters at 277-3637 or groundstrokestennis@gmail.com.