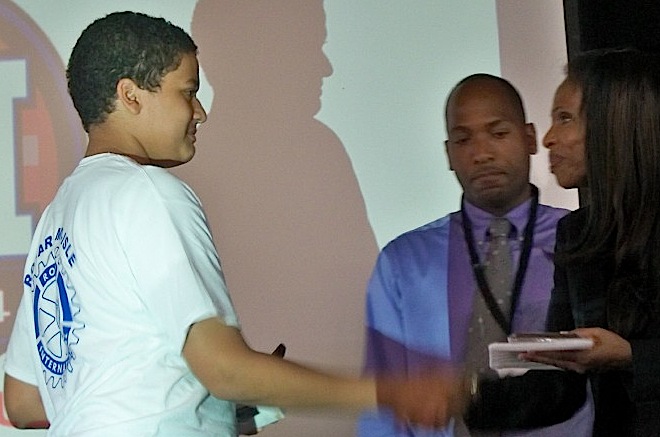 For the second year in a row, Ali Boucenna, an eighth-grade student at Church of God Holiness Academy, got high score in the St. Croix District Mathcounts competition, garnering first place for individuals.
Angelo Caprioli of Good Hope Country Day School came in second place.
"I was surprised the problems were really hard this year," Boucenna said reservedly. "I expected the problems to be similar to last year's when I took first."
He said he was happy he got first place again. "It was a lot of hard work getting ready. But it's all worth it to win. I like to compete," he said, adding it's fun to compete in math.
The Good Hope Country Day School team, coached by Cesar Guerra, got first place for teams with Church of God Holiness Academy, coached by Stephen Marcel, coming in second.
Jared Hodge, Rose Kleeger, Julian Bishop and Caroline Flavia make up the Good Hope Country Day School team.
Hodge took third place in individuals and said the problems were doable but it took a long time to figure them out. Even though he said he practiced a lot, he admitted he was tense during some of the rounds.
Individual students also competing at the territorial level are Jamihl Levine and Micaya Labadie from Elena Christian; Kershawn Hardy from John H. Woodson Junior High School; and Micah Fleming from Church of God Holiness.
The top team and top six students not on the top team advance in the territory competition. The territorial finals will be held at the Good Hope Country Day School on March 26.
Mathcounts is a national program designed to improve math skills among middle school students. Subjects included algebra, probability, statistics and geometry.
One could almost feel the concentration of 40 odd students as they worked on math problems Thursday morning in the pavilion at Good Hope Country Day School. In the first event of Mathcounts, students were not allowed to use calculators so there was not even the sound of calculators being moved about or buttons being pushed. The silence seemed to say "minds at work."
In the sprint round, 30 problems had to be done individually on scratch paper in 40 minutes and then tested for accuracy.
Second came the target round lasting 30 minutes. This round consisted of eight multistep problems that engaged individual students in mathematical reasoning and problem solving with the use of a calculator.
The team round was next, comprising 10 problems to be solved by team members working together with calculators.
The countdown round was a fast-paced oral competition for the top scoring individuals from previous rounds. Pairs of students without calculators competed against each other doing timed problems.
St. Croix coordinator Cheryl Willocks said holding a Mathcounts competition is about improvement and growing minds. "It stimulates their minds," she said.
"Students need to be challenged. They need to be on par with students elsewhere. This gets them energized, participating in things that work their minds."
A total of 41 mathletes from five different schools participated. The V.I. Department of Education, Mid-Island Rotary, Rotary Interact Club, National Honor Society students and Good Hope Country Day School's administration sponsored the district competition on St. Croix
Mathcounts was founded by the National Society of Professional Engineers, National Council of Teachers of Mathematics and CNA Foundation.