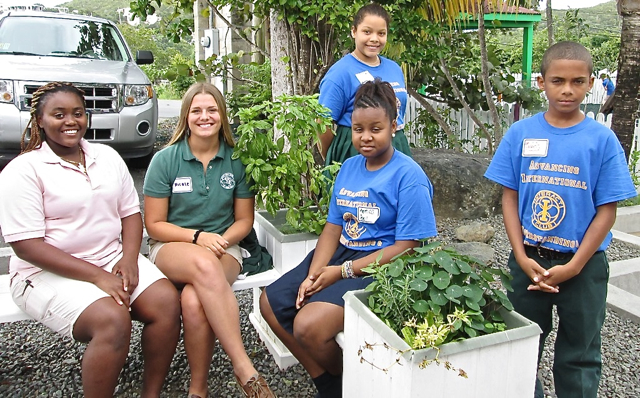 About 50 students from three St. John schools are learning about the Rotary Club's motto, Service Above Self, firsthand with membership in the organization's new Interact club.
"The littlest things you do can make an impact," said Jah'sheada Griffith, 17, president of the Gifft Hill School's Interact Club.
Gathered recently for a joint meeting of students from all three schools, the members discussed what they had done since the clubs organized in October.
"We brought in over 300 cans to give to the Seventh-day Adventist Church for gift baskets," Griffin said.
Students from all three schools went caroling at the Cruz Bay ferry dock over Christmas. Rotary Club of St. John member and Interact adult advisor Helen Simon said the youths decided on that project because they felt tourists visiting St. John had a negative arrival when they landed at the Cruz Bay ferry dock.
Sprauve's Jahnayah Dalmida said they went on the radio to talk about the Interact club.
Nicole Cirigliano, vice-president of the Gifft Hill club, outlined the group's plans to send shoes to their sister school in Uganda.
"They are going barefoot because they don't have shoes," she said.
She said because the students must go barefoot, they are at risk of burrowing bugs finding their way into their feet.
Cirigliano pointed out that the students must pay $15 a year to go to school, a figure Lily Margo Francis from Gifft Hill said didn't seem like much to St. John students but was an enormous amount to the Ugandan students.
Mykal Martin of Sprauve School said he thinks the students should paint the "clinic."
"That would be a big project," Helen Simon, a Rotary member who serves as the adult advisor to the Interact clubs, said.
Sprauve student Lioness Bruce suggested they do beach cleanups, while Guy Benjamin student Liliana Remington suggested the club members put together gift baskets for seniors because some seniors don't have enough money to live on.
"And to give back to the community," she said.
Remington also said Guy Benjamin students are planning a dance to raise money for their projects.
As with all Rotary meetings, this one ended with lunch – pizza.
"It's like a junior Rotary. Those children move from Interact to be Rotarians," Simon said.