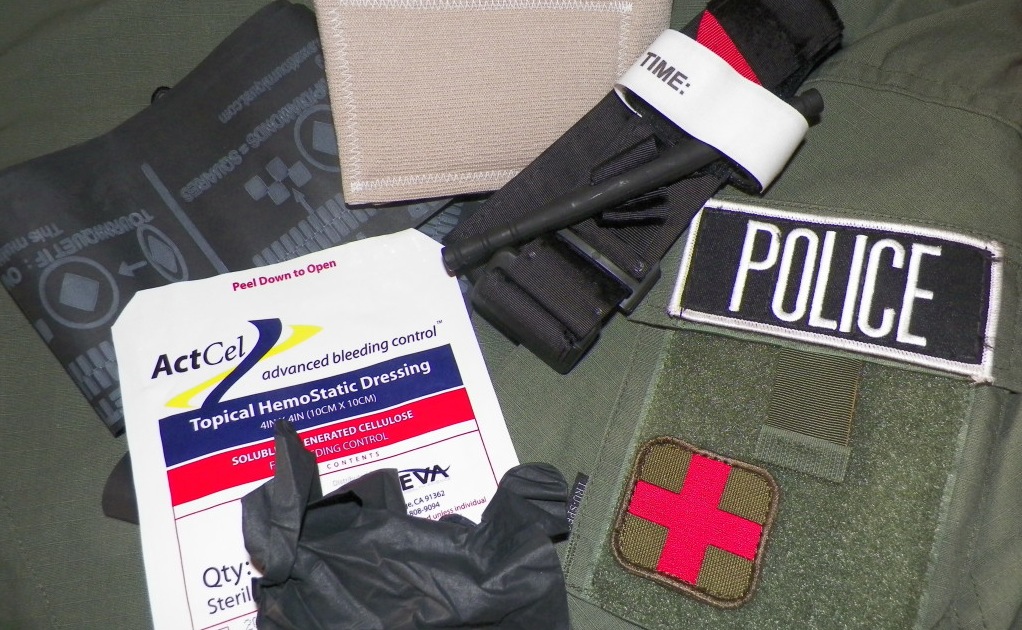 Former St. Croix Chief of Police Christopher Howell still remembers vividly the international police chiefs conference he attended in Chicago in 2011, a year before he was shot in the line of duty while responding to a robbery at the Eat at Cane Bay Bar and Restaurant on the island's North Shore.
What he recalls is unknowingly attending a seminar that he thought was going to be about something else. Today, though, Howell says he's glad for the simple mistake because it not only saved his life, but now has changed his life's purpose through the nonprofit he started called Project Triage, which is trying to put into the hands of police and peace officers everywhere a trauma management kit.
"I walked into what I thought was a training about trauma management," Howell said. "What it actually was was a bunch of doctors who'd completed this yearlong study that looked at what kills officers in the line of duty. They'd find instances where officers were shot or stabbed and see what the exact cause of death was."
The results, Howell said, were that in all the instances of officer loss of life, two of three of those died needlessly from blood loss brought on by their stabbing or gunshot injuries.
The officers' lives could have been possibly saved, he said the doctors told them, if they'd had with them a trauma management kit, made possible today on the open market because of advances in emergency medicine and technology.
The kit can be carried with an officer inside the vest during work situations to be used in the event of severe blood loss as a result of being stabbed, shot or maimed. The military was the first to use them.
The kits contents? Gauze and combat compression dressings with hemostatic agents to help stop blood loss, a tourniquet and a pair of gloves with textured fingertips. Howell said Project Triage gets the kits from a company that was started by a retired Las Vegas cop who lost his partner in the line of duty.
"The technology is new. And because it's new, the word hasn't spread yet," Howell said of the recent advances in hemostatic agents and how they can stop blood loss.
But the word is starting to spread about officer's needing these kits on their person and, with more and more people hearing the statistics of officers' potentially preventable deaths, Howell thinks that when others hear it, they'll be just as shocked into doing something about it as he was.
"When I heard that, it was kind of like one of those eureka events," Howell said. "I couldn't believe that a $50 kit could make the difference in two of three cases."
Putting it another way, he said, "After attending that seminar I just knew that this is crazy that we (the V.I. Police Department) wouldn't do this."
Slowly but surely with the top brass's blessing, Howell began to purchase kits for his high-risk units. On Aug. 18, 2012, when Howell and Officer Elsworth Jones were both shot while responding to the robbery, having the kit and the knowledge of how to use it in a trauma situation, in his case tying a tourniquet around a severely wounded arm that had been shot multiple times, made the difference in saving Howell's life.
He admits his life is changed forever by the injuries he suffered to his arm and back, but said it's been his mission ever since to get the trauma kits into the hands of police officers, as he put it, "all over the planet."
"It's only a matter of time before it makes a difference in whether someone out there in the line of duty is living or dying," he said. "When you look at it like that, it's kind of hard for this not to want to continue, you know?"
When Howell started seriously advocating that officers have these kits, the idea was to get them into the hands of all officers on St. Croix. Through generous donations and community involvement, that's been accomplished already. He's now trying to get them into the hands of all peace officers. He's also still working on getting them for the St. Thomas and St. John District police force, and hopes the corporate community and individuals will step up with donations soon to make his goal a reality there.
A recent trip with positive press at a large industry trade show and convention in Las Vegas coupled with a YouTube Video and redesigned Web site has caused Howell's mission to catch on outside the territory too. He's had calls and e-mail inquiries from all over the country and been supported and endorsed by an international Caribbean police chief's organization as well.
"The project is really taking on a life of its own," said Sen. Judi Buckley, a supporter of Project Triage and a longtime friend of Howell's from their days with Crime Stoppers. "We're getting requests from districts all over the United States to supply their officers with these kits. It's really taking off very, very fast."
"Just yesterday a business owner from Atlanta called and donated 100 kits to the Atlanta Police Department," Howell said of the $5,000 donation.
He said it's his goal that once a donation comes in for a trauma management kit, the officers have it in their possession within a week's time. Video training on how to use the contents of the kit in an emergency situation is available on the Project Triage Web site as well.
Howell said he has no idea what the future holds for the fledging startup, but added he's not surprised it's taken off so quickly.
"It will continue to grow because officers are getting it," he said. "It's only a matter of time before this saves a life."
For more information, go to projecttriage.org or email Howell at projecttriageorg@outlook.com.