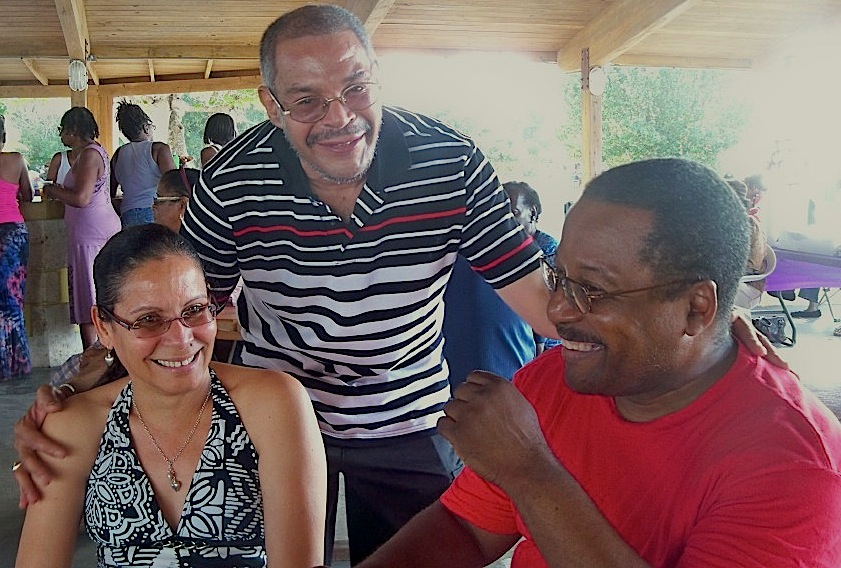 Several events over the weekend brought Catholics from around the territory to St. Croix to honor the Rev. Kenneth Francis Gaddy, who was celebrating 25 years of service to God and to locals.
About 200 people wrapped up the weekend attending a picnic Sunday at the Vincent Mason Sr. Coral Resort public pool. Gaddy did not look like a priest at the picnic dressed in a black and white stripe polo shirt and long black shorts and dancing briefly to music provided by the local band Native Rhythm.
The weekend kicked off Friday evening with a reception at the American Legion Hall in Frederiksted. There was a mass of thanksgiving Saturday morning at St. Patrick Church in Frederiksted followed by a luncheon at St. Gerard's Hall.
Gaddy, 52, came to St. Patrick Church on St. Croix as parochial vicar and associate pastor in January 1990 shortly after Hurricane Hugo hit the island. Three months earlier, Hugo had left St. Croix devastated.
"I encountered people trying to put their lives back together," Gaddy said. "They were in the process of rebuilding their lives. It was tough."
He said he was being supportive, sharing the message of hope and being there for the people. "Being present and there for people is what being a priest is about. I listened, cried and laughed with them." He said he gave the tools to move on to the next phase and added it was refreshing and remarkable how people helped each other out.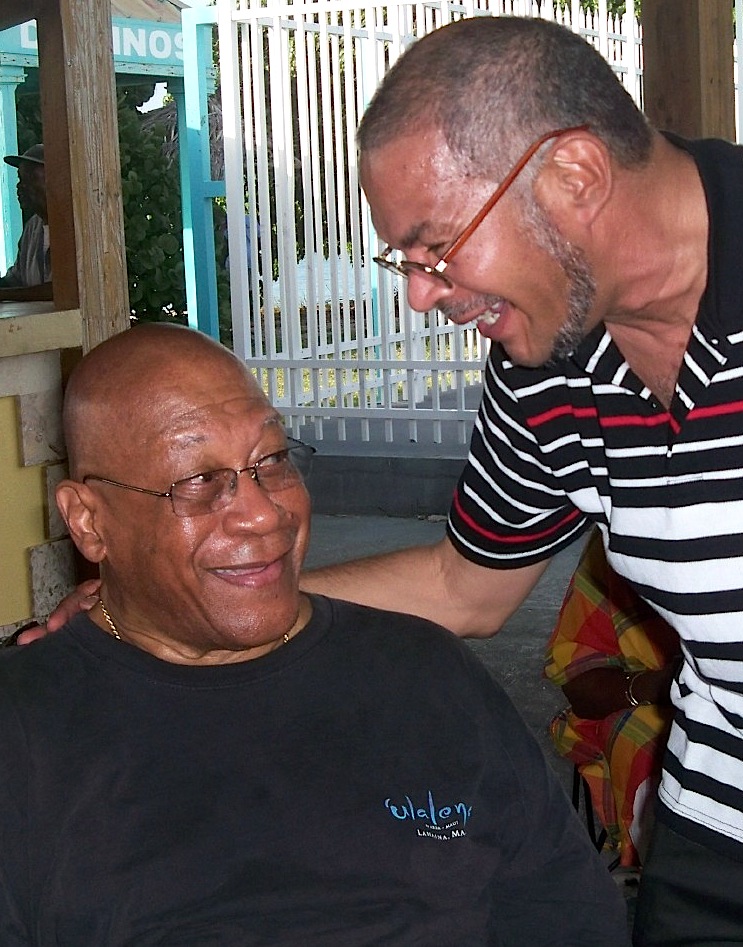 He said on a personal level it has been great being able to journey along with the congregation and rewarding to see the process from baptism to marriage. "The best part of being a priest is people allow you into their lives," Gaddy said.
When asked the question "Why the priesthood?" Gaddy replied, "I want to give my life in service to and for others, particularly my African-American brothers and sisters. But I feel and believe that God has called me to follow him in religious life. I also want my brothers and sisters to know that one can live a healthy and wholesome life as an African-American clergy. I am not implying that it is easy, but I do know that all things are possible with God. I want to give back to the African-American community the support and the love that was given to me."
Gaddy was professed in August 1982 and he was ordained to the priesthood by the late Bishop Emerson Moore on May 14, 1988. His first assignment was St. Boniface Church in Philadelphia. After a year and a half at St. Boniface, Gaddy was reassigned to St. Patrick Church in Frederiksted.
Gaddy worked extensively with local youth, in religious education, the diaconate program, St. Patrick school, visiting the sick and shut-ins, and with St. Joseph High School. After six years Gaddy was named pastor of St. Patrick and remained in that position for nine years. He expanded ministries of St. Patrick Church and during his leadership many renovations occurred at the Church.
After a brief sabbatical, Gaddy was appointed director of the Blessed Peter Donders, where he served as vocation director for the English Speaking Caribbean Redemptorist for two years. Gaddy was called back into parochial ministry from August 2008 through August 2011. In April of 2013, Gaddy was assigned to Sacred Heart of Jesus Church in Baltimore.
"He was very involved and very dedicated," said Bernadine Christmas, the secretary at St. Patrick Church for 32 years. "He is a priest of the people and for the people."
Gaddy is one of six children of the late Beatrice and John Gaddy of Baltimore and spent his entire schooling in Catholic schools. He attended and graduated from St. Francis Xavier Elementary School, Sts. James and John School, St. Frances Academy and St. Mary Seminary. Gaddy received his bachelor's of science degree in philosophy from St. Alphonsus College in Connecticut and his master of divinity degree from Washington Theological Union in Washington, D.C. Gaddy also studied in the master of theology program at the Institute of Black Catholic Studies of Xavier University in New Orleans.
The idea of becoming a priest first came to him when he served as an altar boy. He was influenced by an African-Caribbean priest, the Rev. Henrique (formerly known as Brother DeMonford or Brother Dee). Henrique started the Brotherhood Club for children in the neighborhood of Sts. James and John School and Church. As a member of the Brotherhood club Gaddy would visit senior citizens, as well as put on plays for them. They delivered food to the poor, the sick and shut-ins. The members went door-to-door to collect funds for different charitable organizations.
He added it all began at home with his parents' examples of service. To Gaddy, the Brotherhood club was a demonstration of the same social concern that his parents and family always displayed. Gaddy later joined the Youth Club led by the late Rev. Jerome Moody, also an African-Caribbean Redemptorist. The Youth Club became a place of support and encouragement for him. He was also inspired by the Rev. Carlyle Blake, from the parish Gaddy grew up and worshiped in. Blake, who is celebrating 50 years in the priesthood, was with Gaddy visiting St. Croix.
Local parishioner Michael Dow said Gaddy, a great pastor, understands how to become near and dear to people.
"I am filled with gratitude for all the support, love and prayers of the community," Gaddy said. "I am moved and touched. I would not be able to do what I have done without support."
The events and celebrations were organized by the Jubilee Committee from Holy Cross Catholic Church in Christiansted and St. Patrick Church.
"We are very grateful for the community support," said Maria Thomas-Lewis, chairwoman of the committee. "The outpouring of love has been tremendous. We all wish Father Gaddy continued blessings."