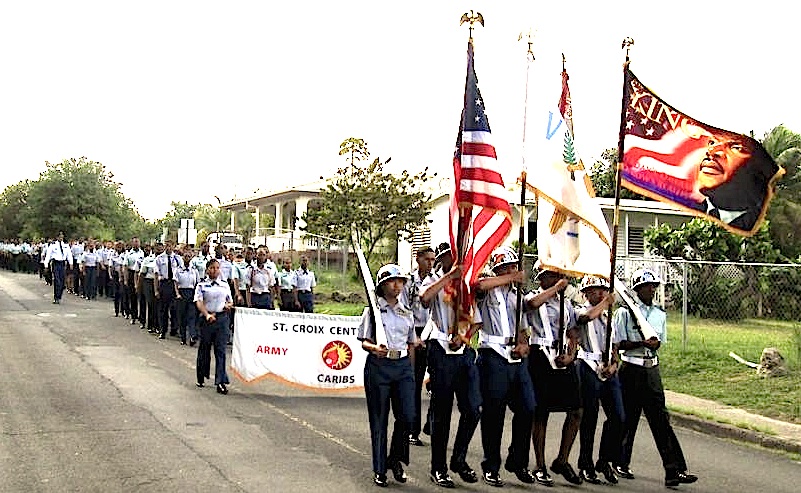 The mood was joyous and celebratory, the weather warm and sunny, and Frederiksted's King Street was lined end to end Monday morning with marchers celebrating the memory of slain civil rights icon Dr. Martin Luther King Jr.
Just after 10 a.m., the bands struck up the tune and two police officers on motorbikes briefly blew their sirens clearing the route. The St. Croix Central High JROTC Color Guard began the progression, which grew to a throng several hundred yards long. Squad after squad of smartly uniformed Central JROTC cadets marched down the wide boulevard, spanning nearly two blocks.
Police cars with blue flashing lights led the way as contingents from local schools, community organizations, clubs, unions and private citizens strolled from Claude O. Markoe Elementary School around and down King Street to Buddhoe Park. Flags waved and the big bass drums of St. Croix Central Marching Band beat the air and majorettes performed their routines.
The United Steel Workers, American Federation of Teachers, Our Virgin Islands Labor Union and other unions were well represented among the marchers. Some marched behind a union banner. Some held signs with messages.
Most of the island's public elementary and junior high schools marched, with students in commemorative T-shirts holding signs and pictures.
"Freedom, Justice, Peace, Equality for all," chanted Evelyn Williams M. Williams students clad in yellow matching T-shirts and led by teacher Doris Buiton. "The time is always right to do the right thing," they continued.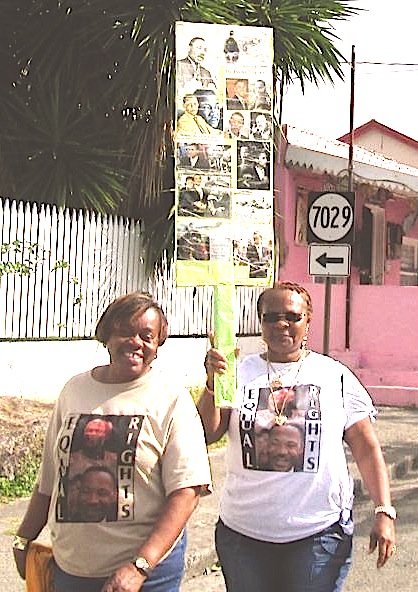 "These are all ideas and quotes from Dr. King's speeches," Buiton said.
Dr. Cora Christian and a large group of her fellow congregants in Nichiren Shoshu Buddhism carried signs saying "Victory Over Violence."
"We believe in Dr. King's nonviolent message," Christian said. Rather than focusing only outward on the problems others are causing, following King and incorporating his message into one's daily life can bring the same sort of change that King helped to bring about, she said. "We believe by transforming ourselves we can overcome violence in our community," she summed up.
Claude O. Markoe fifth-graders marched with homemade signs with quotes and facts about King. Others, like Sonya Maynard-John and Kathy Cranston of Frederiksted, had signs showing King, President Barack Obama and Nelson Mandela, the former president of South Africa who spent 27 years in prison for opposing the racist apartheid regime, who passed away this year.
Asked how King and Obama are linked, Cranston said, "They have everything to do with one another." Without King, Obama could not have become president, and Obama helped to push the cause of equality that much further, she said.
Alpha Kappa Alpha, Zeta Phi Beta and other fraternities and sororities were out in force too, marching behind their chapter banners. Along the route, people began to stake out good spots in the shaded walkways of the town's old buildings, some setting up folding chairs or holding parasols to shade from the sun peeking out from behind scattered clouds.
The Central Labor Council of the Virgin Islands, which has been organizing the march for 20 years, had a speaker truck broadcasting some of King's most famous speeches as it rolled slowly down the road.
Every year the CLC chooses a new theme for the commemoration. This year's came from King's quote: "One man with courage makes a majority."
Meanwhile a cruise ship was in port at the Frederiksted pier and tourists strolled along sunny Strand Street, looking at vendors' wares, artists' paintings and Frederiksted's gorgeous, if a bit run-down, colonial-era architecture.
"All the stuff is in Christiansted," a man said aloud, while looking at a map, moments before the St. Croix Central High School marching band rounded the corner, creating its own show, as it flowed into the park.
Chairs filled up with elementary school students in T- shirts proclaiming their schools, and all the celebrants, marchers and spectators gathered around to listen as speakers, young and old, reflected upon King's legacy and influence today.
And cruise passengers and other visitors to Frederiksted joined the throng, abandoning Strand Street to listen in the shade of Buddhoe Park.
St. Croix Sen. Terrence "Positive" Nelson blew the conch shell. And after the audience stood for the "Star Spangled Banner" and the V.I. March, Lisa Rampersad sang "Lift Every Voice and Sing," the Black National Anthem.
"We have come a long way, but we have a lot of work still to do," said Central Labor Council First Vice President Ira Hobson, wearing a Nelson Mandela T- shirt with the slogan "Equal Rights" on it.
"Elections are coming very shortly and we have to ask (the candidates) what they are going to do to solve our problems. We have to hold our elected officials responsible," Hobson said.
Benson Ward III, who was joined by George Otto in moderating the ceremony, said, "Hate is a thing we have to conquer."
Nelson Mandela, Mahatma Gandhi, Martin Luther King Jr. and Malcolm X all ultimately preached about the power of love to conquer hate, Ward said. "Sometimes it seems we have lost that. But love conquers all. And everybody needs to pick someone they don't know, maybe someone different from themselves, and show them love," he said to applause "And don't love them because they are different. Just love them. Period," he said.
Seventeen-year-old St. Croix Central High student Abijah Isaac read the full text of King's famous "I Have A Dream" speech. And 11-year old Breanna Campbell of Good Hope Country Day School read an original work, bemoaning the callous way people sometimes react to learning of another young man shot down by gunfire. "Too often people are cold. They don't seem to understand that is someone's son," she said
Lawrence Lewis of the African Association, a social organization of Virgin Islanders with personal and family ties to Africa, spoke about Mandela, saying he ultimately concluded "nonviolent protest is the best, most effective tool for social change."
Pastor Reginald Perry gave a keynote address: "Expect Great Things and Great Things Will Happen." Delegate Donna M. Christensen spoke about King's legacy, saying that "today we see the influence of Martin Luther King Jr. being undermined, turned back and unraveled" by a spate of cynical state efforts at restricting voting rights and recent Supreme Court decisions weakening the Voting Rights Act of 1965
She recalled that King fought not just for racial equality but also for economic opportunity and jobs. That Congress has allowed Emergency Unemployment Compensation to lapse, even as unemployment remains very high nationwide and in the territory, flies in the face of King's message, she said. "We need to reinstate those now," she said. "We are all compelled to fight poverty. In our little territory poverty is at 30 percent and is higher on St. Croix. We still have a lot of work to do," she said.
Lt. Gov. Gregory Francis said some of King's dreams have come true, while others "still have a long way to go." Pointing out the hundreds of elementary school students in the march and at the rally, Francis said, "It is up to us as adults to help these children accomplish their dreams."
After all the speakers had their say and a benediction, the crowd continued to mingle about the park and the Frederiksted waterfront before gradually working their ways to their cars and home.