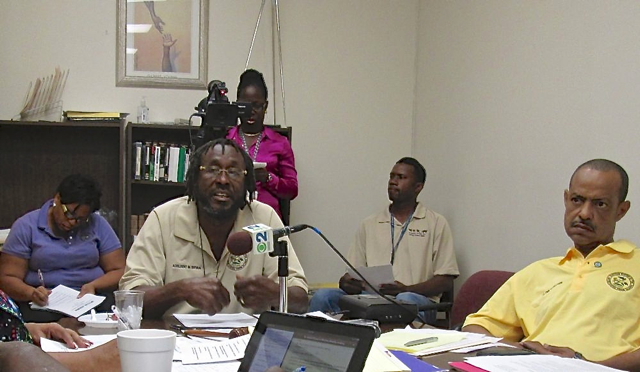 The St. Croix Board of Elections voted Wednesday to hold public registration drives Jan. 19 at D.C Canegata ballpark and Jan. 25 at the Frederiksted Post Office.
At its regular monthly meeting, the board was considering a motion to hold a drive on a different day when Supervisor of Elections Caroline Fawkes reported a nonprofit organization called Clean Up Hitters Movement, had contacted the elections office and requested them to come register voters. The board amended the motion to hold the first drive in conjunction with Clean Up Hitters' "VI Stand Up & #VOTE 2014" voting awareness family fun day, from 3 p.m.to 5 p.m. Jan. 19.
The board will register voters at the Frederiksted Post Office from 10 a.m. to 5 p.m. Jan. 25.
Preparing for elections later this year, the board also approved a motion from member Raymond Williams to establish St. Croix District Board of Elections election day process and policy committee. The committee, composed of Williams and two other board members, is tasked with working out proposed new election procedures, including procedures for counting absentee ballots, spoiled ballots. While every election requires careful advance planning, the board said, this year new procedures need to also be worked out for new voting machines that tabulate paper ballots.
The board also created a selection committee to vet candidates for a new administrative assistant for the board. In November, St. Croix Board Chairman Adelbert Bryan began urging the board to hire a separate administrative assistant answerable only to the board. Bryan said the current system makes the administrative assistant that helps the board answerable to the supervisor of elections, while he believes the board needs one that is answerable only to the board.
All votes were unanimous. Present were Bryan, Williams, Rupert Ross, Glenn Webster, Liliana Belardo de O'Neal and Roland Moolenaar. Member Lisa Harris Moorhead was absent.