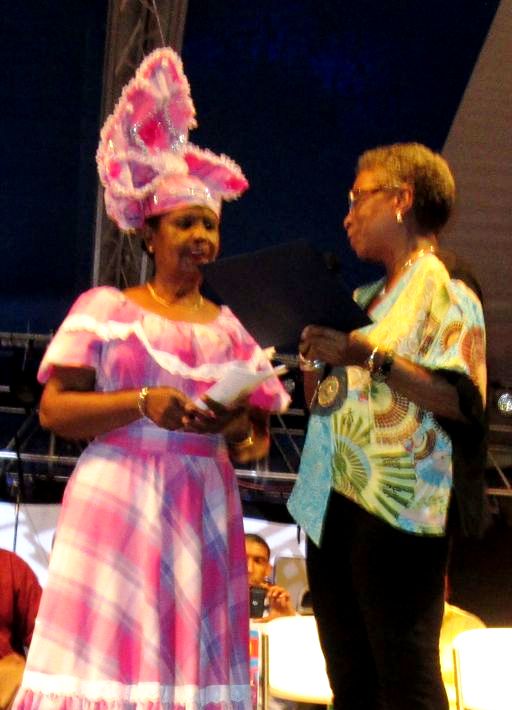 The Crucian Christmas Carnival went into overdrive Thursday as thousands flocked to the first night of "Betty's Kitchen" Carnival Village to ride the rides, eat their favorite traditional foods, and rock to soca and calypso until long past midnight.
This year the festival village is named in honor of longtime advocate of traditional St. Croix culinary arts Elizabeth "Betty" Petrina Lynch.
Around 7 p.m., right before the grand opening, people were still laying out T-shirts, toys and trinkets in neat rows on tables by the entrance to sell to revelers.
Roadies steadily worked on the final electrical and lighting connections and tests. Generators quietly thrummed in the background and the carnival rides were lit up, waiting, motionless, as the crowd began to mill about.
As it is every year, the stage was surrounded by dozens of booths selling seafood kallaloo, goat water, pot fish, chicken legs and wings, conch salad, Johnny cakes and all manner of Crucian fare. Families and friends fired up friers, started laying out the johnny cakes and frantically prepared for the first hungry customers.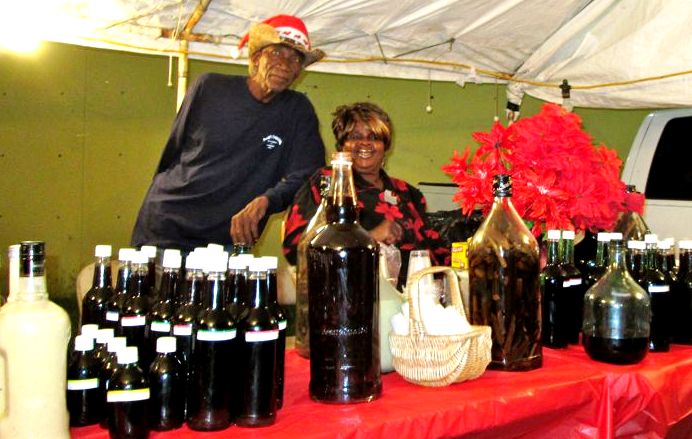 Many of the vendors and revelers have been coming out faithfully for the Christmas festivities for as long as they can remember.
"We've been coming out for over 20 years now," said Theresa Davis, who was there with husband Jerome Davis, selling coquito, guavaberry rum, stewed gooseberries, tamarind, homemade hot sauce and a few more exotic offerings.
"We have turtle bush bark drink, which will help the wife be happier with the husband," if he drinks it, she said. They also have another herb and rum concoction called "sex on the beach," purported to have similar benefits.
Asked how they began cooking up these traditional and original concoctions for the carnival, Theresa Davis said her family has "been doing this since way back. … My grandmother did it for years and later I started too."
Most food vendors were as comfortably familiar, local and well established as the food they sold, with favorites like Trini Flava, Jilly's Caribbean Foods and Elsie's Super Best of the West returning again, as they do year after year. And some, like the IHOP booth, built new traditions as they returned for a third or fourth year.
Elsie's Super Best of the West keeps returning and serving up some of the best stewed goat and butter conch, although Elsie Blanc, its namesake and founder, passed away in 2010.
"She made us promise to keep coming and keep serving her customers," said Blanc's daughter Sharon Desmoulin-Kherat. "Even now, she is still thinking of her customers." For years, Desmoulin-Kherat and her sister Brenda Lewis had flown back to St. Croix from Illinois for the holidays to help their mother and family cook for the Christmas festival.
"This makes 33 years we have been doing this," said Lewis.
"She started bringing me out when I was 8 and I'm 26 now," said Blanc's grandson, J.R. Blanc, when asked how long he's been helping out.
A bit after 7 p.m., the 2013-14 Christmas Carnival royalty – Carnival Queen Astia LeBron, Princess Zillah Ambrose and Duchess Jayla Newton – were joined by V.I. Miss Latin Pride Teen Kiara Berrios, Latin Pride Princess Omayraly Santiago and first place winner Kidejah Archibald and other dignitaries in cutting the ribbon to open the village.
Delegate Donna M. Christensen, Lt. Gov. Gregory Francis, Senate President Shawn-Michael Malone and other notables all said a few words recalling and honoring Lynch and there were a few short performances before the ceremony ended with a benedictory prayer and the first band took to the stage.
Christmas day may be past, but the Christmas season doesn't end on St. Croix until Jan. 5, the last day before Three Kings Day, Jan. 6.
On Friday, competitors will don their biggest, most elaborate parade costumes to vie for the title of Party Monarch at 7 p.m. in the carnival village.
There will be a quelbe band competition in Buddhoe Park on Saturday from 4 to 7 p.m.
The annual boat races will be held off Frederiksted on Sunday with boats running from the Fish Market to the Frederiksted Pier. The V.I. Department of Tourism will sponsor Cultural Night at the Festival Village that evening.
Tuesday is Youth Night at the village.
On Jan. 1, Roast-A-Time J'Ouvert gets the day off to a loud start at daybreak. Starting at Hannah's Rest Corner, the event winds into Frederiksted, with bands and gyrating crowds of all ages.
The Crucian Carnival's "Gloria Joseph Food Arts and Crafts Fair" will be held at noon Jan. 2 around the Eliza McBean Clock Tower next to the historic Fort Frederick in Freedom City Frederiksted.
On Jan. 3 the Children's Parade rolls out at 10 a.m. and marches through Frederiksted.
The big party begins as the Adult Parade hits the road Jan. 4 at 10 a.m.
Fireworks and a last night of music finish up the carnival Jan. 5.
Go to www.stxcarnival.com for updates, photos, information and a chance to listen to the latest soca music for the season.