On Saturday, April 20, A hawksbill turtle was found along the shoreline at Cowpet Bay bleeding from its carapace. Thanks to quick thinking by concerned residents, the Sea Turtle Assistance and Rescue Network (STAR) was contacted. Erica Palmer, Coral World Ocean Park veterinary technician and STAR St. Thomas responder, came to the turtle's rescue. The V.I. Department of Planning and Natural Resources' Department of Fish and Wildlife and Environmental Enforcement directors were on the scene over night to evaluate the turtle and agreed that the turtle had likely been shot with a high powered spear gun through the carapace and out the shoulder before it probably got away.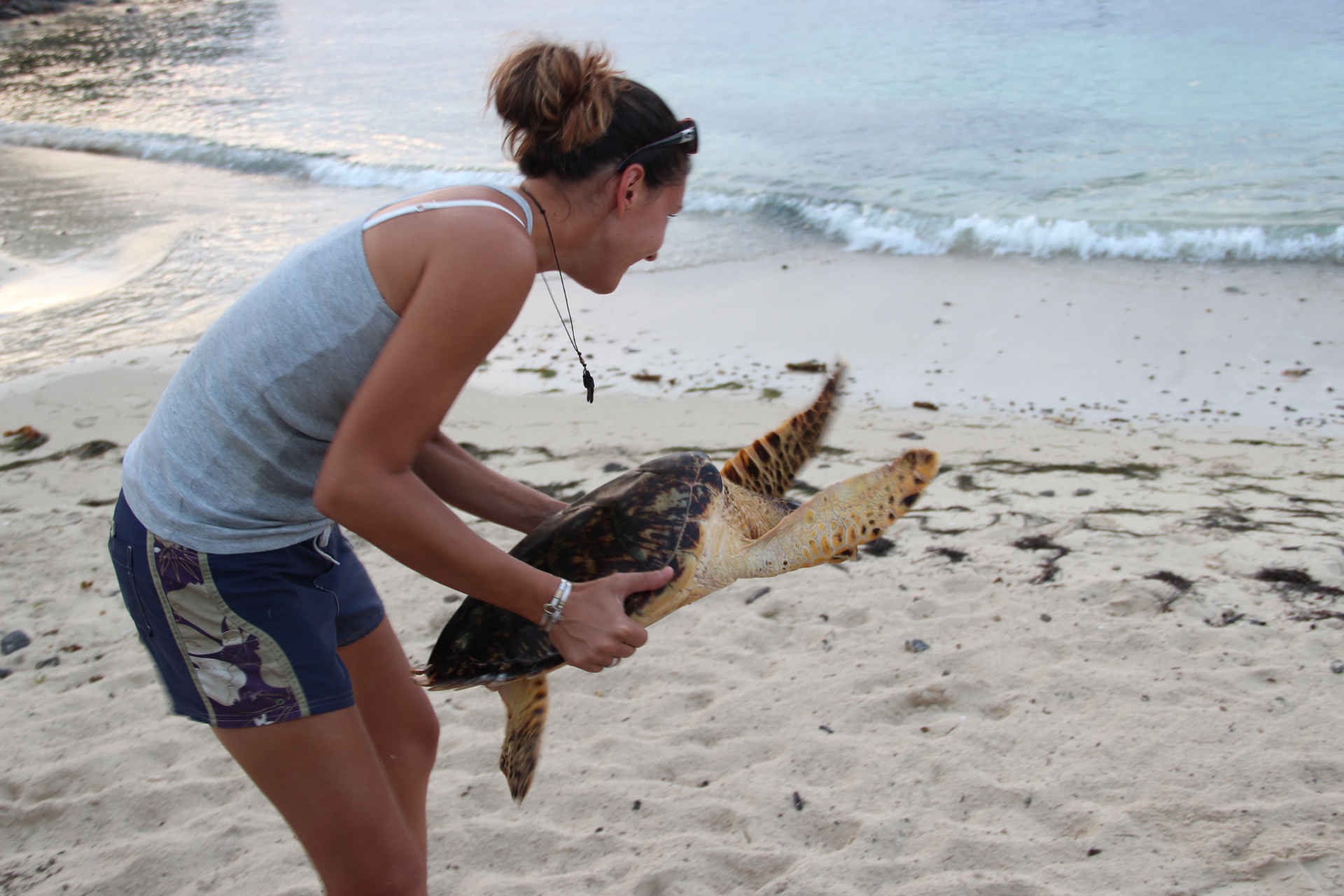 The turtle was taken to Coral World for observation and the next morning had preliminary X-rays and blood work done at Imperial Animal Hospital to assess the extent of injuries. Its condition was critical as it had internal broken bones and a punctured lung. A CT scan was performed at the St. Thomas Radiology Center on Wednesday, April 24, and confirmed the original diagnosis and gave greater insight into the extent of the internal injuries. The turtle remained at Coral World for rehabilitative care that included medical attention, nutrition, therapy and monitoring. It was determined after the initial healing of the clavicle bone that the turtle's swimming abilities were not impacted.
On Wednesday, Dec. 4, the rehabilitated Hawksbill turtle was returned to Cowpet Bay and released.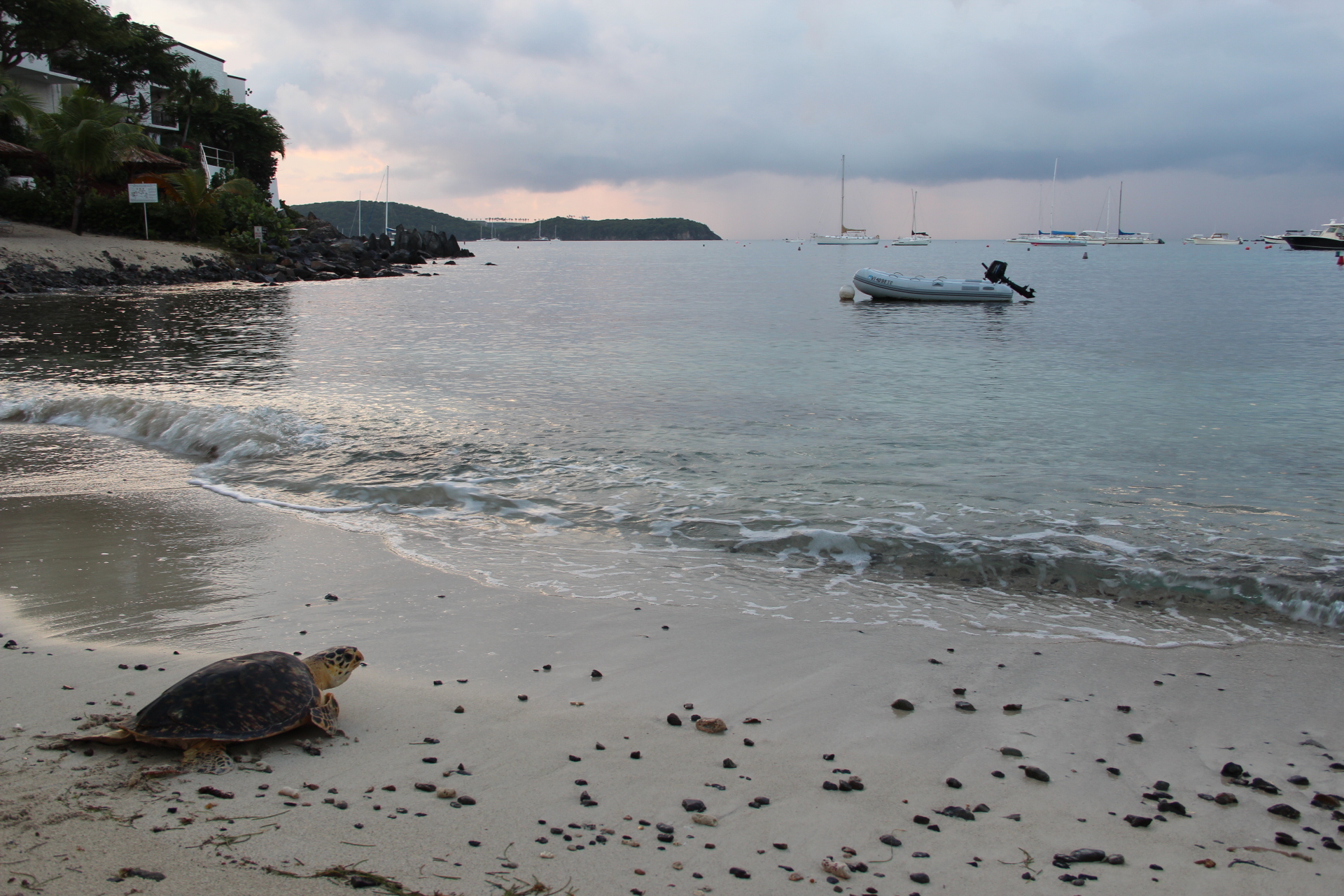 All sea turtles are designated as either threatened or endangered under the U.S. Endangered Species Act of 1973. Violations can result in up to one year in prison, up to a $100,000 fine, and the confiscation of any equipment used during the criminal act
The decline of Hawksbill sea turtle populations is primarily due to human exploitation, loss or degradation of nesting habitat from coastal development and beach armoring; disorientation of hatchlings by beachfront lighting; nest predation by native and non-native predators; degradation of foraging habitat; marine pollution and debris; watercraft strikes; and incidental take from commercial fishing operations. Continued efforts are needed to protect nesting beaches and to minimize the threat from illegal exploitation through intensified law enforcement efforts that will curb the incidence of poaching and harassment.
STAR (Sea Turtle Assistance & Rescue) is a collaboration of NGO's, territorial and federal agencies, veterinarians and community volunteers. These groups joined together to help injured sea turtles, as well as collect and disseminate information on stranded turtles, in order to better protect these marine animals.
STAR relies on many community volunteers, local veterinarians and other donated resources. Please call the hotline at 690-0474 to report any entrapped, disoriented, sick, injured or dead sea turtle.
Coral World is the only approved Sea Turtle Rehabilitation Facility in the Virgin Islands and has been conducting and funding turtle rehabilitation since it reopened in 1997 as part of its mission to educate, entertain and inspire appreciation for the Caribbean marine environment.
For further information, contact:
Erica Palmer
Coral World Ocean Park
Veterinary Technician and STAR St. Thomas responder
690 5551