The U.S. Virgin Islands joins the rest of the world in mourning the passing of Nelson Mandela and celebrating his remarkable life.
Mandela, who spent 27 years in prison before emerging to lead South Africa to a change from apartheid to a multicultural democracy, died Thursday at the age of 95. Though his death was not unexpected – he had been in failing health for months – it still brought a collective gasp of sadness from around the world.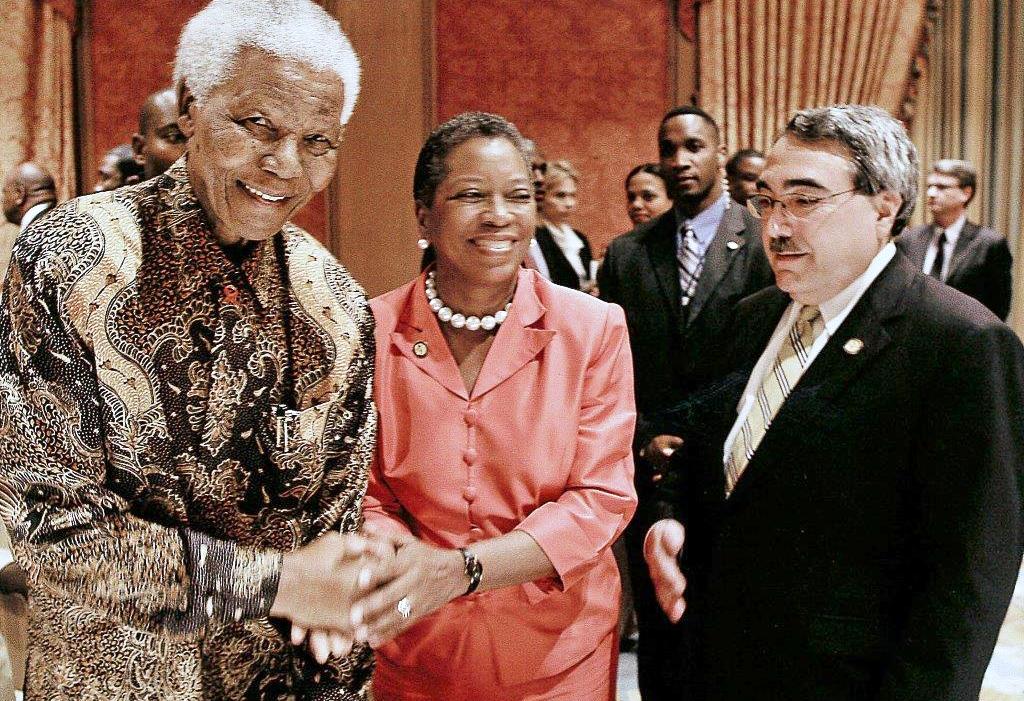 The news was announced by South Africa's President Jacob Zuma. In an announcement repeated on news broadcasts around the world, Zuma said, "Our beloved Nelson Rolihlahla Mandela, the founding president of our democratic nation has departed. He passed on peacefully in the company of his family around (8:40 p.m. local time) … He is now resting. He is now at peace."
For South Africans, Mandela's death was more than a political passing, Zuma said. It was as if every citizen had lost a beloved family member.
"Our nation has lost its greatest son," he said. "Our people have lost a father. Although we knew that this day would come, nothing can diminish our sense of a profound and enduring loss. … This is the moment of our deepest sorrow."
Delegate to Congress Donna M. Christensen recalled with pride meeting Mandela on two occasions, saying "being in his presence was a highlight of my life."
"I last met him on his last visit to the United States in 2005 when he insisted on visiting with the Congressional Black Caucus to thank the CBC for its work to end apartheid, their support of South Africa and in recognition of our efforts to advance freedom and justice in our country and around the world," Christensen said.
"The world has lost an iconic leader but is better because of his life and legacy," she said. "Nelson Mandela was loved by the people of the Virgin Islands and the entire world. We have lost a great man who fought valiantly and courageously against apartheid and for equality and human rights; a leader who, because he stood firm on his beliefs, spent 27 years in prison; but through his struggle, led his country to democracy and become the first black president of South Africa."
Christensen recalled a favorite quote from the charismatic South African: "Nelson Mandela once said: 'I learned that courage was not the absence of fear, but the triumph over it. The brave man is not he who does not feel afraid, but he who conquers that fear.'"
Gov. John deJongh Jr. said Virgin Islanders have long had a special affection for the South African statesman who won the 1993 Nobel Prize for Peace.
"The people of the Virgin Islands have a deep love and respect for Nelson Mandela and all that he came to represent," deJongh explained. "The community was jubilant when it learned that he had been released from prison. Shortly thereafter, a major intersection on St. Thomas was renamed Nelson Mandela Circle. Today a large sign at that intersection proclaims the name and includes a picture of Mr. Mandela with the words, 'Let Freedom Reign.'"
Mandela is known around the world as a symbol of forgiveness, hope and reconciliation, the governor said. After spending 27 years imprisoned in Cape Town under an apartheid regime, he was released in 1990 and then helped move his country into a racially equal democracy.
In Mandela, he was elected president of South Africa in the nation's first fully representative democratic elections.
"Nelson Mandela was an inspiration to Virgin Islanders and to aspiring democracies and free nations around the world," deJongh said. "The man has been so admired and loved that there are universities, schools, parks, roads, bridges, buildings and even new species across the globe that are named after him. You would be hard-pressed to find someone who does not know who Nelson Mandela was and the impact he has had on today's society. His death is a loss to the entire world," deJongh said.
"On behalf of the people and government of the Virgin Islands, I offer my deepest condolences to the people of South Africa, and Mr. Mandela's wife, Graca Machel, his son and daughters, and his full family circle. The world is tonight mourning, as it has truly lost one of the greatest men of the last 100 years," deJongh said.
"At this very sad time, I am reminded of one of my favorite quotations from Mr. Mandela. He said, 'For to be free is not merely to cast off one's chains, but to live in a way that respects and enhances the freedom of others.' Let us all try to follow the example of this extraordinary man," deJongh concluded.
In a statement issued from the White House, President Barack Obama said Mandela taught the world to be guided by their hopes rather than their fears.
"We will not likely see the likes of Nelson Mandela again," the president said. "So it falls to us as best we can to forward the example that he set: to make decisions guided not by hate, but by love; to never discount the difference that one person can make; to strive for a future that is worthy of his sacrifice. For now, let us pause and give thanks for the fact that Nelson Mandela lived – a man who took history in his hands and bent the arc of the moral universe toward justice. May God bless his memory and keep him in peace."
In the territory, deJongh ordered flags at Government House and other public buildings across the territory be lowered to half-staff in Mandela's honor and in recognition of his passing. The flags on all Virgin Islands public buildings will remain at half-staff for a seven day period or until the day of Mandela's interment, whichever comes first.