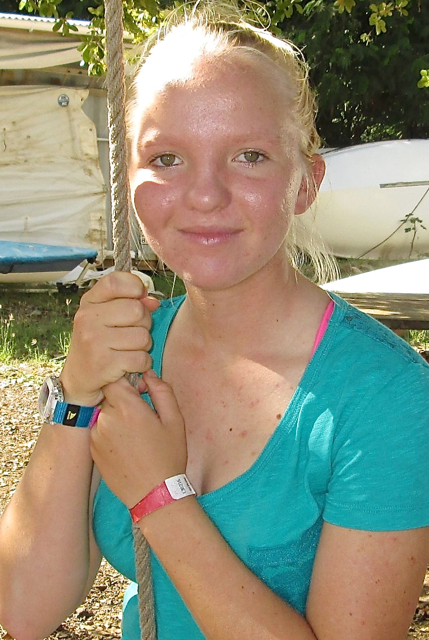 Youthful St. John sailor Paige Clarke, 14, set her sights on the future.
"Hopefully, the Olympics," she said.
A member of the St. Thomas-based Antilles School sailing team, where she mostly skippers but sometimes crews, Paige first set sail with the St. John Kids and the Sea program that runs out of her hometown of Coral Bay.
When she turned 11, she signed on with a sailing coach, traveling to far-flung places like the Dominican Republic, Martinique, California, Virginia, Florida, Argentina, Chile, and Italy to compete.
She started on Optimists, those eight-foot long beginner boats but soon graduated to Laser 420s.
"I'm trying out a Byte. It's like a mini Laser," she said.
On board the Byte, she aims to try to qualify for the 2014 Youth Olympic Games in Nanjing, China.
Her life revolves around sailing.
"I like the feeling of being out on the water," she said.
She said she likes competing as well as the sense of accomplishment she gets after a regatta or even just training.
Paige sails almost every day of the week – three or four days with the Antilles team at St. Thomas Yacht Club and a couple of days on her own in Coral Bay.
It makes for a busy life. She's up at 5 a.m. in order to catch the 7 a.m. ferry from Cruz Bay to Red Hook, St. Thomas, and the safari bus to Antilles.
"It can be a bit of a struggle that early in the morning," she said.
Most nights she doesn't get home till the 6 p.m. boat from Red Hook to Cruz Bay.
She uses the commuting hours to do her homework so she doesn't have so much to do when she gets home. Paige said she likes all her subjects, but in particular, she likes math.
"I really like school. I like learning new stuff," she said.
She likes the small size of the school and the classes, noting that it helps students get lots of attention. The fact that the school has a sailing team is a big plus, she said.
She's a member of the National Honor Society and president of her 10th grade class at Antilles. She said that she decided to run for president because she likes organizing things.
"And I like being part of making decisions," she said.
She doesn't have much spare time, but when she gets some she volunteers with KATS. She said that it's a good program, and that when she was getting started in sailing, people helped her out so she wants to return the favor.
Paige was born in Southampton, N.Y., to parents who called St. John home but hailed from that area. She still visits, going shopping, hanging out with her cousins and even going to the Long Island beaches.
The family returned to St. John soon after Paige was born. She started school at Gifft Hill School, was home schooled in the sixth and seventh grades, and then went off to Antilles.
During those homeschooling years, the family traveled to Bali.
Back on St. John, Paige said she likes living in Coral Bay because of its small size and sense of community, but allowed that there were some inconveniences.
"All my friends are on St. Thomas," she said.
Parents Vanessa and Larry Clarke are justifiably proud of their only child. Larry Clarke said she was always self motivated and loved reading from an early age.
"I never really had to push her," he said.
Paige thinks her parents are pretty "awesome" too.
"They're pretty cool," she said.