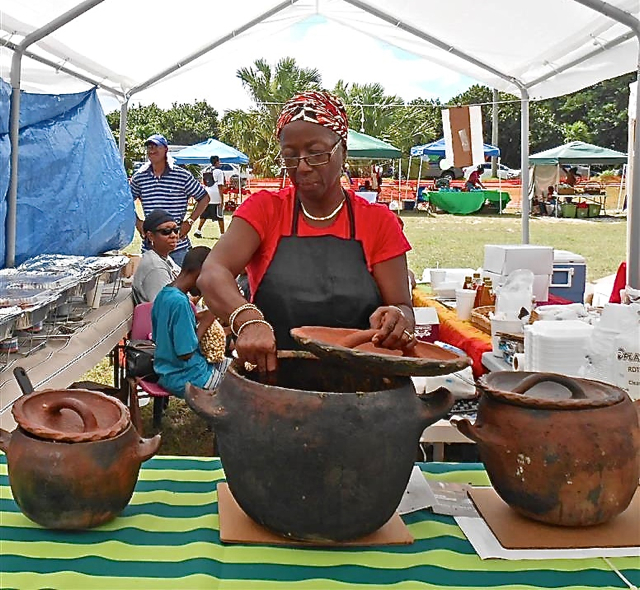 The rolling hills of the University of the Virgin Islands Reichhold Center were brought to bounteous life Saturday, the first day of the St. Thomas/St. John Agriculture and Food Fair
The event, which continues from 10 a.m. to 6 p.m Sunday, is set to the theme "Celebrating our 30th – Investing in Nutrition and Good Health."
It's a special day, a day when everybody shares – food, fun, friendship. And eats.
The hills abounded with all manner of edible and decorative growing things. Farmers proudly displayed their bounty – soursop, hibiscus, bougainvillea, cucumbers, fat shiny purple eggplants, tomatoes, green peppers, red peppers, plantains, bananas, papayas, squashes, avocados, mangoes.
Farmer's stands were filled with bright purple eggplants, fat cucumbers, avocados, mangoes, green peppers, red peppers, papayas, gourds, mangoes, finger bananas, squashes of every description all vying for attention.
That is to say nothing of the gorgeous plants covering the upper hillside – hibiscus, orchids, soursop, bougainvillea, tall palms, graceful rose bushes, a veritable fairyland of color and scent.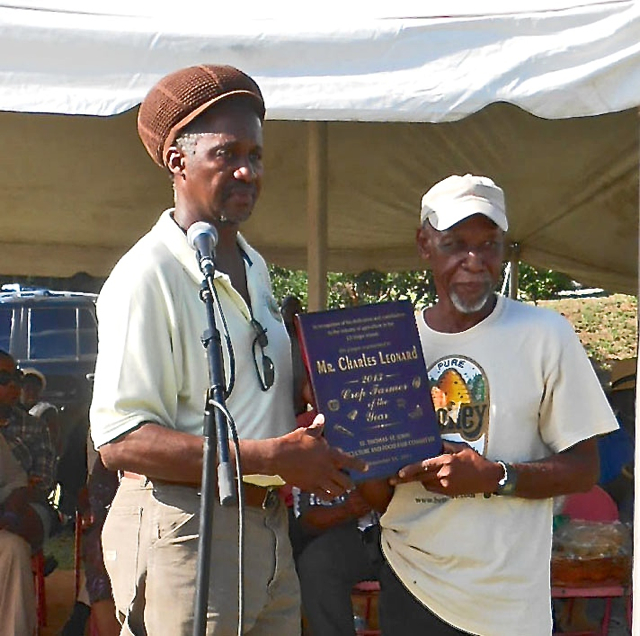 Down the hill different odors held sway. Everything from pumpkin johnnycakes to pates and chicken legs, the old standards. But each year there is more of an emphasis on healthy items.
Sisters Patrice Scarbriel and Judith Ottley of "Ital-Glory Vegetarian Restaurant" brought their wares for the first time this year. While dishing out platters of kale quinoa, braised tofu, spinach cornbread and eggplant lasagna and a wonderful pumpkin soup bubbling in an earthenware cookpot, Scabriel said it was their aim to introduce folks to healthy eating.
The UVI extension service tent sported a first this year, a joint endeavor between the UVI and the not-for-profit My Brother's Workshop. Albion "Chico" George, a mainstay of the extension service, said he and others approached Scott Bradley, founder of the Workshop, to see if his crew could make some wooden planters, some ground boxes and some raised for people who can't bend over well. The beautifully constructed boxes were on display Saturday, along with a chicken coop, which was a sort of bonus.
Bradley and George were delighted with the results. The boxes were filled with bright green bok choy and spinach. Along with the boxes, the handiwork of the young men who make up the workshop was on display, with three handsome chess tables, at least one in use by a couple of youngsters and a couple of young kibitzers.
Nearby, Troy King was holding forth with a mango tree grafting demonstration.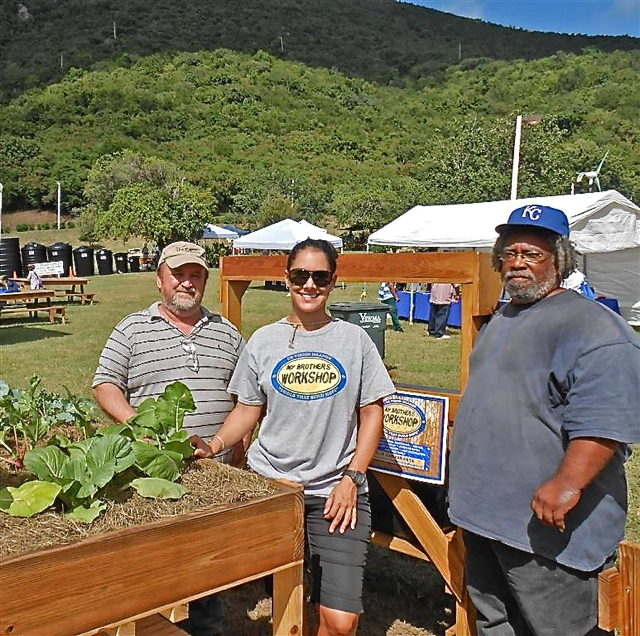 "First," he said, addressing a young kidney mango tree in a pot, "you must strip all the leaves."
As a small and intense audience observed, he then slit the top of the plant and explained how to insert a shoot from a more mature tree, wrapping them together. He said in about three weeks, if the plants are healthy, there should be growth.
The grounds were filled with displays from the UVI Extension Service, batiks, culinary, the V.I.Energy Office and WAPA.
And animals in a petting zoo drew their usual young audience, with kiddies cradling bunnies, chicks and ducklings.
The opening ceremony of the fair at 2 p.m. Saturday featured remarks by V.I. Department of Agriculture Commissioner Louis Petersen Jr., UVI President David Hall, Lt. Gov. Gregory Francis and UVI-CES director Kwame Garcia.
Petersen introduced the 2013 Livestock Farmer of the Year Cyril LaPlace and Crop Farmer of the Year Charlie Leonard, praising each.
"Mr. LaPlace has one of the healthiest sheep herds on St. Thomas," he said. "He is very resourceful and has met many challenges this year."
Petersen said Leonard, who also won last year, "is one of our most successful farmers year after year. He keeps meticulous records of harvests, he is reliable, he is always available, and I think he has taken every course we offer, from beekeeping to beginning farming."
Speaking to the Source before the ceremony, Petersen said, "I think next year, we'll have an award for most improved farmer, to give someone else a chance."
Leonard thanked Petersen for the improvements made in available water this year in Bordeaux, where he farms.
"That's the cart before the horse, no water, no produce," he said. "I couldn't do it without my daughter Britany, and my partner Jeanne Fatie Delsom."
The12-year-old Britany was in the audience, snapping pictures of her dad.
Leonard is at Emancipation Garden almost every Saturday morning, St. John on Tuesdays, and at the twice-monthly Yacht Haven Grande markets with everything from fresh eggs to honey, and most and most any produce imaginable.
Music for the day was provided by DJ Ubba, 4th Dimension Gospel Band and Ah We Band, while the dancing featured the St. Thomas Heritage Dancers and the Holy Family Cultural Dancers.
The fair is sponsored by the UVI Cooperative Extension Service and the V.I. Department of Agriculture, with support from Fintrac.